10 Tips To Help Your Pet Adjust To Their New Home
Published on: September 23, 2015 | Author: Starwood Animal Transport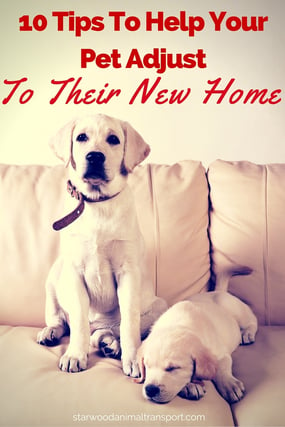 Moving is a big deal, even more so if your family includes pets. You can't just pack up your belongings, head off to your new home and expect your pup or kitty to take things in stride. What is this new place, anyway? Why are we here?The answers to these simple questions are obvious to you, but everything new is strange to your beloved furry companions. They love that you're still by their side, but they need attentive guidance and reassurance that the new place is now their place.
You have a lot on your mind, and the process of moving is exhausting. But you're the pet parent here, so it's up to you to help Max or Princess see moving in as a great thing. If they have moved with you before, they might be more likely to take this move in stride. Nonetheless, your goal is to make their new life as much like their old one as possible, so they can pick up where they left off once their physical moving journey is over.
We've put together ten tips to help you help them adjust smoothly to their new home.
Get new ID tags made up ahead of time or make that a priority after you arrive at your new home, so your pets are outfitted with up-to-date contact information.
Get Max and Princess off to a "homey" start by putting all their belongings in place first. That includes their bedding (or at least the crate they traveled in), their food and water dishes, favorite toys, your cat's litter box and scratching post, etc. Try to put these items in the same locations as before, if possible, so at least some aspects of their new home are recognizable to them.
Repeat their former routine when it comes to feeding times and walk time. Feed them the food they are used to, and stock up on treats so you can reward them for being good about their move. Busy as you are with unpacking and your new job, try to carve out extra time to spend with your pet, playing or simply sitting together for some lap time.
Consider how your pet will react to the mess and chaos of unpacking. Would they be less stressed in their crate in a quiet room, or will they be happier following you around so they don't miss a thing?
Cats often hide when faced with something new. So if Princess decides her new favorite spot is the laundry hamper, the top of the refrigerator or the closet, just let her be. Once she winds down a bit her famous feline curiosity will take over and she will want to explore her new digs. It may also help to assign her a single room at first, putting all her essentials in one area you can close off from the rest of the house. Gradually you can introduce her to other rooms.
It's a good idea to give your dog a formal room-by-room tour, too, once everything has been unpacked, especially if he hasn't been "helping" you unpack.
For the first several days, do not allow your pet outside without a leash. Many dogs and cats instinctively try to run off to find their old home, or they can simply get lost in unfamiliar surroundings. It's important to help Max and Princess adjust to their new outdoor environment slowly so they aren't overwhelmed. If you're exploring together, they'll feel more secure and confident.
Look around the yard and indoors to see if there are any potential hazards or escape holes. Check to be sure fencing and gates are secure. The biggest potential escape holes, of course, are doors and unscreened windows – be extra careful to keep them closed.
Some pet experts suggest you welcome your pooch or feline to their new home with brand new toys, so they associate the new space with a positive reward. Other experts say it's best to stick with what they know at first, to emphasize the familiarity angle. You'll know best what makes the most sense for your own furry family.
This all sounds great, you're thinking, but I'm moving into an apartment. Max and Princess are in for a rude awakening. How do I deal with that? In our next blog, we'll give you some apartment-specific tips to help your dog (and even your cat) learn to settle happily into their new, multi-tenant way of life.
Subscribe to the Blog
Enjoy our content? Get them sent to your inbox!
Subscribe Now!
Related Posts
Tips To Help Me Move Overseas With My Pets
One good thing to do when you're considering moving overseas with pets is to read online forums or blogs written by expats ...
Read More