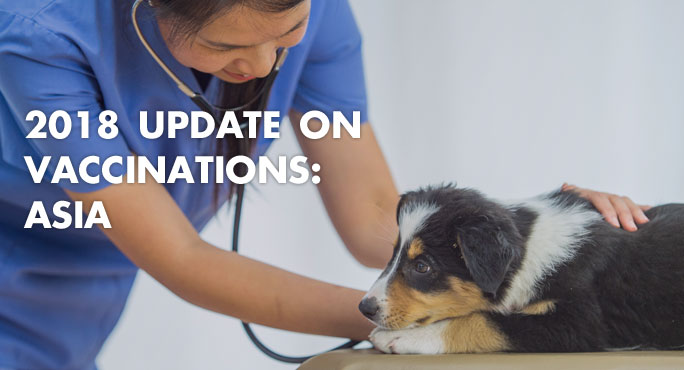 If you will be relocating to a country in Asia with your pet, one of the most important tasks on your to-do list will be finding out what vaccinations are required for Rex the Wonder Dog or Carl the Coolest of Cats. Even if your pet is a frequent flyer, you'll want to double-check, because the rules differ by country. And those rules can change.
Rabies vaccination is an almost-universal requirement, no matter where in the world you travel with your pet. But in the vast majority of cases, it's not that simple. You don't want to assume and be wrong or overlook any health-related detail. The consequences can be disastrous if you fail to provide all the proper paperwork.
For example, Australia reserves the right to hold your pet in quarantine, conduct additional health tests, send your pet home or – unimaginable – euthanize your pet. All at your expense. And they aren't alone. Fortunately, you can avoid these worries by ensuring you know what vaccinations and other documentation you pet will need for your particular destination.
Keep in mind that the rules for dogs and cats are often different when it comes to immunizations, because some common-but-unwanted diseases are species-specific.
Here's the current information for three key countries in Asia.
The Australian Agriculture Department's website provides separate step-by-step guides for dogs and cats.
Australia accepts 3-year rabies vaccinations, as long as they are current. However, if you're relocating from the UK or the US, Rex or Carl must undergo an RNAT test that confirms their rabies vaccine is actively working inside their body. The blood sample must be drawn at least 3-4 weeks after the rabies vaccine is administered, then there is a mandatory 180-day waiting period for lab results. No exceptions (unless you're coming from Hawaii, which is considered rabies-free).
Dogs must also be vaccinated against Distemper, Parvovirus, Para-influenza, Hepatitis, and Bordetella. Coming from the US? Rex will need a canine influenza virus immunization, too, administered between 12 months and 14 days prior to departure. All dogs must also be treated for internal and external parasites, at least 21 days before travel, and have a blood test to rule out Ehrlichia canis infection within 45 days of departure. Rex will also need to be tested for leishmanial, and leptospirosis.
Despite all that, since he's a dog, Rex will still have to spend 10 days at the Mickleham quarantine facility upon arrival.
Carl the cat must be vaccinated against feline enteritis (sometimes called feline distemper or panleukopenia), calicivirus, and rhinotracheitis and receive same parasite treatments mentioned above for dogs.
Like Australia and many other countries, Singapore's rules depend on your country of origin. Category A countries include Australia, New Zealand, Republic of Ireland, and the UK. The US falls under Category C.
Coming from a Category A country means Rex or Carl won't even need a rabies vaccination. However, Category C means your pet will have to have a valid rabies immunization and undergo the same RNAT test and waiting period required for travel to Australia.
Dogs from Category C countries must receive immunizations for Distemper, Hepatitis, Parvovirus. Cats need vaccinations for calicivirus, rhinotracheitis, and enteritis (parvovirus/panleukopenia). Both cats and dogs must be treated for parasites within 2-7 days of arrival. And all cats and dogs from Category C countries must spend 10 days in quarantine upon arrival. You'll need to reserve your guy's space three months in advance.
If you're relocating to Japan from the US, Rex the dog will need shots for Distemper, Hepatitis, and Parvovirus infectious disease trivalent vaccine (parainfluenza, leptospirosis, coronavirus). Carl the kitty will need to rhinotracheitis, calicivirus, and feline panleukopenia trivalent vaccines. Both must be treated for internal and external parasites within 4 days of departure.
All pets must be vaccinated against rabies and, as for Australia and Singapore, undergo an RNAT test and the 180-day waiting period. Japan will actually allow your pet into the country before the waiting period is over, but he'll have to spend that time in quarantine.
Be certain – talk to us
The easiest and most reliable way to be sure you have the correct information about needed vaccinations is to talk to our pet travel experts here at Starwood. We know the latest rules, no matter where you're headed in Asia. We can even handle the details on your behalf, saving you time as well as worry.