2018 Update on Vaccinations: South Africa
Published on: May 30, 2018 | Author: Starwood Animal Transport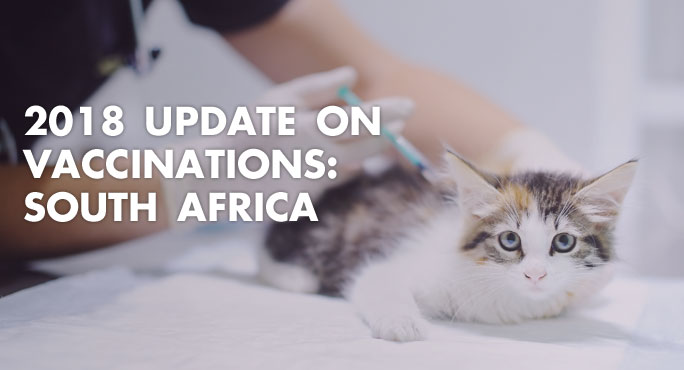 If you and your family are relocating to South Africa, chances are good that you're moving from someplace far away. That means you and your pet are likely to encounter flora, fauna, and other conditions that are very different from whatever you're used to. With that in mind, what vaccinations will your family pet need to enter South Africa?
Every country has their own list of health-related requirements for cats and dogs. In the case of South Africa, if your pet is accompanied by all the proper paperwork – no mistakes or omissions – he will not need to spend time in quarantine on arrival. That is, if you're coming from certain countries. The United States, Canada, United Kingdom and EU countries are all on that "OK" list.
In a nutshell, here's what you'll need
A microchip that meets ISO standard. This unique identifier must appear on all your pet's documents, which means it has to be implanted before your dog or cat receives any vaccinations, treatments, etc.
A rabies vaccination administered between 12 months and 30 days before entering South Africa. The country doesn't recognize 2- or 3-year rabies vaccines, so if that's what your pet currently has, he'll need to get a booster in order to comply. If you're moving from the UK, Northern Ireland, Australia, or New Zealand, your kitty or dog will not need proof of rabies vaccination. No matter where you're moving from, your pet won't need a rabies blood titer test (RNATT).
Dogs must be tested within 30 days of arrival for the following diseases, using OIE-approved techniques. South Africa means business with these regulations – if your dog is not tested properly or his results indicate a problem, he will be refused entry into the country:
Brucella canis

Trypanosoma evansi

Babesia gibsoni

Dirofilaria immitis

Leishmania
Cats and dogs don't need other immunizations or treatments to complete a Veterinary Certificate for South Africa or obtain an import permit. However, if you're coming from the US, your form will have to be completed by a USDA-approved veterinarian and endorsed by the USDA.
Vaccinations are vital, required or not
The South African Veterinary Association (SAVA) notes that vaccines used in the country to protect cats and dogs fall into two categories – core and non-core. Core vaccines "should be given to all pets in all regions because they protect against diseases that are widespread and have serious effects. Non-core vaccines are only given strategically when a particular disease is prevalent in an area or when circumstances predispose to the appearance of the disease."
SAVA notes that failure to immunize your pet "will leave them susceptible to a range of life-threatening infectious diseases." As a loving pet parent, that's the last thing you want. So before you head to South Africa, talk to your vet to make sure your pet is fully protected against the core diseases listed.
Core vaccines for dogs:
Canine distemper

Canine adenovirus infections

Canine parvovirus infection

Rabies
Core vaccines for cats
Feline panleukopenia

Feline herpesvirus infection

Feline calicivirus infection

Rabies
Non-core vaccines for dogs
Leptospirosis

Kennel cough

Canine coronavirus

Canine herpesvirus
Non-core vaccines for cats
Chlamydiosis

Feline leukaemia

Feline immunodeficiency virus
Cats and dogs need more than shots
Vaccinations can't protect your precious pet against everything. It's up to you to control your pet's environment to keep him safe – as much as you can, anyway. That includes taking steps to keep your pet safe around the water and keep him from getting sunburned in summer. (Remember, summer in South Africa is not June-August, but December-February!) You'll need to find a vet, too, of course. Check out SAVA's searchable membership directory here. You can search by region.
No need to feel overwhelmed
All pets arriving in South Africa must travel by plane, as manifest cargo. If your pet is eligible to skip quarantine, he can enter via Durban or Johannesburg. Frankly, the flight arrangements can be as complex as gathering all the proper paperwork. With that in mind, perhaps the best thing you can do for your beloved furry companion is to let our Starwood pet travel pros handle all the details.
Why bog yourself down with unnecessary frustration and worry when you have so many other moving tasks to take care of? You'll save time and stress, confident your Dear One will travel safely and comfortably and move smoothly through South Africa customs on arrival. Talk about peace of mind!
Subscribe to the Blog
Enjoy our content? Get them sent to your inbox!
Subscribe Now!
Related Posts
What Vaccinations Does My Pet Need Before An International Move?
One of the most time-consuming and often frustrating aspects of organizing an international move for your pet is the ...
Read More