3 Things Your Pet Travel Insurance Should Cover
Published on: September 26, 2017 | Author: Starwood Animal Transport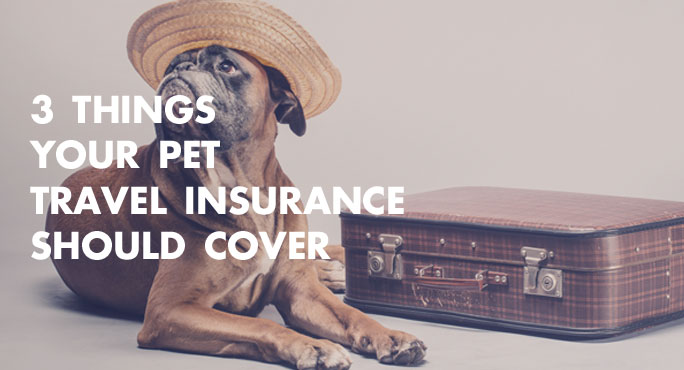 With a million things on your mind as you're getting ready to travel with your pet, it can be easy to overlook a detail such as pet travel insurance. The chances of something happening to your cat or dog during her journey are miniscule – hundreds of thousands of animals fly worldwide each year, with only a few mishaps or deaths. But your animal is a beloved member of your family.
Pet travel insurance gives you peace of mind. Yes, you know the chances that your girl will become sick or injured or lost are extremely small. So is the chance that something catastrophic will interrupt your travel plans. Insurance is there for the unexpected.
Don't Confuse Pet Health Insurance with Travel Insurance
Many pet owners purchase health insurance for their dogs and cats. If that's you, and you're planning to travel with your pet, one of the things that should be on your Countdown to Departure to-do list is double-checking your pet's health insurance. Does it cover her when she's away from home – outside your home country? Is the coverage limited because she's traveling? Is there a time limit?
If you're moving to another country it's unlikely your pet's health insurance will be valid there, especially long-term. You'll want to find a new carrier once you arrive. Meanwhile, even if your pet currently has health insurance, it is important to know that many policies exclude coverage while animals are actually on the move. This is why we offer the Starwood Pet Protection Plan.
We Have Your Pet Covered While She's In Transit
Here at Starwood, we offer a comprehensive range of customizable pet transport services, worldwide. We've been doing this for many years, and our goal is to ensure your dog or cat has the best travel experience possible. So we're experts at all the "minor" and not-so-minor details involved. But we do more than that, because we're also long-time pet owners and lovers.
You can put your trust in us to handle your pet's travel. But we know you'll still worry.
Our Starwood Pet Protection Plan puts your mind at ease by providing the three essential types of pet travel insurance coverage:
Veterinary expenses – if your girl becomes sick or injured during transport, the plan covers emergency veterinary costs. This does not include pre-existing health issues.

Emergency repatriation and/or quarantine services – if your travel plans change suddenly while your pet is in mid-journey, you'll have to make temporary arrangements for her. For example, you might have to cancel your plans due to an illness or death in the family, or some other emergency. The Plan covers costs associated with getting your pet back home, including boarding and even quarantine, depending on the circumstances.

Substitution value – no one wants to think about this, and we understand your pet is irreplaceable. However, if she were to die, get lost or stolen during transport, the plan does provide replacement value.
Our Starwood Pet Protection Plan is available to any dog or cat traveling under our care, anywhere in the world.
Protect Your Pet's Health Paperwork, Too
In Britain, some pet insurance providers will cover the cost of replacing your pet's EU Pet Passport. At least some of the cost. This is helpful, because the costs of assembling all the necessary documentation can add up. This is true no matter what country you live in now or where you're moving overseas.
Of course, the better plan is to not lose that documentation in the first place. A kitty or pup without proper paperwork can be turned away at the border or held in quarantine. Without documentation, you may not even be able to prove the pet is yours, especially if she goes missing. These ugly scenarios are entirely avoidable.
If you travel often with your pet, make sure her travel documents are always up-to-date, and keep that paperwork in a safe place. When you're on the move, your pet's passport should be in your possession, not packed away. If you're using a professional pet transport service such as Starwood, you should retain copies of your pet's health documents for yourself. That includes a summary of her Starwood Pet Protection Plan coverage and contact information.
Just like you, we hope you'll never need that insurance. But knowing you and your pet are protected while she's in transit will let you travel with less stress. Maybe you'll even be able to sleep on the plane.
Subscribe to the Blog
Enjoy our content? Get them sent to your inbox!
Subscribe Now!
Related Posts
Is Air Travel Safe For Pets?
At some point in all the excitement of learning you are moving a long way from home – perhaps to a far-away foreign country – ...
Read More