5 Tips to Help Your Pet Shed Pounds
Published on: April 25, 2017 | Author: Starwood Animal Transport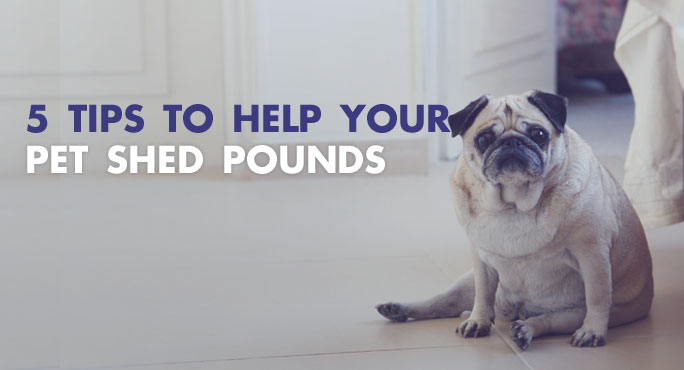 There is no such thing as "pleasantly plump" when it comes to pets. Just a little bit of excess weight can create serious health problems for your kitty or pooch. An extra 2 pounds on a little 10 lb. dog or cat is 20%. That equates to a hefty 10 extra pounds on a 50 lb. dog or 30 extra pounds on a 150 lb. human. Yet somewhere around half of American dogs and cats are overweight.
As the pet parent, it's up to you to help your beloved furred one shed those extra pounds. After all, you want her to live the longest, healthiest life possible. Overweight cats and dogs are at higher risk for:
Arthritis
Diabetes
Kidney disease
Heart disease
Respiratory problems
High blood pressure
Immune system problems
Various forms of cancer
Studies have shown that excess pounds can steal as much as two years from your pet's lifespan. That's a disaster, so follow these tips instead, to help your pet trim down and maintain a healthy weight:
1. Feed the right diet
There are hundreds of dog foods and cat foods on the market, and they differ greatly when it comes to nutritional value and calories. Your kitty needs meat, but feeding her a higher percentage of canned and/or raw food will help her lose weight. Dogs need meat too – real meat should be the primary ingredient – but they need other types of nutrients as well.
2. Measure each serving
The "recommended" serving size on the can or bag is not only vague, quite often it's more than your pet actually needs, especially if the goal is to shed a few pounds. You need to know how many calories your pet requires daily and how many calories are in one 8-oz cup of the food. That tells you the proper amount to serve.
Measure it, so you get it right. Even a few extra pieces of food can pack on extra pounds – you pet could gain more than three pounds in one year by eating just 30 extra calories a day.
The worst thing you can do is set out a buffet where your dog or cat can graze to their belly's content 24/7. For dogs, divide their daily allotment into 2-4 small meals; for cats, it can be 3-6.
3.Choose the right treats
Treats used for training and snacks contain calories, too. Read the label, then deduct these calories from your pet's mealtime servings. Better yet, skip the commercially, highly processed treats in favor of those that have a specific health benefit (reducing tarter, for example). Or offer small bites of low-cal, nutritious fruits and veggies. Your pup or kitty will appreciate salmon or tuna, but your dog (and more adventurous cats) will also like:
Sweet potato
Apples or pears
Blueberries
Banana
Carrots
Green beans
Cucumbers
4. Increase exercise
It's the same as with humans – in order to lose weight, you have to take in fewer calories and burn off more calories. So get that pet moving. Your dog needs about 20-30 minutes of brisk exercise daily, whether you go for a walk or run, zip up and down the stairs a few times, or play a vigorous game of fetch. Entice your cat to play more with catnip or honeysuckle toys, a mobile she can bat at, or a 10-minute daily game of "laser tag" using a laser pointer.
You can help your pet lose weight and spend more one-on-one time with her, too.
5. Talk to your vet
While carrying around excess pounds can cause health problems, certain chronic diseases such as diabetes, Cushing's, and hypothyroidism can cause weight problems. This is one reason it's so important to talk with your veterinarian if your pet seems to be gaining weight for no reason. On the other hand, lots of pet parents don't even realize their dog or cat is fat – or they're in denial, reassuring themselves their precious Marmalade or Maxie just has a heavy coat, or big bones.
Your vet can identify your dog or cat's ideal weight and calculate her proper calorie intake – both for weight loss and for maintenance once she has settled down to an ideal weight. If your pet is severely overweight or has chronic health issues, your vet may recommend a special diet.
Cats and dogs should shed pounds gradually, losing no more than 1% to 2% of their body weight weekly. So stop by the vet's office every week or two for a weigh-in, so you and the doc can monitor your pet's progress.
Subscribe to the Blog
Enjoy our content? Get them sent to your inbox!
Subscribe Now!
Related Posts
23 Easy-Ship Housewarming Gifts for Pet Lovers
If your friend or loved one is moving house, a housewarming gift is always welcome. And we all know the way to any pet lover's ...
Read More