British Airways Pet Policy
Published on: November 4, 2015 | Author: Starwood Animal Transport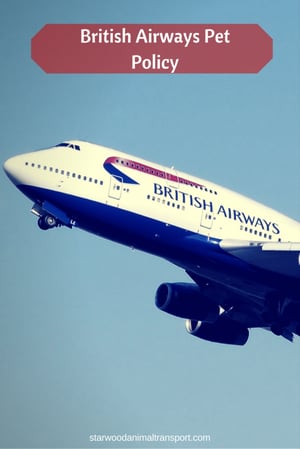 British Airways takes great pride in their excellent treatment of animals of all kinds. They note they've been transporting all types of creatures – including highly endangered species – around the world for half a century.
Nonetheless, if you are moving or traveling internationally with your pet, chances are Fluffy or Fido will have to ride in the cargo hold if you book your flight on British Airways. British Airways does not allow pets to ride with you in the cabin on any flights – with one exception. A registered assistance dog may accompany you, at no charge, on any flight.
This applies to dogs trained to support mobility for those who are sight- or hearing-impaired or disabled. The dog must be registered, with appropriate travel documents approved and accredited by a recognized organization. This in-cabin exception does not include Emotional Support Animals.
If your pet's itinerary includes other airlines, you must check with them to learn about their pet policies, because every airline is different.
Cargo travel
British Airways is committed to giving pets the same care and attention they give people, noting their animal handlers are both "skilled and passionate" pet-lovers. Conditions are strictly monitored in the cargo terminal and in the hold where animals ride.
You may ship only one pet as cargo on any given British Airways flight. Only three are allowed total, so make your pet's reservations as early as you can. If Fido is large, ask about weight or size restrictions for the specific flight(s) involved, because these can vary for different aircraft. Ask the agent about breed restrictions, too, because British Airways embargoes some breeds of brachycephalic cats and dogs.
Your cargo-traveling pet will need a kennel that meets International Air Transport Association guidelines.
Your cat or dog will need appropriate travel and health documentation. These requirements vary by country, and it's up to you to learn what you will need. Start this process early, as it can be time-consuming and complicated.
Heat restrictions
If your dog or cat is departing from somewhere in the US and the local temperature exceeds 85o F at the time of departure, British Airways may not allow you pet to fly. These decisions are made at the last minute, so you'll have to stay in touch with the BA cargo desk.
Learn about the Pet Travel Scheme
If you and your pet are headed to London or another destination in the European Union, you will need to read up on the Pet Travel Scheme. This program was created to facilitate movement of cats and dogs among certain countries without a quarantine requirement. The rules differ depending on what country you're coming from, and some destination countries have additional requirements.
To comply with Pet Travel Scheme rules, Fluffy or Fido will need a pet passport, a microchip and documents certifying his or her health status, including rabies vaccination and related blood tests and tapeworm treatment (only for dogs). If you don't follow the Pet Travel Scheme rules, Fluffy or Fido could be in for a lengthy quarantine stay, and you'll have to pay higher fees.
Subscribe to the Blog
Enjoy our content? Get them sent to your inbox!
Subscribe Now!
Related Posts
Is Air Travel Safe For Pets?
At some point in all the excitement of learning you are moving a long way from home – perhaps to a far-away foreign country – ...
Read More