Can My Pet Travel By Train?
Published on: July 8, 2015 | Author: Starwood Animal Transport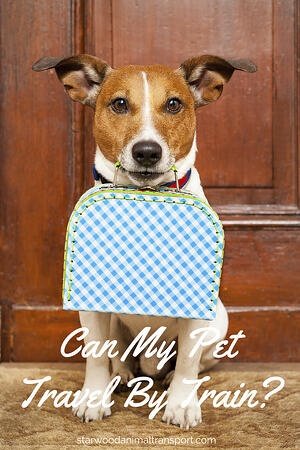 Hey, pet owners! If you live in the right part of the US, you can now take Rex the Wonder Dog or Fluffy the Feline on their first-ever train trip. Maybe. Here's why.
Perhaps you haven't been following pending federal transportation funding closely in recent months, but as a proud pet parent who loves to travel with your dear pooch or kitty, new Amtrak funding legislation could be your key to train travel, pets at your side.
In March, the US House of Representatives passed the Passenger Rail Reform and Investment Act of 2015, a complex tome that matters here only in that it included a provision finally mandating Amtrak to allow cats and dogs on certain routes. Passed by the House in a 316-101 vote, the legislation is now being considered by the Senate. President Obama has announced his support, though he hasn't said whether he is most excited about the new transportation funding or the new pet-friendly policy.
A wag of the tail to Jeff Denham, R-Calif. for this development.
Congressman Denham became understandably miffed when Amtrak forbade his beloved French bulldog to step aboard. He took to the pages of Facebook, noting, "Lily often accompanies me when I fly across the country, and it just doesn't make sense that I can bring her with me on a plane, but she can't come with me on a train." Woof.
Testing, testing.
The 2015 Act calls for Amtrak to create a pilot program (should that be a "conductor" program, given the mode?), to test the furry possibilities on a few heavily-traveled east coast routes including the Northeast Corridor line between Washington, DC and Boston as well as others that could be as long as 750 miles from end to end.
Whenever feasible, Amtrak will designate one or more cars per train for pets, and essentially your dog or cat will be considered as carry-on baggage. They will have to ride in a kennel, and there will be a fee. Once the legislation actually becomes law and the east coast pilot gets underway, Amtrak will have a year to report back to Congress regarding the program's success.
A little over a year ago, Amtrak launched a smaller test program, in partnership with the Illinois Department of Transportation, to allow dogs and cats to ride with their passenger parents between Quincy and Chicago. Congressman Denham was instrumental in organizing that program, which charges $25 per pet. Of course there are limitations:
Pets cannot weigh more than 20 pounds, because they have to ride in a carrier on the floor or under a seat (no lap time or window views for pets as yet). Larger carriers don't fit in passenger cars, and this route has no baggage cars.
There are only three stations where passengers with Rex or Fluffy in tow can board, to simplify security and ensure the extra payment is collected.
The Illinois test was the result of a bill called the Pets on Trains Act introduced in the House of Representatives in 2013, sponsored by Congressman Dunham and 32 of his colleagues on both sides of the aisle. At the time, Amtrak spokesman Mark Magliari said, "It came together that [the Chicago-Quincy passenger route] would be a good place to try this and the Illinois DOT was a good partner."
Along with designating pet-friendly cars for this pilot program, Amtrak has also set aside certain cars as "pet free" in case someone is allergic to dogs or cats or afraid of dogs. The Illinois pilot program was supposed to last for six months, but it has been extended for another year. So far no word on how many people or pets have taken the train or what they thought of their experience.
Meanwhile, Congressman Denham (and, presumably, Lily) remain steadfast. "This widely bipartisan legislation would help families nationwide save money and time in traveling with their pets while bringing in much-needed revenue for Amtrak," he notes.
The Humane Society of the United States couldn't agree more. Michael Markarian, their chief program and policy officer, sums it up this way: "Your pet can join you on many airlines and in many hotels, and it's time for Amtrak to get all aboard with this common-sense policy."
Moving your pet by a train just make sense for all parties and we hope this bill works out in the long run.
Subscribe to the Blog
Enjoy our content? Get them sent to your inbox!
Subscribe Now!
Related Posts
Why A Well-Trained Pet Finds It Easier To Travel
A well-trained pet can learn to accept travel as "just another day" rather than a Scary Big Deal, and that can make everyone's ...
Read More