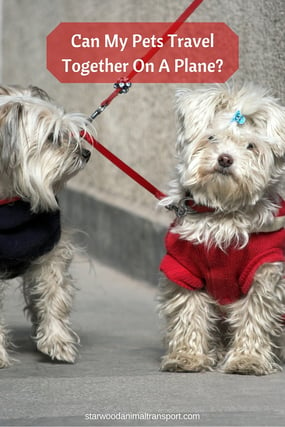 You consider your pets to be part of the family. When you have multiple cats and/or dogs, they usually come to think of each other as family, too. So if you're planning a move that includes air travel for your pets, you might wonder if they can travel together on the plane, to help reassure one another.
The answer is maybe.
Are you talking about "together" as in traveling in the same crate?
The US Department of Agriculture sets the basic guidelines for domestic pet travel. So if your pets aren't leaving the country, they can travel together in the same carrier if:
They are the same species (dog or cat).
They are less than six months old.
They weigh less than 20 lbs. each.
Otherwise, the rule is one animal per kennel. If your pets will be traveling outside the US, you'll need to research the specific rules for your airline. Like other details of pet travel, each airlines sets their own policies.
In-cabin rules generally allow only one pet/carrier per person. If you're traveling with another person you should each be able to bring a pet/carrier on board. It's important to note that all airlines restrict the total number of pet kennels they will accept on any given flight, either in the cabin or in the cargo hold.
Here are some examples of airline rules about pets traveling together:
American
One pet per kennel is allowed as a carry-on if the pet is at least 8 weeks old. If your pets will ride in the cargo hold, you can travel with up to 2 of them. They must be in separate kennels unless they are between 8 weeks and 6 months old, similar size and less than 20 lbs. each.
Delta
For in-cabin travel, you may bring one pet per carrier. However, Delta makes two exceptions:
If your dog or cat has an un-weaned litter and the little ones are between 10 weeks and 6 months old, they can travel in the kennel with their mother. There is no limit on the number of kittens or puppies in the litter.
You may carry two cats or two dogs together if they are 10 weeks to 6 months old, the same size and they get along well with each other.
If your pets will ride in the cargo hold, they will need to be in separate kennels, but you can transport two kennels per flight.
KLM
One pet per carrier. You can travel with up to 3 pets if they ride in the hold.
United
Only one adult cat or dog, or no more than two puppies or kittens that meet the USDA requirements noted above for age and weight.
Qantas
Pets cannot ride in the cabin on Qantas flights, either domestically within Australia or internationally. Your pets will need separate crates unless they are the same species, similar in size and weight and are used to being kenneled together. No one of them may weigh more than 35 pounds.
Southwest
This airline allows pets only in the cabin. You are restricted to one carrier, but it can contain two small dogs or two cats.
Your pets may be placed together in the hold.
While most pets traveling in the hold are required to be in separate carriers, many airlines will make an effort to load them next to one another during the flight. It may help calm your furry family members when they know their brother or sister is nearby. You can make this request on the day of departure.