Dirty Dog Aside, Ingesting Paper Or Ink Can't Be Good
Published on: June 16, 2015 | Author: Starwood Animal Transport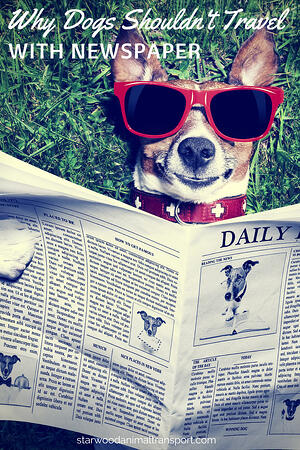 Sometimes even when you think you're doing everything right, things can go oh, so wrong. If you're planning a long-distance move with your pet, you'll want to read this cautionary tale. It is both humorous and instructive.
It started with news of an international move. Because her dog's safety and comfort were of paramount importance, our story's FurMom set about researching doggie air travel in earnest. What did she need to do for her pet? And when?
She wanted everything to be as perfect as possible. She was somewhat taken aback at the lengthy list she uncovered of necessary to-dos – preparing your pet for international travel is a lot of work. But she persevered nonetheless. After all, like all loving pet parents, she would do anything or her precious poochie.
Among the many recommendations she read online, one suggested using shredded newspaper to crate soft, absorbent bedding in the little Maltese's travel kennel. This seemed like a smart idea, and a lot simpler than the rest of her to-do list.
Travel day arrived. The little Maltese hopped willingly into her travel kennel and scootched herself comfortably into her newspaper bedding. Unfortunately, Murphy's Law intervened.
After a while, little Fluffy found her flight boring. And after even more time had passed, she started feeling a bit peckish. So she did what any intelligent, enterprising pup might do in her circumstances. She rolled around playfully in her bedding for a while, and then she ate some of it. By the time she arrived at her destination, she was filthy. Her FurMom was none too thrilled to see her formerly pristine white pooch looking like, well, a pile of newsprint. And dirty dog aside, ingesting all that paper and ink could not have been good. Whose idea was that, anyway?
You're laughing now, but this could have been you.
There are several lessons to be learned from this story.
1. Yes, arranging international travel for your dog or cat can be complicated. Airlines have rules about paperwork, kennel specifications, what breeds are allowed and whether or not small pets can ride in the cabin. Some airlines are more considerate of animals than others. Some airlines – and some flights – don't accept pets at all.
Every country has its own set of requirements, too, and they can range from fairly straight-forward to highly complicated, as our story's FurMom found out. It can take months to fulfill all the requirements and obtain all the necessary documentation.
2. Not everything you read online is accurate. And sometimes well-meaning advice isn't all that valuable after all. Things can get even stickier when you're researching international pet travel, because it's all too easy to find conflicting information even from the same source.
An airline's published pet policies and procedures may differ from what someone tells you on the phone. The foreign embassy you visit or call to get a list of pet import requirements may not actually be aware of the latest changes (and the rules do change). The problem is obvious – how do you know what to believe?
3. There is a source of reliable, accurate information. An accredited international pet transport company can help you with every detail of your pet's move, no matter how far away or what your destination. It's their business to know the rules, and they also know how to accomplish all those pesky to-dos efficiently, no matter how many or how seemingly complicated.
Choose the right professionals, and you'll get advice that not only sounds good, it's based on years of experience actually transporting pets around the world. People who've "been there and done that" enough times have seen it all. And they know how much your pets mean to you, so they're happy to pass along their insight and wisdom.
For instance, they know pets and shredded newspaper can be an unfortunate combination, so they will offer better alternatives. Your pup or kitty will be both comfortable and clean as they wing their way to your new destination.
Subscribe to the Blog
Enjoy our content? Get them sent to your inbox!
Subscribe Now!
Related Posts
How Can Pets Be Shipped?
Zoos and other organizations ship all manner of living creatures around the world on a regular basis. For families, though, ...
Read More