Emergency Kit for your Pet
Published on: February 21, 2017 | Author: Starwood Animal Transport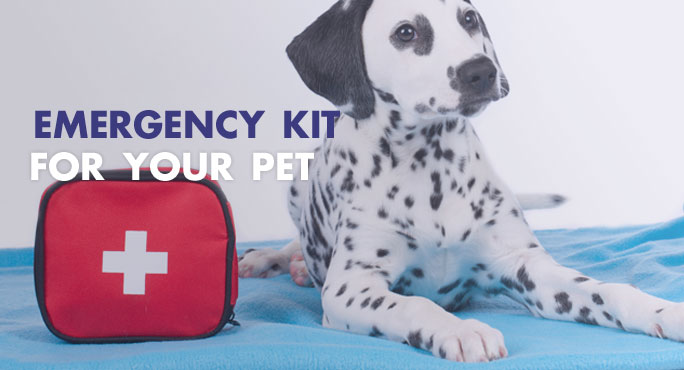 Earthquakes, wildfires, floods, tornadoes and hurricanes, winter storms. It seems that, no matter where you live, there's always something weather-related that could turn into a true disaster in a heartbeat. You may have thought about what your family should do if disaster strikes, but are you prepared to care for your pet in an emergency?
Emergencies come in many forms
You don't have to experience a full-on natural disaster to find yourself in need of emergency help for your pet, at a place and time when rushing off to the vet is not an option. For example, your dog could be injured while out hiking or biking or rafting with you. Investing in a pet-specific first-aid kit (or creating your own) is the responsible thing to do, for every pet parent.
Some disasters affect only you – a house fire, for instance. In this case, you should be able to take your pet to their vet or a boarding facility for temporary safe-keeping. But often disasters affect entire neighborhoods or even communities. You may be on your own for a while.
An emergency kit is a must-have because time is a luxury you'll never have if something serious happens. Here's a comprehensive list of pet first-aid kit supplies recommended by the Humane Society of the United States. They point out that you'll need more than basic medical items, including:
A back-up supply of any medications your pet requires.
The ASPCA's poison control center phone number: 800-426-4435. Post this on your fridge and put a copy in your pet's first-aid kit.
A pillowcase, if you have a cat. If she is injured, this will make it easier to treat her without getting injured yourself.
You need a plan
There's more to emergency preparedness than assembling first-aid supplies. What if you have to evacuate? You may get a little warning about an impending natural disaster, or you may be told to leave right now. Even if you can stay, you could be without power – or even fresh water – for days. This will affect your entire family, including your pet.
If you must evacuate:
Take your pet with you! No matter how dire the circumstances, your pet is better off with you than left behind to fend for herself. Make sure your dog or cat is wearing a collar with tags that display your name and current contact information.
This is when having an emergency go-bag already prepared will give you the most peace of mind. All you'll have to do is load up your bag and pet carrier, along with your family and pet(s). No frantic searches for needed items. No worries you've forgotten something essential.
Where will you stay? You'll need accommodations that accept pets, and that may not include your public emergency shelter. Identify a place away from your community – and a backup alternative ­–­ ahead of time. Is there a nearby (but out-of-town) friend or relative who could care for your pet for a while?
Beyond first-aid supplies you will need:
A copy of your pet's rabies certificate and any other vital medical data.
A pet carrier, if your pet is small.
An extra nylon leash for your dog. (A harness for your cat as well as the dog is a good idea.)
Portable food and water dishes.
Several days' worth of pet food – pop-top cans or dry kibble.
A blanket for each pet not in a carrier.
"Dog" towels.
Poop bags and/or kitty litter and scoop
A few toys. Your pet will instantly pick up on your concern, and that could add to her own anxiety. A familiar toy can help keep her occupied and calmer.
Keep your emergency kit and related necessities near an exit.
Is your pet microchipped?
Thousands of pets become separated from their families during a disaster, never to be reunited. A microchip is internationally recognizable. With a quick scan, your pet can be identified and you will be contacted. Microchipping is a quick procedure, and not expensive. However, it is critical to ensure that the company monitoring your pet's microchip has your up-to-date address and contact details.
Hopefully, you'll never need to use your pet emergency kit. But you should check it periodically, to be sure dated items such as medications and food have not expired.
None of us expect the worst to happen, but emergencies are just that – unplanned events. You can ignore the possibility, or worry incessantly – or you can be proactive. The Federal Emergency Management Agency (FEMA) has produced this downloadable brochure that will help you plan ahead, so you'll be fully prepared to ensure your pet's health and safety if an emergency occurs.
Subscribe to the Blog
Enjoy our content? Get them sent to your inbox!
Subscribe Now!
Related Posts
How to Keep Your Pet Healthy in Cold Weather
If you think it's tougher to stay warm and healthy in winter, think how your pets must feel. Now is the time to consider the ...
Read More