Flying With An ESA? Here's What You Need to Know
Published on: March 20, 2018 | Author: Starwood Animal Transport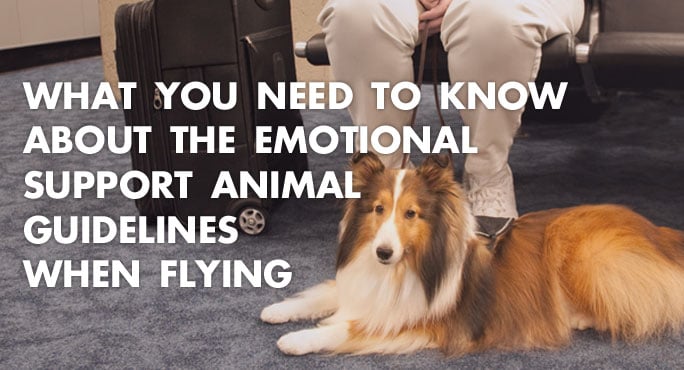 You've probably heard on the news about recent incidents on airlines involving emotional support animals. Perhaps you've even had a less-than-pleasant experience yourself. This is a huge topic right now, one that is greatly affecting our industry. Airlines are incredibly frustrated, and they are finally taking action to protect passengers.
Here at Starwood Animal Transport, we work with pets and other animals every day, helping them travel comfortably and safely to all corners of the world. We're animal lovers and pet parents, too. We appreciate how a pet can provide emotional support as well as physical assistance for people with special needs.
However, no one appreciates the fact that some people are obtaining online certificates for supposed emotional support animals that are, in turn, putting passengers at risk. A few travelers have actually been attacked, and more and more passengers are complaining about allergies, barking and other noise, foul smells, and filth.
The airlines say people are taking advantage of the system to get around having to pay for their pet to fly with them. Airlines normally charge a fee for pets to travel – in cabin or as cargo – but service dogs and emotional support animals can ride in the cabin with their owner for free.
Out-of-control animals wreak havoc in the cabin
Service animals are dogs that have been professionally trained to perform specific tasks on behalf of their owners. Their functional capabilities and health are certified by veterinarians. They are not required to fit into and remain inside a carrier that fits underneath the passenger seat, as passenger pets are required to do.
Emotional animals, however, can be any type of "pet." Not only a dog of any size or a cat. People have brought (or tried to bring) pigs, turkeys, hamsters, ducks, and miniature horses onto planes. United Airlines reports a 75% increase in emotional support animals, just in the past year.
The airlines have had enough
The last straw for United Airlines was the performance artist who claimed his peacock was an emotional support animal. United refused to board the bird due to its size and weight. Instead, they did the same thing Delta Airlines announced it was doing: tightening the rules.
Airlines cannot simply reject all emotional support animals, because the 1986 Air Carrier Access Act specifically allows them to travel in the cabin for free. But United says, "The Department of Transportation's rules regarding emotional support animals are not working as they were intended to, prompting us to change our approach in order to ensure a safe and pleasant travel experience for all of our customers."
The new rules went into effect March 1. Delta now requires anyone who wants to bring an emotional support animal on board to submit at least 48 hours in advance:
A Veterinary Health Form and/or an immunization record

An Emotional Support/Psychiatric Service Request form ("a letter prepared and signed by a doctor or licensed mental health professional")

A signed Confirmation of Animal Training form
Customers flying with these animals must also use the full-service check-in desk.
United now requires owners to confirm their animal will behave appropriately on board, to provide proof of current vaccinations, and to sign a form that states "there is no reason to believe that the animal will pose a direct threat to the health and safety of others on the aircraft or cause a significant disruption in service."
All US airlines prohibit certain types of animals from traveling in the cabin under any circumstances. United's list includes "hedgehogs, ferrets, insects, rodents, snakes, spiders, reptiles, sugar gliders, non-household birds, exotic animals and animals not properly cleaned or carry a foul odor."
You don't have to bring your own pet
The purpose of an emotional support animal is to reduce anxiety for individuals who suffer mentally under severe stress. However, many people who don't require an emotional support animal are not particularly keen on flying or the chaos that often surrounds air travel.
So a growing number of airports now offer "pet a pet" opportunities – therapy dogs and the occasional cat or other pet that passengers can commune with in the terminal before they board their plane.
The largest program is at the Denver International Airport, where 100 animals make up the Canine Airport Therapy Squad. (Yes, that does spell CATS.) At the Los Angeles International Airport, it's PUP (Pets Unstressing Passengers). The Wag Brigade's dogs and a pig serve passengers at San Francisco International.
And if you're into miniature horses, you'll want to route yourself through Cincinnati/Northern Kentucky International Airport.
Subscribe to the Blog
Enjoy our content? Get them sent to your inbox!
Subscribe Now!
Related Posts
How to Keep Your Pet Healthy in Cold Weather
If you think it's tougher to stay warm and healthy in winter, think how your pets must feel. Now is the time to consider the ...
Read More