How Much Does A Pet Health Certificate Cost?
Published on: September 17, 2015 | Author: Starwood Animal Transport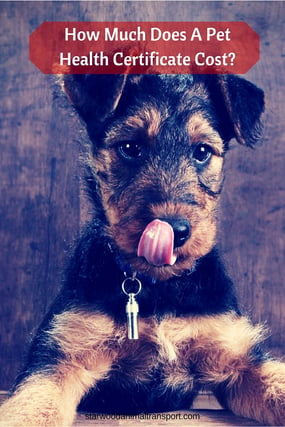 Along with making a list of all the things you'll need to do so your pet can travel by air, it's smart to know what kind of costs are involved, so you can plan ahead for that, too. Every pet will need at least one health certificate, possibly more than one depending on where you're headed.
What's involved?
An accredited veterinarian examines your pet to determine his or her overall health status, conduct specific tests, verify immunizations are current and record all the information on the USDA APHIS Form 7001. Your regular vet may be USDA-accredited. Many countries require the certificate to be officially endorsed by the USDA as well, to independently confirm the information on the Form 7001 is complete and correct. The USDA charges a fee for this service.

The good news is that endorsement fees are typically small. The not-so-good news is that even though the USDA is a federal agency, each Area Veterinary Services office sets their own fees. So you will have to contact your state's Area Veterinarian-in-Charge to learn what your cost will be. The fees can change without warning, and it can be difficult to find current cost information online, so your best bet is simply to call.

More good news: if you have multiple pets, the USDA allows you to group them on a single Form 7001.

Here's an example:
Supposing you now live in Houston and you're planning a relocation with your pets to London. You'll need an endorsement from the Texas USDA Veterinary Services office. They charge $38 for the specially-required EU Health Certificate; however, they won't charge you the usual $38.00 for one International Health Certificate for Small Animals (APHIS Form 7001), if you submit it with the EU form.

In addition to the International health certificate, some countries have their own health certificate for importing pets, so your vet will need to complete that, too. This form may also need endorsement. And although there aren't many specific health requirements for taking your pet out of the United States, other countries frequently have detailed requirements regarding immunizations, tests and treatments that must be completed and/or verified by your vet before your pet can enter his or her new country.

Furthermore, many individual airlines also require pet health certificates, especially for dogs and cats traveling internationally, so you'll want to check with them, too, to be sure you're accumulating the right documentation.

There are actually several costs involved.
USDA endorsement fees may be small, but they aren't the only cost associated with getting your pet's health certificate. If you want to compute the total cost of obtaining this documentation, you'll want to add:
• Cost of visit(s) to your veterinarian for your pet's exam and any additional procedures needed, such as vaccinations or tests.
• Cost of the vaccines and/or lab work.
• Your driving expenses traveling to the vet, plus driving or courier costs associated with delivering your documents to the Veterinary Services office, if it's located in a distant part of your state.

All in all, this is still likely to be one of the least expensive aspects of moving your pet to another country, despite the fact it is also one of the most important. You can simply mail the documents with a check and a self-addressed return envelope, but given the critical importance of these materials and the often-tight timing involved, it's a good idea to retain control of the documents.

As far as obtaining the actual USDA endorsement goes, many Veterinary Services offices around the country take walk-ins. Make an appointment anyway if you're going in person, to expedite the process.

Give yourself plenty of time
"How hard can it be," you may ask yourself, "to get some forms filled out?" Don't be fooled by the apparent simplicity of obtaining health certificates. For one thing, if your pet must have additional immunizations, the shots will need to be administered within a specific time frame. And if he needs a blood titer test (one that confirms his rabies vaccine is actually working), it takes several months for the blood sample to incubate.

As soon as you know you'll be moving, contact your vet and find out what paperwork you will need.
Subscribe to the Blog
Enjoy our content? Get them sent to your inbox!
Subscribe Now!
Related Posts
How to Keep Your Pet Healthy in Cold Weather
If you think it's tougher to stay warm and healthy in winter, think how your pets must feel. Now is the time to consider the ...
Read More