How To Choose A Pet Shipping Company
Published on: June 24, 2015 | Author: Starwood Animal Transport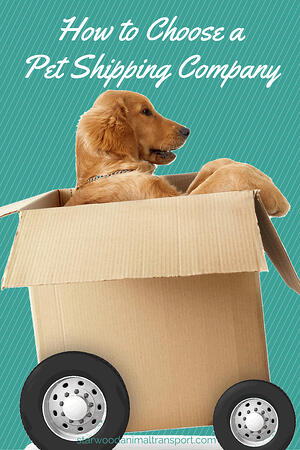 Your pets are an integral part of your family. You love them unconditionally and would do anything for them. If you are facing a long-distance move, using a professional pet shipping company makes perfect sense to ensure your treasured dog or cat has the best possible travel experience.
Every pet is different. If you have more than one, you want to accommodate all of them in the best way possible. Every move is different, too. Destinations can vary dramatically in terms of the pet import requirements and other details that must come together in the right way, at the right time. It can be overwhelming, but choosing the right pet shipping company can transform your concerns into confidence that all is well because your pet is in good hands.
But how do you know who to hire?
Look for membership in IPATA, the International Pet and Animal Transport Association. Members are professional pet transport specialists who demonstrate dedication to staying up to date with the latest industry best practices and operations standards so they can be the best possible resource for clients, both human and animal. Keeping up with worldwide changes is a continuous process, but it gives you peace of mind that the company is truly expert in every detail.
Look for USDA approval. USDA is America's top animal-related agency, and it's their job to ensure pets are healthy for travel and their travel is safe. You can also check for Better Business Bureau accreditation, which formally recognizes companies which engage in specific practices that enhance customer satisfaction and overall experience.
Double-check the exact range of services they offer, to be sure they are fully able to handle your pet's move from beginning to end.
Consider their experience. Time in business plus ongoing efforts to stay on the leading edge add up to maximum ability to help you with every way possible. Experience shipping pets to and from your locations isn't necessarily a requirement, but it's definitely a good sign. Experience produces familiarity, and sometimes it's as much who you know as what you know that makes pet travel plans flow smoothly. That can be especially important when your pet's move is complicated (which can be much of the time).
Ask about training and experience of their people who will actually be involved with your pet -- here, there and in between if needed.
Read testimonials and online reviews. Reviewers are quick to point out problems, so when you find repeatedly positive reviews it tells you a great deal about which pet shipping company does the best work for their four-legged clients and their families.
Talk to them. Are they friendly? Do they welcome your questions and go out of their way to offer advice, etc. without having to be specifically asked?
Of course you should ask about costs. But remember intangibles like your "gut" feeling of confidence count, too. Price alone shouldn't be the overriding factor. Also remember your pet expenses may be eligible for moving-related tax deductions, if your move is due to job relocation.
People travel is simpler than pet travel.
When you fly, all you have to do is go online to purchase a ticket, pack your bag and head to the airport. There are a few simple rules about what you can carry on board and the weight of your checked baggage, but that's about it. You're on your way.
Shipping a pet is not that simple. In a few instances it can be relatively straight-forward, but most of the time it is a highly complex process that requires assembling an intricate combination of import and export documentation, flight arrangements, flight container requirements, pickup and delivery arrangements, even quarantine and/or boarding reservations.
When you arrive at your destination, you collect your baggage, creep through the customs line and you're there. Who is going to collect your pet and shepherd them through customs? Then who will pick them up and get them wherever they need to go? If there is mandated quarantine, how will they get there? You cannot do it yourself.
With the right pet shipping company on your side, you won't have to worry. Your pet's travel may not be as simple as yours, but it will be as smooth as possible.
Subscribe to the Blog
Enjoy our content? Get them sent to your inbox!
Subscribe Now!
Related Posts
3 Things Your Pet Travel Insurance Should Cover
With a million things on your mind as you're getting ready to travel with your pet, it can be easy to overlook a detail such ...
Read More