International Air Transport Association Crate Specifications
Published on: September 16, 2015 | Author: Starwood Animal Transport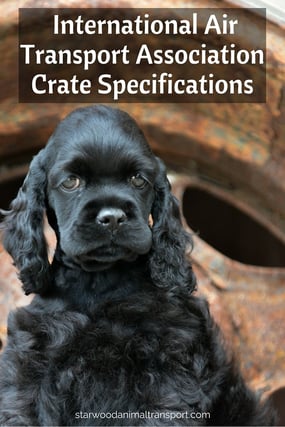 If you're planning a long-distance move – across the country or out of the country – your pets will probably be traveling by air, most likely as cargo or excess baggage. Among the many things you will need to do to prepare them for their journey, is obtaining a travel crate for each pet. But not just any carrier will do. To ensure your pets' safety and security, they must fly in a kennel approved by the International Air Transport Association, or IATA.
Airlines make special arrangements for pets, but they still need to move them around from the terminal to the plane and back. Their goal is to ensure that animals and ground workers are protected during this process and that pets remain safe and secure in flight. One way they do that is through standardized requirements for crate construction.

Different size pets require different size kennels.
They must be able to sit erect or stand, turn around and lie down naturally. Cats are all pretty much the same size, but you will need to measure your dog to choose the right size kennel. You cannot simply eyeball it, because if the airline thinks your pup is too cramped, they might refuse to accept him. Some airlines require an additional couple of inches headroom, so ask about that before buying your dog's crate.

IATA specifications govern materials, hardware and ventilation.
Lightweight, all-mesh or collapsible containers do not meet air travel requirements for safety or security. Kennels must be made of fiberglass, metal, rigid plastic, solid wood or plywood. Welded metal mesh can be used for ventilation "windows" and doors, but the holes must be small enough that your pet cannot stick their nose or toes through the openings.

The most common material used is rigid plastic, because it's light but very sturdy. Containers not made of rigid plastic have specific requirements for material thickness and hardware as well as mesh type and size. The interior must be completely smooth, for your pet's safety and so there is nothing they can chew or "worry" to damage the crate.

The floor must be solid. One end must be entirely open – typically this is the door end – constructed of bars, welded mesh or smooth expanded metal for maximum ventilation. The door has to be attached so that your pet cannot unhinge it, and it has to have a latch even a crafty pet cannot release.

Ventilation must be at least 16% of the total surface area of the kennel's four sides. Therefore side and rear walls must have openings at least 1" wide across the upper two-thirds. The roof may be ventilated, too.

Larger size crates must have carry handles on both sides, and if the kennel plus your dog will weigh over 132 pounds, the carrier must be forklift-compatible.

You can build your own crate, but why?
Commercial pet travel kennels are constructed to spec, made of super-tough materials with smooth, safe curved edges. They're chew-proof and designed to prevent dogs or cats from sticking their nose or paws outside to check things out, where they might be injured. By the time you study the construction requirements, accumulate the necessary materials and do the work, you may have spent more than you would on a commercial kennel and you'll certainly have invested a lot of time.

IATA-approved kennels are easily available online, at major pet stores and, often, directly from your airline at their cargo counter. They come with everything your pet needs, and they're easy to assemble. If you hire an international pet transport company to assist with your pets' move (an excellent idea to save time and ensure things go smoothly), they can provide properly-sized kennels as part of their service.

In-cabin pet travel is different.
If your pet will be riding on board with you, you have more options when it comes to carriers, but measurements can be tricky. Just because your feline or petite pooch fits in the carrier doesn't mean the carrier will fit under the seat in front of you. Space allocation differs from one airline to another. It is essential to ask about the exact dimensions for the type of plane assigned to your flight(s). Then measure your carrier carefully -- you can't just stick poor Princess in the overhead bin instead!

Even if you already own a hard-sided carrier you use to take your small pet to the vet, etc., consider a purse-style carrier for your flight. These bags are soft-sided, so they are more comfortable for your pup or kitty and the shoulder strap makes hauling them around more comfortable for you, too. Soft sides also make it easier to mold the carrier to under-seat size and shape.

With an IATA-approved carrier, your pet will be well-prepared for their flight to their new home, wherever that may be.
Subscribe to the Blog
Enjoy our content? Get them sent to your inbox!
Subscribe Now!
Related Posts
How to Take Travel Photos of Your Pet
What do we photograph most often? Our pets, of course! Every cute thing they do must be recorded and shared. And why not? Even ...
Read More