Is it Safe to Move My Cat to Singapore?
Published on: May 12, 2016 | Author: Starwood Animal Transport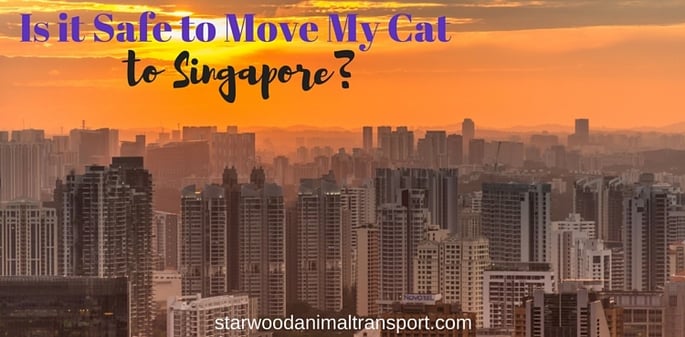 What better way to get a new perspective than to move to a foreign country? Here at Starwood, one of the questions we hear most from people relocating internationally is, "Is it safe to move with my cat overseas?" We understand. Your move wouldn't be complete without your four-legged family members. But you want them to be safe, too.
Statistically, transporting pets by air is extremely safe. Airlines around the world carry hundreds of thousands of animals each year with few mishaps, so you can feel reassured. But we know your question about safety goes deeper. So let's be more specific. Many companies in the U.S. and the U.K. relocate employees to Singapore because it's an international business hub.
Is your cat allowed in Singapore?
If your family feline is a fourth generation or closer relative to a Savannah or Bengal, she cannot come with you. Perhaps more on point, finding a place to live will be tougher. Residential flats managed by the Housing Development Board (HDB) do not allow cats. However, some non-HDB properties do. You'll have to get squared away on this before making any other plans.
So is it safe to move your cat to Singapore?
Health and safety go hand in hand, so your kitty's safety starts with ensuring she meets Singapore's pet importation health requirements. Singapore is on the short list of countries considered rabies free, so their rules are strict. The last thing they want is for any pet to enter the country inadvertently bringing unwanted disease or pests.
To prove your cat is a desirable immigrant, you'll have to provide considerable documentation. If you're moving from the U.K., you'll need slightly different paperwork than if you're moving from the U.S. British kitties can rejoice in knowing they can skip the mandatory 10-day quarantine, because the UK is also considered rabies free. American pets? Not so lucky, unless you happen to currently live in Hawaii or on Guam.
In general, a cat moving from the U.S. to Singapore will need:
A current microchip
Proof of rabies vaccination – two vaccinations, actually, plus a blood titer test using a sample taken prior to the second vaccination. This is to prove the rabies vaccine is working properly in your cat's bloodstream.
Additional vaccinations
USDA Form 7001 (international pet certificate), signed by your vet
USDA endorsement of the vet health certificate and original copies of all vaccination certificates
Singapore import permit
A quarantine reservation
You can use this calculator to learn exactly what Singapore requires to import a cat from wherever you live. Take a look, and you'll see why it may be safe to move your cat overseas but it's smart to let a professional handle the details.
Additional safety considerations
There is more to ensuring your cat's safety than fulfilling all the necessary health-related requirements. The trip itself can be stressful for pets, especially for cats. Most felines don't like change, so your kitty is likely to be wary of the entire process. Here are a few things you should do to help her travel safely:
Pick an international pet transport company with a great reputation and plenty of experience moving animals to Singapore. Any international pet move is complicated and fraught with potential problems. You have a lot on your mind planning the human side of your move, and yet your cat's safety depends on getting her plans right.
The right pet transport company can help you with every detail, so you can rest assured your kitty will travel efficiently and comfortably. That includes selecting the most pet-friendly airline available and the shortest itinerary so she spends the least amount of time in transit.
Purchase her airline-approved travel carrier well in advance of her departure. That way, she'll have time to explore it and come to think of it as "hers." That will help her feel calmer as she travels. She'll be safe riding inside, because these carriers are specifically designed to protect pets in transit.
Make a point of spending time with her between now and when you leave, even though your moving plans are hectic. She'll be more relaxed if she doesn't feel left out. And you'll feel more relaxed with some one-on-one pet time.
Do not give her any type of tranquilizer or sedative prior to her departure for Singapore. Veterinarians strongly recommend against this, and airlines and reputable pet shippers forbid it, because it can add to your cat's stress and risk of injury in flight. That's why these other familiarization and calming techniques are so important.
With the right advance planning, it is safe to move with your cat overseas, whether you're headed to Singapore or another country. Everything else may be foreign to you, but you'll have that soothing familiar purr to make it seem like home.
Subscribe to the Blog
Enjoy our content? Get them sent to your inbox!
Subscribe Now!
Related Posts
What You Need to Know About Moving Your Pet to Singapore
Singapore is a country well-known for having very strict rules about many things and importing pets is one of them. If ...
Read More