Island Hopping with Your Dog in the Caribbean
Published on: June 22, 2017 | Author: Starwood Animal Transport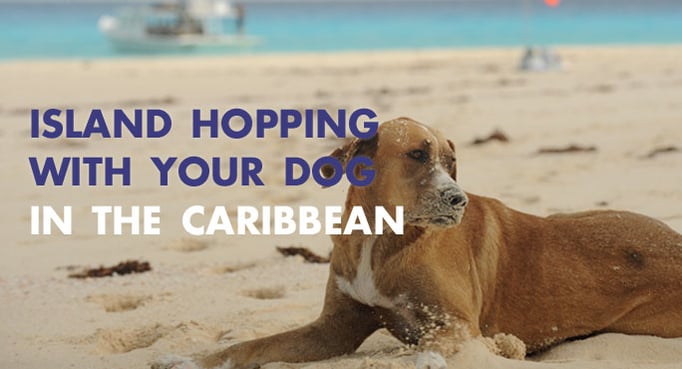 Dreaming of island hopping in the Caribbean? It sounds idyllic. But would you have to leave your beloved four-legged sidekick at home? Not necessarily. Lots of people live on board with dogs, and many others vacation in the Caribbean with their pooch. You can also hop from island to island via air, depending on what sort of trip you have in mind.
Where should you go?
This account of one couple's experience cruising the Bahamas may inspire you. Imagine yourself in their (deck) shoes – with your canine companion aboard, too.
Some Caribbean islands are more dog-friendly than others. For example, many of Saint Lucia's residents are reportedly afraid of dogs, whereas the French islands of Guadeloupe and Martinique display the same love of dogs you'll find in Paris or the French countryside.
Many international airlines serve various destinations in the Caribbean. Just as every country has their own rules about pet import, every airline has its own rules about pet travel. These rules affect whether dogs and cats can fly in the cabin, but the most important thing to understand is that the aircraft used to serve the smaller islands are often too small to carry big dog kennels. This can affect where you are able to go.
The weather can affect your plans, too. You can count on it being warm to hot in the Caribbean, so you'll want to take steps to keep your pet cool. But if you're flying to the islands to escape the winter cold, it may be too cold for your pet to fly. All airlines embargo pet travel if temperatures are extremely high or low anywhere on their itinerary, as a safety precaution. However, if your pet us used to extreme cold, you may be able to get a waiver, called an acclimation certificate.
What should you take?
By air or by sea, you want your pet to feel comfortable on vacation. You may not need more than your passport, shorts, a swimsuit, flip-flops, and snorkeling gear. But you'll need to bring a few other things for Fido or Fluffy.
You'll probably be able to find pet food wherever you go, though it may not be your pet's personal favorite brand. However, veterinary care and supplies are likely to be more limited. You'll want to pack enough flea-and-tick and heartworm prevention meds for the entire trip. This is also a good time to make sure you know how (and when) to give your pet CPR.
Perhaps most important of all, do not forget to register your dog with the Global Pet Registry. While a microchip is a must-have, the GPR is the only international database of dogs and cats. You'll get a tag for your dog's collar that anyone, anywhere, can use to report finding your pup, should he go missing.
The more stops you want to make, the more paperwork you'll need
Every country is different. That's true anywhere in the world, but if you plan to tour the Caribbean with your dog you may be visiting quite a number of countries. That makes planning more complex. Whether you plan to travel via air or water, many islands allow pets to enter only at certain ports/airfields. A few will not allow your dog to set paw on land.
You'll have to research the requirements of each country, then make sure your pet has the proper paperwork to meet everyone's rules. That will include an up-to-date microchip, various vaccinations, proof of rabies immunization (and probably a blood titer test as well), flea and tick medication, and possibly worming. Islands are particularly vulnerable to imported diseases, so you'll find they are particularly anxious to ensure your dog is well-immunized against rabies.
If you're coming from the US, you'll also need USDA Form 7001 (international health certificate). From the UK, your dog will need an EU Pet Passport along with his other documents. Each country will also have its own pet import permit.
Finding accurate, up to date information about exactly what is required to import your dog can be frustrating, at best, and sometimes impossible. But unless you plan to travel by boat and never allow your dog on shore, having the right paperwork is critical.
The point of your trip is undoubtedly to relax. (Or maybe you're threading your way to a specific island, where you plan to live long-term or permanently.) Driving yourself crazy attempting to untangle multiple country rules and requirements for pets is no way to begin your journey. So call us instead.
We're used to navigating the Caribbean waters and skies on behalf of canine (and feline) vagabonds. We know the "who, what, when, and how" to create an itinerary and gather the documents necessary to ensure your trip is a sunny pleasure instead of a bureaucratic nightmare.
Subscribe to the Blog
Enjoy our content? Get them sent to your inbox!
Subscribe Now!
Related Posts
Shipping My Pet - Which Airline Makes It Easiest?
Dear Pet Travel Advice Columnist: I am moving overseas and will be shipping my pet. Several airlines serve my departure and ...
Read More