JetBlue Airline Pet Policies
Published on: June 25, 2019 | Author: Starwood Animal Transport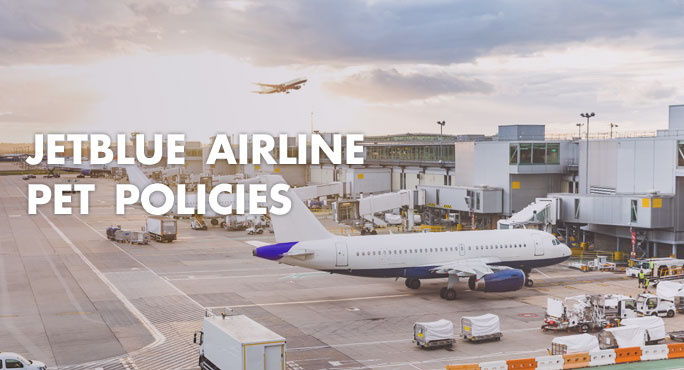 Like all pet-friendly airlines, JetBlue strives to make travel safe and comfortable for companion animals. Their underlying philosophy is simple: "We know that people are happy when their furbabies are happy, so our mission to bring humanity to air travel extends to four-legged humans, too."
But what does that mean? While their ultimate goals of safety and comfort may be the same, every airline has different policies when it comes to the details of pet transport. Here's what you need to know about traveling with your Lizzie on JetBlue.
JetBlue accepts only dogs and cats
Although some airlines transport many different types of pets, JetBlue allows only cats and dogs. And only one per passenger. So if you have more than one pet, you will need another human traveling companion as well. Unlike many airlines, however, JetBlue allows unaccompanied minors to travel with a pet. So if Lizzie and your young daughter need to fly off to visit the cousins, JetBlue might be a good option.
It is important to note that the airline allows a maximum of four pets on any given flight, so you'll want to make Lizzie's reservation as soon as you can to ensure her "seat." Also, JetBlue offers an upgraded seating experience for cross-country flights called Mint, but pets are now allowed in Mint.
There is a flat fee for pets, $125 each way, regardless of the itinerary or destination.
If Lizzie is a certified service animal, there are different rules that apply to her. You can learn more about that here. JetBlue defines a service animal as one that "has been trained to perform an active task to assist the customer traveling."
Pets ride only in the cabin
So, if Lizzie is a canine, she will have to be a small breed to join you on JetBlue. Dog or cat, the weight limit is 20 pounds – pet and carrier combined. Lizzie will have to remain in her carrier at all times in the airport and while on the plane. She will ride under the seat in front of you. JetBlue likes to point out that their extra legroom makes this rule more comfortable for people as well as pets.
Lizzie and her carrier will count as a carry-on, so keep that in mind while packing for your trip. The carrier will need a special JetPaws bag tag. So whether you check in for your flight online or in person, you'll have to get that tag – either at the ticket counter or from a roving JetBlue crew member in the self-service lobby.
Approved travel carriers
No matter what airline you book, your pet must be contained in a carrier that meets official airline requirements for safety and comfort. Because JetBlue allows only in-cabin pet transport, these rules are pretty simple. You can use a hard-sided or soft-sided carrier, but it has to fit the under-seat dimensions. Maximum size is 17" long by 12.5" wide x 8.5" high.
Your small dog and even your cat may be quite used to accompanying you in a purse or pet tote, but (especially for cats) change isn't always appreciated. You'll want to give Lizzie plenty of time to get used to it.
If you use a pet stroller, you can avoid paying a baggage fee for it by checking it at the gate as you board.
What kind of health documentation will you need?
JetBlue doesn't have any requirements regarding vaccinations or other health documents. However, if you're traveling outside the US, Lizzie will need several types of documentation, depending on where you are headed. Each country has their own rules about pets, so you'll need find out exactly what is needed. Do this as soon as you know you'll be traveling, because gathering the paperwork can be time-consuming.
Special notes
JetBlue does not accept pets on flights destined for Barbados, the Cayman Islands, Jamaica, St. Lucia, or Trinidad and Tobago.
Some JetBlue flights are offered in partnership with other airlines. Pets are not allowed on any of these codeshare (multi-airline) itineraries, no matter how or where the booking is made.
Pets earn miles on JetBlue
As Lizzie's fur-parent, you will receive 300 miles for each leg of her trip in addition to the miles you earn yourself! That's worth an extra treat once you arrive.
More questions?
Even a trip that seems simple at first can get complicated when pet travel is involved. For maximum convenience and peace of mind, you can team up with our Starwood experts to handle all of Lizzie's travel needs. That ensures maximum comfort and safety for her and frees you up to concentrate on other aspects of your travel planning. And if you have just a few questions, we're always happy to help with that, too.
Subscribe to the Blog
Enjoy our content? Get them sent to your inbox!
Subscribe Now!
Related Posts
British Airways Pet Policy
British Airways takes great pride in their excellent treatment of animals of all kinds. They note they've been transporting ...
Read More