Moving Out Tips For Pet Owners
Published on: August 27, 2015 | Author: Starwood Animal Transport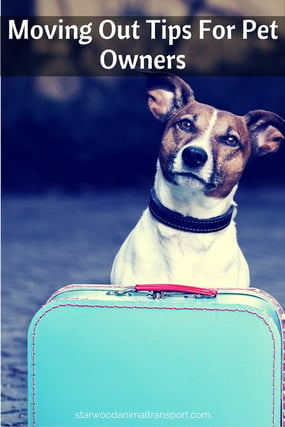 You cannot escape the fact that moving is a high-stress activity. In many ways, moving out is much worse than moving in. At least for humans, you can understand why everything is in a state of chaos. But dogs and cats can't comprehend the "why," they just know things are very much out of whack. Naturally, they're concerned. Why is their household disappearing into boxes? Are you leaving them?
You love your pet too much to let them suffer and worry. And of course you have no intention of leaving them behind. Here are some ways you can help alleviate their fears during the moving out process.
Show them the love.
You are the focal point of your pet's life, so the most important thing you can do as you're planning your move and transitioning to your new home is be present. Try to maintain your pet's regular feeding and exercise routine, and make a point of spending time with them, whether you're playing or just cuddling on the sofa. There's nothing more reassuring than knowing you're still their Number One.
Learn about your new community ahead of time.
Ask if your vet can recommend a colleague there, look into dog parks and pet supply stores and research local licensing requirements or other laws applicable to dogs and cats.
Create a to-do-calendar.
Use this as a checklist to be sure you aren't overlooking something important as you're moving out. The exact timing will depend on how far you're moving and whether your pet will travel with you by car or on an airplane.
If you're moving internationally, your first priority should be to learn pet travel and import requirements of your destination country and the airline(s) on which your pet will fly. This can be complicated and confusing, and for some countries, the process can take months – mostly due to incubation time required for certain blood tests. This is why it's critical to understand what you need to do as early in your moving out process as possible and plot it on your calendar.
One surefire way to ensure you're working with accurate, up-to-date international information is to work with a professional pet shipper. They can advise you, assist with the most difficult aspects of your pet's move (flight arrangements and documentation) or provide total door-to-door concierge service for your pet. There's a cost, certainly, but the time savings and reduced frustration are tremendous. And the peace of mind that comes from knowing you aren't making a terrible mistake is invaluable.
Some pet transport companies also provide private, door-to-door ground transportation. This can be a real godsend in terms of reducing the complexity of your cross-country move, especially if you're relocating children as well as pets. There's only so much room in your vehicle, and moving is no vacation.
Get an appropriate carrier.
The folding kind is good for car travel; airlines require an IATA-approved kennel. Get it early, and make using it part of your pet's daily routine, so it feels like "home" to them.
Visit your vet.
For air travel, pets need a microchip, updated vaccinations (and, often, other tests or treatments), plus documents that certify all this. Timeframes matter, which is why your moving out calendar is so important. You should also have proof of your pet's current health status in hand even when driving from state-to-state. Make yourself a note to get fresh refills of any pet medications.
Double-check your pet's ID.
A microchip does not preclude the need for a tag on your pet's collar that carries your complete ID and contact information. A harness and leash are just as important for your kitty as your dog, if you're traveling by car. She might think being on a leash is the height of indignity, but losing her would be far worse.
Pack all pet stuff together.
Mark it well so you can find the box and unpack it first. If you're moving by car, take as much of your pet's belongings with you as possible, to make it even easier to personalize their new space right away when you arrive. At least take key items for the trip and your first few days in the new location, especially your pet's current brand of food and some water from home.
This will help maintain their routine as you move out and travel, and also avoid upset stomach issues that can affect pets with food/water changes.
A smooth move-out will help ensure a smooth move-in, and that means your pup or kitty can get settled into their new routine as quickly as possible. They will know for sure this is their new home, because their Fur Mom and/or Fur Dad are there. That's what counts the most.
Subscribe to the Blog
Enjoy our content? Get them sent to your inbox!
Subscribe Now!
Related Posts
Moving With Pets - Tips For A Smooth Relocation
Moving with pets is a very different experience than moving people and "stuff." While the process of organizing your family ...
Read More