Are You and Your Pet Ready for a Natural Disaster?
Published on: October 3, 2017 | Author: Starwood Animal Transport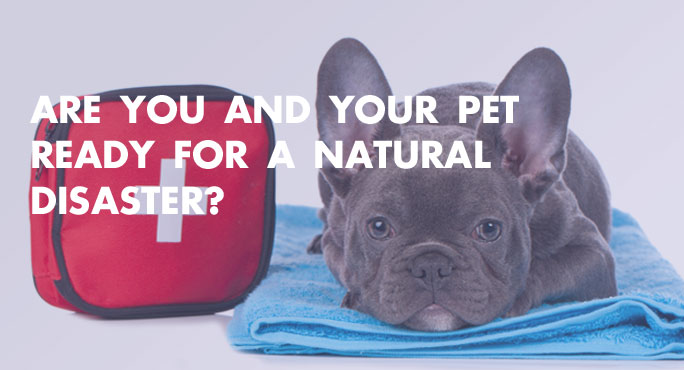 With wildfires throughout the western US, a parade of vicious hurricanes rolling through the southern US and the Caribbean Islands, and multiple major earthquakes in Mexico – all within a period of weeks -- natural disasters are top-of-mind for everyone in North America. But natural disasters can occur anywhere in the world. If we aren't prepared, these unexpected events can turn into tragedies.Are you and your pet ready for the worst?
A lost pet is a family disaster
Our pets are part of our family. We rely on them in the same way as human family members for companionship and comfort. In the event of an emergency, we turn to each other for support. But what if you become separated from your beloved pet – an all-too-common likelihood when a natural disaster strikes? Separation creates anxiety in people as well as dogs and cats. Add to that the chaos and danger of a disaster aftermath, and the physical and emotional suffering just gets worse.
After Hurricane Katrina hit in 2005, the Louisiana SPCA reported that some 15,500 animals had been rescued. Fewer than 20% were ever reunited with their owners.
The following year, Congress passed a new federal law called the Pets Evacuation and Transportation Standards (PETS) Act. Any state that requests help from the Federal Emergency Management Agency (FEMA, responsible for overseeing response to natural disasters) must show that it has a formal plan for evacuating pets and service animals, not just people.
Multiple forms of ID
Local shelters do their best in natural disasters. In cases where there is advance warning, such as with hurricanes, they send dogs and cats awaiting adoption to shelters well away from the area, often in other states, to make room for the many local rescues they know will need housing. Keeping the rescued pets close by gives them the best chance of returning to their families.
It is essential that every pet has a collar and tags with complete, up-to-date contact information. Cats, too. But collars and tags can come off, leaving your pet without identification.
Here at Starwood, we talk a lot about microchipping, because every pet who travels by air must have one. The microchip identifies your dog or cat and links them with their international travel documentation. But a microchip also identifies you as your pet's owner, and the registry stores all your current contact information.
Should your pet ever get lost, having that microchip significantly increases your chance of being united with your pet. But only if you make sure your contact information is up to date.
What if your pet needs medical attention?
You may not be able to get your pup or kitty to a vet, so you'll have to go it alone. Most pet parents don't realize they can give CPR to their dog or cat. But you have to know when it's called for and how to do it, to safely resuscitate your pet. It's highly unlikely you'll be faced with this kind of life-and-death situation, but in natural disasters, pets can easily become injured. Or sickened from ingesting contaminated flood water.
Every pet owner should have an emergency first aid kit on hand, just as you do for your two-legged family members. Natural disasters aside, there are plenty of ways your furry companion might get injured simply by playing in the backyard, on a hike, or at the dog park. You can purchase a pet-specific first aid pack, or assemble the essential items yourself. The Humane Society of the United States has compiled a comprehensive list of recommended supplies for your pet's emergency first aid kit.
The best plan is to have a plan
If any type of disaster occurs, you won't have time to contemplate what to do. That means you must be prepared in advance, so you can take immediate action. To help pet owners, FEMA has created a downloadable brochure with tips for creating a pet emergency plan. That way, you'll be prepared to protect your pet's health and safety.
Subscribe to the Blog
Enjoy our content? Get them sent to your inbox!
Subscribe Now!
Related Posts
What You Must Know About Moving Your Pet To Mexico City
For families relocating internationally with their pets, Mexico City is – fortunately – a comparatively easy destination. ...
Read More