It's not unusual to find Texans who are moving to the UK with the oil and gas boom in the Northern regions, but it is unusual to find out that those Texans are actually Gentoo Penguins who love freezing temperatures! These Gentoo Penguins were born and bred in captivity at Moody Gardens (Aquarium and Zoo) in Galveston, Texas. The Deep in Hull England (Aquarium) has recently added this new exhibit and these 10 Gentoo Penguins are their first! The penguins must undergo 30 days of quarantine upon arrival in the UK, but since their exhibit is an enclosure that allows them to lower the temperatures to near 0 Celsius while visitors observe through glass panels, they can quarantine in their own exhibit!
Ten penguins made the move from Texas to London recently on 2 British Airways flights from IAH (Houston Intercontinental George Bush Airport) to LHR (London Heathrow). They were utilizing a newly designed and newly approved IATA Crate that Moody Gardens worked to develop with members of the IATA Live Animal Board.
The crate included all 5 penguins housed together (they are a community loving animal and don't like to be alone) along with a water source and a light source. Penguins don't like the dark! So Moody Gardens made arrangements for lighting to be attached to their crates while in the dark bins of the Aircraft for the 9 hour flight.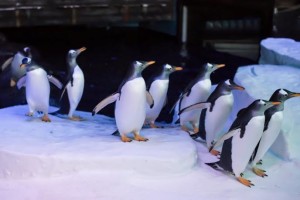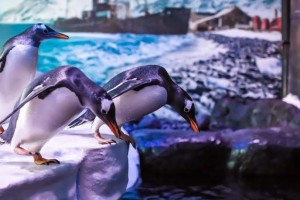 We worked for several months with the Shipper (Moody Gardens) to ensure all the paperwork was correct, and as you might guess there are no 'experts' on the paperwork for Penguins around the world. The work was tedious but we persevered and managed to make all the governing bodies in the USA and the UK have 'Happy Feet' when all was said and done! Both shipments were absolutely picture perfect. The Airline (thank you British Airways) was more than accommodating and did a great job. They ensured that each shipment rode alone. No other animals were booked on the same flight so we didn't have to worry about any quarantine issues, and the Pilot came down to observe the loading (both times) and he ensured the cargo bin temperature was set at 8-10C for the flight … again creating some very happy penguins!