Pet Friendly Hotels in The UK
Published on: May 16, 2017 | Author: Starwood Animal Transport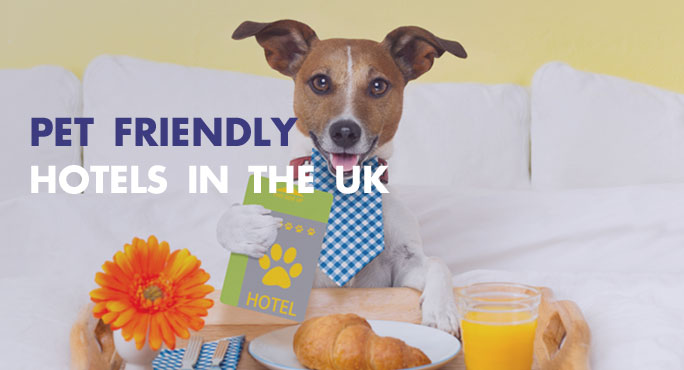 Whether you're a dog person or a cat person, almost half of British households have pets. We treasure our furry companions – and don't they know it! No wonder there are now so many pet-friendly hotels in the UK. Some merely allow pets, which does make planning a motor trip with your pet more convenient. But if you're hoping for more posh accommodation, there are hotels that treat four-legged guests like royalty.
Are you traveling with your pet from outside the UK? Our expert "travel agents" at Starwood Animal Transport can arrange for you to enter Britain via London, Manchester, or Edinburgh. If you're already here, brilliant! Let the in-country travel adventure begin.
What's your pleasure?
A fortnight in the Lake District? The bustle of Mayfair? A stroll along the coast, through the woods, or over the Yorkshire Dales? There's a hotel there with amenities that cater to your every need. And your pet's every desire.
Which are they? We've combed the reviews to find hotels that rank as favorites with both pets and their human companions. Here are just a few:
Edinburgh's Royal Mile may appear "stony" and staid on the exterior, but the B&V Royal Mile Hotel is smartly modern and colorful inside. Dogs get bed, bowl and treats from the local shop Harry's. You get great views of the castle and equally great offerings in the restaurant and bar.
Four Seasons Hotel Hampshire is happy to welcome furred guests who weigh no more than 30 kg (66 pounds), with a packet of food, a personalized bottle of water, a dish, and a comfy bed.
If forested walks (and all those scents!) are your thing, head for the Cliveden, in Taplow. You need only step out the door to investigate more than 250 acres of National Trust paths. When it's time to retire to your room, your pooch will have his own water bowl, feeding mat, and bed. Plus he'll get a daily meal from the chef-created canine menu. Or you could order the Cliveden's famous £100 club sandwich and share it with your pup.
Fashion-conscious pets will appreciate the Athenaeum Hotel & Residences, overlooking Green Park. You may be familiar with their branded line of collars, leads, and doggie outerwear designed in conjunction with Hiro & Wolf. And with shopping a top priority, Mayfair, Knightsbridge, and St. James's are right at hand.
Join the club at the Goodwood Hotel in West Sussex – The Kennels private dog club, that is. 70% of the annual dog club fee goes to support the charity Canine Partner. But you don't have to be a regular or a club member to enjoy walking the grounds of this former sporting estate (maps and dog treated provided on request). And you pup will give a bark of approval when he learns he can join you in the dining room.
Check in with the Pet Concierge when you arrive at the Milestone Hotel Kensington, to pick up your basket of goodies. In it, you'll find a Milestone collar tag, toys, and suggestions of dog-friendly places to visit in London. But that's just the beginning. In-room, your dog can order from the pet menu and choose his preferred bedding -- a floor mat or custom-made duvet or cushion. He'll snooze to his heart's content (after consuming his turndown treat), thanks to the "do not disturb: pet sleeping" door sign.
Another popular London choice is the Town Hall Hotel & Apartments in Bethnal Green. More than bed and bowl, your pooch will get his own breakfast sausage.
Hotel 41, in the center of London, is ranked #1 on TripAdvisor among pet-friendly hotels in the UK. Guests describe it as "relaxed" and "happy," with plenty of thoughtful surprises and souvenirs for your pet.
Want to lounge around? The Devonshire Arms Country Hotel & Spa near Bolton Abbey in North Yorkshire has a lounge set aside just for dogs, though you're welcome to accompany your pooch. You'll want to relax, after a walk to the Abbey and along the beach. Sadly, your pup cannot avail himself of the spa, but he will enjoy his cushy bed and yummy treats.
Libations are the drawing card at the Cholmondeley Arms in Cheshire. For your pup, it's dog "beer" made from beef stock. For you, it's a toss-up between the inn's proprietary malts or their outrageous collection of gin. How do you choose among 200 varieties?
No matter where you stay, you'll pay an additional booking fee for your pet. And the proprietors will expect good pet-iquette. With that, it's a wag of the tail, and a rumbling purr.
Subscribe to the Blog
Enjoy our content? Get them sent to your inbox!
Subscribe Now!
Related Posts
Why You Should Use a Pet Shipper: Watch This Video From IPATA
There are a number of reasons why you should consider hiring a professional pet transport company to handle your pet's ...
Read More