Pet-iquette in Antigua
Published on: June 5, 2017 | Author: Starwood Animal Transport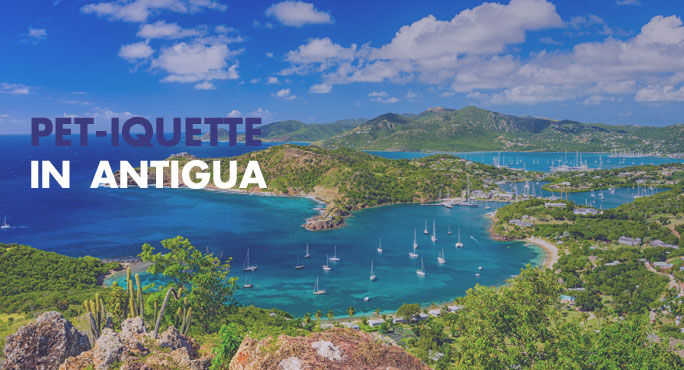 Antigua and Barbuda are about as far as you can get from the Big City, physically and culturally. These tiny islands lie on the eastern edge of Caribbean, part of the Leeward Island group. Like all the Caribbean islands, they are famous for their exquisite natural beauty and laid-back lifestyle. No wonder you'd want to visit – or even move to – Antigua. You can take your dog or cat, too.
So what is life like for pets in Antigua?
Well, that's one area where you'll notice you've left the Big City behind. If you're used to having easy access to everything your pet could possibly want or need, prepare for a change. The island of Antigua does have a veterinarian (and also a vet school), and you can buy some familiar pet foods in grocery stores such as the Epicurean. However, if your pet has grown accustomed to regular visits at the salon or with the dog walker, she may have to re-evaluate her expectations.
The islands of Antigua and Barbuda lie just 17o north of the equator, so you can be sure it will be warm. Or just plain hot. If your pet is not used to this kind of weather, it is critical to help her keep her cool in the heat.
Most of the rules apply to getting there
Every country around the world, regardless of size, has its own set of requirements for importing pets. In the case of Antigua and Barbuda, you can avoid quarantine for your dog or kitty if she has all the proper health documentation. That includes:
A microchip that is ISO 11784/11785 compliant, the international standard that enables officials anywhere to scan and read the chip. If your pet has a different microchip, you can either get her a new one or you can bring your own hand-held scanner.
A rabies vaccination within the past year. Because Antigua and Barbuda are rabies-free, your pup or kitty will also have to undergo a blood titer test (at least a month after their immunization). This confirms that their rabies vaccine is working properly within their body. The test takes weeks to "percolate," so get started on that as soon as you'll know you're going to Antigua.
Testing for Ehrlichia and Lyme disease (dogs), or testing for FIP, FIV, and FeLV (cats).
Proof of treatment for internal and external parasites (fleas, ticks, and tapeworm), within 7 days of departure.
A USDA International Health Certificate (or the equivalent from your current country of residence), prepared and signed by your vet and endorsed by your country's appropriate government agency.
A veterinary import license issued by Antigua's Veterinary & Livestock Division.
So what about proper pet-iquette after you arrive?
Let's just say that's as relaxed as everything else on the island. Of course, good pet parenting rules are always appreciated, wherever you travel or live. Good pet-iquette anywhere starts with having a dog or cat who is relaxed and comfortable in their surroundings. If you're traveling to Antigua, preparing your pet in advance will help make their trip as low-stress as possible.
But as to official pet rules once you're in place on Antigua: if your dog is out in public and not under your control, you could be fined $100.
Why not start living a more relaxed life right now?
Working with a professional animal transport company takes all the guesswork, worry, time, and frustration out of planning your pet's travel and organizing their documentation. You don't have to hunt down the proper forms or wonder if you've overlooked something. That's a big relief, because the details can quickly become complicated.
For example, you can get to Antigua only by plane or boat. Airborne pets must come into the country via Bird International Airport, which is in St. John's, and you have to give them 48 hours' notice, so they can have an inspector waiting to examine your pet. Your pet must fly in a properly-sized, airline-approved kennel. But not all of the planes that serve Antigua are big enough to carry large kennels. So what happens if you have a big dog?
Our experts at Starwood know how to handle these issues. All the issues. Let us do that, then you and your pet can arrive in Antigua relaxed and ready to, well, relax some more.
Subscribe to the Blog
Enjoy our content? Get them sent to your inbox!
Subscribe Now!
Related Posts
Is Air Travel Safe For Cats?
Animal shipping procedures have been created to ensure your cat's safe travel. However, as a concerned "pet parent," it is ...
Read More