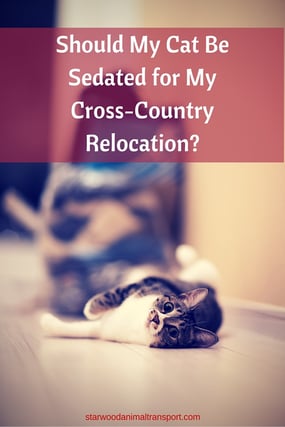 Every cat owner knows felines can be finicky. And never more so than when it comes to change. They don't like it, and they would rather not deal with it. Unfortunately, sometimes change happens, and if you're relocating across the country that is going to be a major change for your kitty in many ways. Just getting from your current home to your new one may be a challenge.
Should you sedate Princess to help ease the stress of her cross-country trip? It sounds tempting, particularly if she's a talker. The thought of listening to her grumble, cry or just plain yowl while you're driving may make you think about sedating yourself, too. Obviously you would never do that and get behind the wheel, but here's the thing about sedating Princess: it's not necessarily good for her, either.
If she were flying to her new home, tranquilizers would be out of the question. The American Veterinary Medical Association now strongly discourages use of any type of sedation, because it can confuse and upset animals, putting them at greater risk instead of calming them. While traveling at altitude can exacerbate the negative effects of sedation, the same cautions apply for ground travel. Your drugged-up kitty may be too "relaxed" to carry on and complain, but the reality is she won't be able to balance or otherwise control her own body in a situation where she already feels out of control and anxious.
It is essential to talk with your vet about your expected relocation drive before you even consider sedating Princess.
There are other ways to keep your precious feline calm(er) in the car.
Let her get used to her carrier. It's unsafe for your kitty to ever ride loose in the car. But if you had to ride in a cardboard box with a couple of holes punched in it for hours on end, wouldn't you be cranky? For long-distance travel, Princess needs a carrier roomy enough for her to stand up and lay down comfortably. Put her favorite blanket in the bottom, so it's cushy and she won't slide around. Purchase the crate early, so she has plenty of time to explore it and get used to playing or sleeping in it.
Let her get used to the car. Has she ever ridden anywhere other than to the vet? If she learns to associate the car with something other than pain and indignation, she will have a more positive attitude about your road trip. So load her up in her new feels-like-home carrier and take her with you when running an errand or two. Give her a treat when you get home. See? That wasn't so bad. If you can, try to make some of the trips longer as your move date nears.
While carriers should have plenty of ventilation around the sides, many vets suggest you place the carrier where Princess cannot see out the window, or else cover part of the crate, because the view of objects whizzing past the car may be stressful for her.
Why not hire a private chauffeur for Princess?
Don't laugh. Far from being a crazy idea, allowing your beloved kitty to travel with a professional pet transport service makes great sense – especially if you're looking at a multi-day drive. Consider the advantages of door-to-door service:
Experienced pet drivers who are dedicated pet lovers will pick her up at your door (or from your vet or boarding facility, if you want to leave earlier).
They will give her a feline-perfect cross-country ride. When you choose Starwood Animal Transport, she won't even have to share her trip with someone else's cats or other pets. (Although all your pets can travel together.)
They will attend to her every need, and you can enjoy your trip instead of juggling cat food, water breaks and kitty litter along the way.
It's worry-free. Should your cat become ill along the way, what would you do? Professional pet transport drivers are highly trained and ready to calmly and appropriately handle any challenge or emergency that might arise.
And here's a bonus that will make you purr: moving expenses you incur when relocating for a job are usually tax-deductible, and that includes pet moving expenses. Check IRS publication #521, or talk with your tax advisor about this nice perk.
When Princess arrives at the door of your new home, you can have all her stuff (maybe even all your stuff) in place, reassuring her she is indeed home again.