Singapore Airlines Pet Policies
Published on: September 23, 2019 | Author: Starwood Animal Transport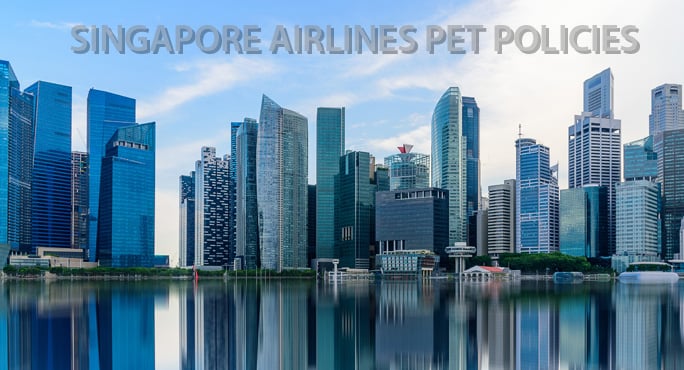 Although there are some similarities, every airline has a different set of rules regarding pet travel. If you are moving to Singapore with your family pet and are considering using Singapore Airlines, you will want to investigate their specific requirements for dogs and cats.
Below, we explain the basic information every pet parent needs to know. However, every pet's journey is unique (as is your pet himself), so it's important to understand all the variables that could impact your dear one's travel plans. Our Starwood Animal Transport experts can assist with that, of course. You can also find additional details here, on the Singapore Airlines website.
Only service dogs are allowed in the cabin
Travelers with officially documented service dogs may bring their dog into the passenger cabin, unless the dog is a prohibited breed (see below). In this case, your dog cannot travel on this airline in any capacity. If your destination is a country other than Singapore, you'll need to verify that your service dog may arrive as a "passenger," because each country has different rules.
If your dog is with you for emotional or psychiatric support, you will have to show valid documentation to that effect, on the letterhead of a licensed mental health professional or facility. For other types of service dogs, you should have his paperwork handy but you probably won't be asked to show it if your dog is obviously in service (for example wearing a vest or other recognizable ID).
Service dogs travel at no charge. They must sit on the floor, on an absorbent pad of some kind. They are considered "unchecked baggage," so your dog won't reduce your baggage allowance.
All other pets travel as checked baggage or cargo
If your dog or cat is at least three months old, he can ride on the same flight as you as checked baggage as long as he and his carrier together do not weigh more than 32kg (70.5 pounds). If he's a big guy, he must ride in cargo. Note that some countries require all arriving pets to travel as cargo, regardless of size or the airline's rules.
You may transport more than one pet, but they must be in separate crates – unless they are puppies or kittens from the same litter, in which case they can share, up to a total weight of 14kg (30.5 pounds).
Pets traveling as cargo on Singapore Airlines ride in space that is temperature-controlled, for safety and comfort. However, on certain narrow-body aircraft -- Airbus 319, 320 and Boeing 737 -- the cargo hold is not air-conditioned, so pets are not allowed on these flights. In addition, pets are not accepted for flights longer than two hours on the Boeing 787-10. For flights that do allow pets, there is a maximum size crate allowed depending on the type of aircraft (see below).
Regardless how your dog or cat travels on the plane, he will need multiple types of official documentation in order to enter Singapore. This includes a health certificate and proof of current rabies vaccination.
Prohibited dog breeds
Singapore Airlines does not accept potentially dangerous dog breeds for transport. In addition, there are many flat-faced (brachycephalic) dog breeds they will not accept. Snub-nosed pets have difficulty breathing at all times, and the stress of travel can exacerbate that. The list of prohibited breeds includes:
Akita

Boerboel

Boxer

Brussels Griffon (Petit Brabancon)

Chow Chow

Dogo Argentino

English, French and American Bulldogs

Fila Brasileiro

Japanese Chin (Japanese Spaniels)

Lhasa Apso

Mastiffs, including Neapolitan and Dogue de Bordeaux

Perro De Presa Canario

Pit Bull

Pugs, including Carlino, Mopshond, Mops Hund and Pekingese

Shar-Pei

Shih Tzu

English Toy, King Charles and Tibetan Spaniels

Boston and Pit Bull Terriers

Tosa
IATA-approved crate
The International Air Transportation Association sets stringent standards for carriers that can be used for transporting animals via air. These crates are designed to provide maximum safety, security, and comfort for pets throughout their journey.
It is crucial to select the proper size crate – the Singapore Airlines web page explains how to measure your pet. However, if your dog or cat is a flat-faced breed that is allowed to fly on Singapore Airlines, our Starwood Animal Transport team strongly recommends that you choose a crate that is a size or two larger than the minimum IATA requirement. A larger carrier will ensure your beloved companion has plenty of ventilation.
As noted above, different aircraft can accommodate pet crate up to a certain height. Those maximums are:
A330 – 22"

A380 – 23.6"

A350 – 27.5"

B777 – 39.7"
For all pets planning to travel by air, we also strongly recommend getting their crate as soon as possible, to give them maximum time to make friends with it. Riding in a carrier that looks, smells, and feels familiar can do wonders to help your precious pup or kitty remain calm and comfortable.
We know you probably have more questions – what pet parent wouldn't? We're always happy to help, whether you need a few answers or want our pet transport pros to handle every little detail.
Subscribe to the Blog
Enjoy our content? Get them sent to your inbox!
Subscribe Now!
Related Posts
Safe Places to Go for a Swim with Your Dog in Singapore
When it gets hot – something it does pretty much all year in Singapore – our thoughts turn to water. A refreshing dip can ...
Read More