The Best Food for my Cat
Published on: February 17, 2017 | Author: Starwood Animal Transport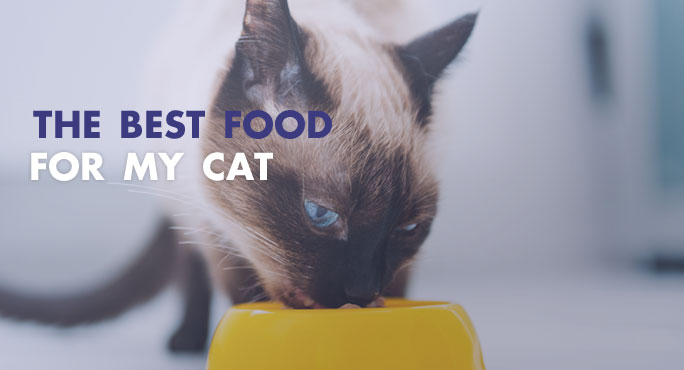 Even if you're a seasoned pet parent, you may not realize how different cat and dog foods are. Like most of us, you've probably never thought about it. However, cats and dogs do have different nutritional needs. And their bodies respond differently to certain ingredients. So it's not just for marketing purposes that manufacturers offer separate lines of dog and cat food products.
Meeeow! The choices are overwhelming!
Long gone are the days when your biggest challenge was choosing wet or dry. Or which size can to purchase. The last thing you want is for your pet to be overeating- especially the wrong foods. Today, your cat can be feed food that is wet, dry, raw, dehydrated, or made by you from scratch (if you'll excuse the pun) at home. To some degree, it's a matter of opinion what cat food is best, and ultimately it will be up to you and your kitty.
Reviews.com conducted an extensive study of cat foods, releasing their findings in November 2016. You can read all the details here. These were among their favorites:
Addiction Grain-Free Herbed Duck Confit and Sweet Potatoes Entree
Blackwood Chicken Meal and Field Pea Recipe Grain-Free Dry Cat Food
Earthborn Holistic Wild Sea Catch Grain-Free Natural Dry Cat & Kitten Food
Fromm Gold Holistic Adult Dry Cat Food
Lotus Just Juicy Pork Stew Grain-Free Canned Cat Food
Now Fresh Grain-Free Adult Recipe Dry Cat Food
Redbarn Naturals Salmon and Delilah Grain-Free Canned Cat Food
Spring Naturals Grain-Free Chicken Dinner with a Medley of Garden Greens and Berries Dry Cat Food
Wysong Optimal Vitality Dry Cat Food
ZiwiPeak Daily Cat Cuisine Venison and Fish Canned Cat Food
You can immediately eliminate products that contain fillers and potentially harmful ingredients. That includes:
Dyes
Artificial colors and flavors
Preservatives
Unidentified meat (generic meal, by-products, or "ocean fish") – these could actually be entrails or other questionable items you wouldn't eat and your cat shouldn't, either
Brewer's rice
Carrageenan or carrageenan gum
Gluten
Garlic
Sugar
Soybeans
It's enough to give you a hairball. How are you supposed to choose the best food for your cat?
Purrrrrr. Here's some advice that will make you (and your cat) content.
The right food depends on your cat's:
Age
Existing health conditions such as chronic kidney disease or urinary tract problems
Weight (more than half of American cats are overweight or obese)
Propensity to develop hairballs (the right food can cut down on that)
Allergies or sensitivity to certain foods
Much as your kitty would hate to admit it, she is not a lioness, queen of the wild. She needs plenty of protein, but not a diet of nothing-but-meat. Along with high-quality protein, she needs fat and carbohydrates. So read the label. Ingredients are listed by weight, in descending order.
Identified meat or meat meal, or broth should be first. "Identified" means the source is listed -- chicken, salmon, etc.
Fat should be in the top five ingredients. Not rendered fat, because that is a processing plant by-product that could contain bacteria or come from "mystery meat" sources.
Contrary to myth, eating some carbohydrate is fine for cats. It can even assist with digestion so they retain more nutrients.
To quickly compare:
Dry food is most convenient and usually less expensive, but it's more processed. Dry food does not improve dental health. Cats don't chew enough for it to have much effect. (Note that buying in bulk can also save money, but dry pet food doesn't retain nutrients past 4-6 weeks, even in a sealed container.)
Canned food is less convenient and more expensive, but it provides vital moisture. Cats tend to drink less water than dogs, but they still need moisture to maintain good health and digestion.
Raw foods closely mimic a cat's natural diet but may be harder to digest. Note that grocery store meat is not intended for raw consumption, and the American Animal Hospital Association opposes make-your-own raw foods due to potential contamination concerns.
Dehydrated foods can be a hassle, but minimize risks associated with raw food. And, again, moisture is an issue.
Homemade meals require a serious time commitment and may not provide full, balanced nutrition.
You get what you pay for – at least at the lower end. For mid-priced and higher foods, compare ingredients before you compare prices. The most cost-effective solution is a combination of wet and dry cat foods. But remember that most cats are not fond of change. Regardless of your good intentions, suddenly switching their food could trigger an attitude problem as well as digestive problems.
Who knew cat food could be so complex?
But now you do know. Armed with all this information – and with input from Miss Kitty's personal veterinarian – you're prepared to be the health-conscious pet parent you strive to be. Take a break, and have some catnip.
Want to take a fun quiz? Find out if you are like your cat or a totally different breed! Take our What Kind of Cat are You Quiz by clicking here.
Subscribe to the Blog
Enjoy our content? Get them sent to your inbox!
Subscribe Now!
Related Posts
Is Air Travel Safe For Cats?
Animal shipping procedures have been created to ensure your cat's safe travel. However, as a concerned "pet parent," it is ...
Read More