The Best Food for my Dog
Published on: February 8, 2017 | Author: Starwood Animal Transport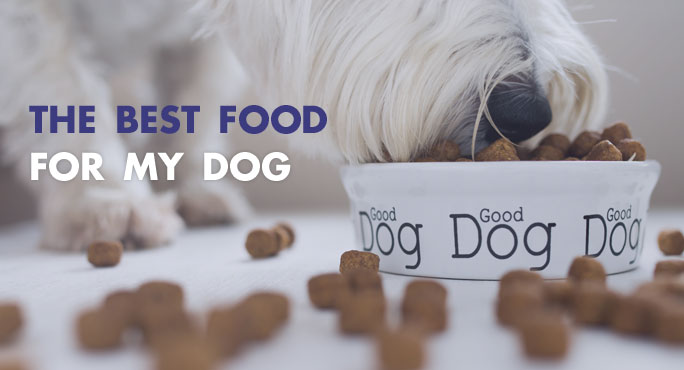 Most of us are much more health-conscious than earlier generations. We're living longer and taking better care of ourselves to make the most of those extra years. As pet parents, we want our four-legged family members to "eat healthy," too, but there are so many dog food choices out there. And conflicting opinions as to what is "best" for your dog. It's easy to feel overwhelmed.
Dry? Wet? Raw?
It's all about the ingredients. Pointless fillers offer empty calories, and they can gunk up your pooch's innards. Feed your pup great food, though, and he'll be healthier and happier. More energetic, with a soft, shiny coat, stronger bones, and teeth. Best of all, he is likely to live longer. It doesn't get any better than that.
Opinions vary regarding whether dry, wet or raw food is best. Regardless of your preference, the best food will be meat-based. Just as with human foods, ingredients are listed on the label in descending order by volume. (Look at the GUARANTEED ANALYSIS.) Insist on meat first! No corn, ever. Which meat is best? That depends on your pup's taste more than anything, although there are slight nutritional differences.
Whatever food you buy, we know you also give your pup goodies on the side. Bear in mind that some "people" foods are toxic to dogs. Consequences can range from diarrhea to death. Also, while many fruits and veggies make excellent healthy snacks for pooches, some (carrots and apples, for example) contain natural sugars. Feed them sparingly. And if you use dog treats for training, remember these tiny morsels have calories that can add up too.
You don't have to go to the store to read the labels
In our digital world, where you can find online reviews and recommendations for virtually anything, it should be no surprise that there is a website created just for those of us who are confused about the best food for their dog. DogFoodAdvisor.com says they are "saving good dogs from bad dog food." They've compiled the data you're looking for, all in one place.
You can check reviews of dog food by brand name, or compare reviews in the category you prefer – dry, wet, or raw. We aren't talking about a few random reviews here – these folks have reviewed more than 3,000 products. And the write-ups are detailed.
As an example, here are 10 dry dog food lines that rate 5 paws-up on DogFoodAdvisor (in alphabetical order):
Canidae Single Grain Protein Plus
EVO Turkey and Chicken Meal Formula
Honest Kitchen Embark (these are dehydrated products you bring to life in your own kitchen)
Merrick Classic Beef, Barley and Carrot
Natural Balance Synergy
Nature's Variety Instinct Duck Meal and Turkey Meal
Orijen
Solid Gold Barking at the Moon
Taste of the Wild
Wellness Core
On the DogFoodAdvisor website, you can also calculate how much to feed your dog, get suggestions on where to buy his favorite food, and learn about recalls.
Talk to your dog's vet.
You trust this person with your beloved pet's medical care, and diet is fundamental to good health and well-being. Your vet knows your pet's personal history and any dietary limitations or special needs he may have. Your vet will also be able to determine how much food your pet should be consuming.
Your dog is priceless to you, but still . . .
Cheap dog food is just that. Not something you want to feed your pup if you love him and want the best for him. On the other hand, quality comes at a price. Many of today's best dog food options are also the most expensive. For the 10 examples we listed above, the cost of a bag (somewhere between 24 and 30 pounds) ranges from $45 to $86. A 10-pound box of Honest Kitchen Embark, which makes 40 pounds of dog food, runs around $93.
If your wallet isn't expansive enough to meet the very highest prices, rest assured you can still find healthy, nutritious dog food at a more moderate cost.
It's also important to remember that just because your vet recommends a particular brand of food sold by his/her practice doesn't mean you have to buy it there. Reputable online sources such as Chewy.com offer a wide range of dog foods, medications, etc., often at lower prices. And always with the added convenience of to-your-door delivery. If your pet's food or meds require a prescription, that's not a barrier to online shopping.
A final, encouraging note: Pet food manufacturers know you're watching. They're reportedly spending more than $100 million a year on research and development, to ensure their products are as healthful as possible for your pup.

Subscribe to the Blog
Enjoy our content? Get them sent to your inbox!
Subscribe Now!
Related Posts
23 Easy-Ship Housewarming Gifts for Pet Lovers
If your friend or loved one is moving house, a housewarming gift is always welcome. And we all know the way to any pet lover's ...
Read More