Top 10 Pet Accessories for 2018
Published on: January 19, 2018 | Author: Starwood Animal Transport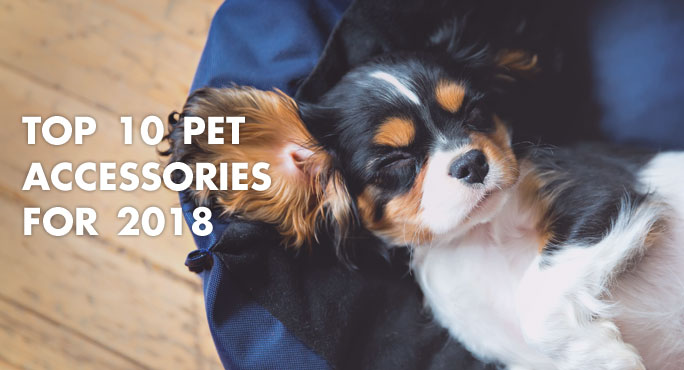 As much as you love your dog or cat, it can be tough to be the perfect pet parent. In reality, pets are pretty easy to please, but we dote over them anyway, constantly on the lookout for new and interesting ways to spoil them. With that in mind, here are the top 10 pet accessories to consider as you search for the Next Hot Thing to make your pet's life more stimulating and your life as a pet parent easier.
1. Travel items
We're all about travel here at Starwood Animal Transport, so let's start with a few travel accessories every pet parent should have. Is 2018 the year you plan to take your dog to the beach – in Europe? A soft, packable Frisbee will keep you both entertained.
Alas, we understand that France may be out of the question for you and your pet this year. But you can improve any outdoorsy activities – close to home or via a road trip – with two important pet accessories. A portable water dish is a must-have, no matter where you go. And a safety harness is a must-have if you're driving. Clickit makes a 3-point harness that's extra safe, sized to fit your pooch, and comes in four colors. Safety with style!
2. Mind games
Technology has infused dog and cat toys as much as every other part of our lives, making 2018 the year of the interactive toy. Think your pet is a super-smarty? Treat him to the Trixie Dog Activity Flip Board, which takes "paws-on" to new levels. To get at the treats hidden inside, your pup will have to slide disks, lift cones, or flip lids using his paws as well as his nose. Even small dogs can enjoy these toys, which means your crafty cat can get in on the action, too.
3. Night-glow toys
Some dogs that love to fetch never want to stop. Now you can keep the game going even after the sun goes down, with a glow-in-the-dark ball, Frisbee, or ring. There is no dangerous battery -- any bright light will charge the toy in just 5-10 minutes, then the charge lasts for a half-hour.
4. I-Spy
Remote pet monitors are all the rage now. If you're traveling but your pet is not, or you're away at the office all day, it's only natural to miss your precious furry friend. Wi-Fi based pet cameras enable you to visually check in with them using your smartphone. Some of these gadgets even allow you to release a treat for your pet, speak to him, or take his picture. It's like you're still there.
And speaking of speaking to your pet, you just had to know there's a Google app for that! Yep. The "Talk to Your Cat" app translates human words into meow-speak (we think). Greet your kitty from afar, tell him you love him, and more.
5. Remote entertainment
Why just spy on your pet and speak to him when you can use your smartphone to activate a laser he can chase? Big fun for cats and dogs alike.
6. High-tech toys
You don't even have to leave home to have fun with your pet. It's great exercise for both of you and the best way to reinforce your bond with them. But what if you're busy? An automatic ball thrower will keep your pooch fetching and fetching and fetching. Teach your pup a new trick, too – instead of handing you the ball on every return, have him drop it right back into the launcher.
7. Cushy dog beds and furniture
Rest is just as important for pets as it is for people. And comfort matters. Quality bedding also helps soothe the joints of big and older dogs, keeps your pet warm (or cool), and saves you the frustration of pet-hair-covered furniture. Check out this article to read up on the 10 different types of dog beds and discover the top 10 recommended models for 2018.
8. Clever cat furniture
You'll be in the doghouse with your cat if you don't find that purrfect pet accessory for 2018. Dogs aren't the only pets who deserve sumptuous sleeping quarters. For indoors, how 'bout a cat hammock? Or a "hamburger" cat bed that envelops your kitty in plush warmth, making it a great place to snooze and also hide out?
9. GPS cat collar tag
Cats like to wander and they don't always come when they're called. Raven Gadget's smart wireless tracker collars allows you to find your kitty or pup within 50 yards of your cell phone. If your cat or dog travels beyond 50 yards you can access their Network Searching feature (at no additional cost) which will connect to their 500,000+ user device database and search for your missing pets signal. Once your cat or dog is found, you'll immediately be given their EXACT location. Pretty cool stuff!
10. Self-flushing cat box
Activated when your cat does his thing, this device automatically scoops away clumped waste. (Yes, you do eventually have to empty the box.
The possibilities are endless. Safety tools, toys, and fancy gadgets aside, though, the #1 "accessory" your pet wants for 2018 is you.
Subscribe to the Blog
Enjoy our content? Get them sent to your inbox!
Subscribe Now!
Related Posts
British Airways Pet Policy
British Airways takes great pride in their excellent treatment of animals of all kinds. They note they've been transporting ...
Read More