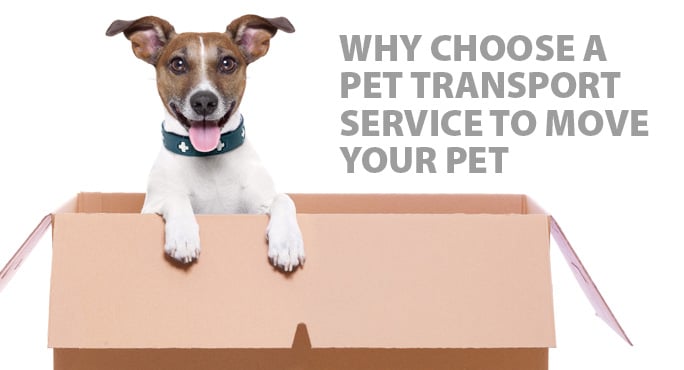 If you need to move your pet any significant distance, there is one simple reason why you should hire a pet transport service to handle the details: you love your pet more than anything. Well, maybe except for your spouse and kids, if you have them. There are several other reasons to get professional assistance, and while they may play a supporting role, they are in fact extremely important.
The right pet transport service loves animals just as much as you do – why else would they be in the business of ensuring furry family members travel safely and comfortably, all around the world? They can serve as an expert member of your moving team, an information filter, an advisor, a concierge and your pet's advocate throughout the process of planning and executing a move. That's a lot. And it's a huge time savings, at a time when you're already unusually busy and have a lot on your mind.
If you're moving domestically, a pet transport service can help with ground or air transport. If you're headed overseas, an experienced international pet transport company can make pet-friendly arrangements to virtually anywhere. Of course, you'll want to ask lots of questions, to be sure you pick the right pet travel expert.
Moving is the definition of "juggling act"
It's all too easy to drop the ball on something, and you certainly don't want that to be your pet's travel plans. Choosing to work with a pet transport service will help you:
Avoid mistakes
Preparing dogs and cats for a move is a complex process. There are hundreds of details that have to be pulled together seamlessly, according to a specific timeline. What will you do if some snafu occurs, or your pet's paperwork is inaccurate or incomplete? The consequences could be devastating. Your pup or kitty might be refused at the departure airport, or face lengthy quarantine, deportation, or even the threat of euthanasia upon arrival. Yikes! (Actor Johnny Depp learned this the hard way.)
An experienced pet transport service has behind-the-scenes knowledge, experience and insight you could never uncover on your own but which can have dramatic impact on your planning process and your pet's journey to their new home. Comfort and safety are at stake here.
Moving your pet internationally requires the ability to navigate potential problems such as embargoes due to weather or breed restrictions. You'll need to schedule veterinary exams, immunizations and health tests to obtain the travel and import documentation required by airlines and your destination country. You'll have to acquire a travel kennel that meets very specific requirements – you can't just pick out a "medium" size carrier because your dog seems like a "medium" to you.
You have to account for the number of flights involved – layovers, elapsed time, will your pet have to pass through multiple foreign countries on the way? And even the timing of your pet's arrival. Pet import officials don't work 24/7/365 in most countries, so your pet must arrive during "office hours," whatever those may be. If your pet arrives after hours, who will care for them until they can officially clear customs?
Avoid frustration
Conflicting information is easy to come by, and it's darn hard to determine which "facts" are accurate and up to date. And convoluted timeframes to fulfill documentation requirements can really mess with your other pre-move scheduling. If you're at your wit's end, your dog or cat will become anxious, too. On the other hand, if you are calm and positive rather than freaking out, your pet will take their cue from you. Even your supremely regal feline secretly looks to you for leadership, and this is no time to let her down.
A pet who is stressed before their travel day even arrives will experience a more stressful journey.
Hiring a professional to handle your pet's move is not the cheapest option, but it is the most assured. And what self-respecting pet parent wants to skimp on their beloved Fluffy or Fido, especially at a time like this? The hidden costs of wasting time, making mistakes and added stress can be tremendous – particularly if a critical detail is missed and Fluffy's travel plans come to an abrupt halt at the last minute.
Besides, for Americans at least, moving expenses are generally tax-deductible if you're moving because of your job, and that includes moving your pet. Double-check with your personal tax advisor about how this applies to your move.
So why choose a pet transport service to move your pet? They do it every day, with all types of pets. You don't. But you do love your sweet pup or kitty.