18 Questions to Ask a Pet Transportation Company
If you're hiring a professional to move your pet, don't be afraid to get to know them.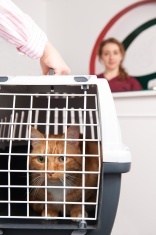 A pet shipping professional should be exactly that: A PROFESSIONAL. Your biggest worry is making sure your pet is safe and comfortable, so be sure the company you choose will do just that.
You have to ask the right questions to confirm that your pet will be taken care of. You also need to know they can offer you the range of services and options that will make your pet's relocation easier for you and your pet.
Download our list now and start asking the right questions like:
What licenses do you have?
How long have you been transporting pets?
Where can I find online reviews for your services?
How can I prepare my pet before the move?
Complete the form on your right to download the 18 Questions to Ask a Pet Transport Company.
18 Questions to Ask a Pet Transport Company