Moving a Pet to the UK (England, Wales, Scotland, & Northern Ireland)
Rules and Regulations for International Pet Shipping
What Pet Travel Documents Are Needed to Travel to the UK (England, Wales, Scotland, & Northern Ireland)?
The United Kingdom includes England, Scotland, Wales, and Northern Ireland. To enter England, Scotland or Wales, pets must use approved travel routes. You must also use an approved transport company (such as Starwood Animal Transport) to enter any UK country, unless you're traveling to the UK from the Republic of Ireland.
Cats, dogs, and ferrets entering UK countries are regulated by the UK Animal and Plant Health Agency and by the UK Department of Agriculture, Environment, and Rural Affairs (DAERA) if you are traveling to Northern Ireland.
Documents required for pet travel to the UK depend on where in the world your pet has been living. Some airlines also require a health certificate for traveling pets. If you don't comply with all of these import requirements, British officials reserve the right to put your pet into quarantine for up to four months or to send him home.
Health Certificates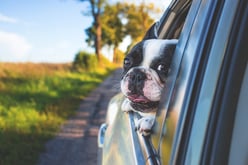 The UK divides foreign countries into three categories.
Those from which EU Pet Passports are accepted:
European Union countries plus Andorra, Azores and Madeira, Canary Islands, French Guiana, Gibraltar, Greenland and the Faroe Islands, Guadeloupe, Iceland, Liechtenstein, Martinique, Monaco, Norway, Reunion, San Marino, Switzerland, Vatican City, Listed countries.
In order to travel on a pet passport, you must travel within 5 days of your pet. If traveling outside the window, you must follow the rules of a listed country.
Listed countries:
Antigua and Barbuda, Argentina, Aruba, Ascension Island, Australia, Bahrain, Barbados, Belarus, Bermuda, BES Islands (Bonaire, Saint Eustatius and Saba), Bosnia-Herzegovina, British Virgin Islands, Canada, Cayman Islands, Chile, Curaçao, Falkland Islands, Fiji, French Polynesia, Hong Kong, Japan, Malaysia, Mauritius, Mexico, Montserrat, New Caledonia, New Zealand, Russian Federation, Saint Maarten, Singapore, St Helena, St Kitts and Nevis, St Lucia, St Pierre and Miquelon, St Vincent and The Grenadines, Taiwan, The former Yugoslav Republic of Macedonia, Trinidad and Tobago, United Arab Emirates, USA (includes American Samoa, Guam, Northern Mariana Islands, Puerto Rico and the US virgin Islands), Vanuatu, Wallis and Futuna.
Unlisted countries (all others)
If you currently reside in a listed or unlisted country, you will need:
A health certificate filled in by a licensed veterinarian, with an original ink signature. For example, if you're coming from the US, this will be EU Veterinary Certificate (Annex).
If you are traveling within 5 days of your pet, this certificate must be completed within 10 days of your pet's travel date.
If you are traveling outside of 5 days from your pet, this certificate will need to be completed within 48 hours of your pet's travel.
You may not submit health certificates electronically. For more information, you can learn on their government site.

Import Permit
Dogs, cats, and ferrets entering the UK do not need an import permit.
Vaccines
Other Vaccinations
No specific immunizations are required for pets to enter the UK, other than for rabies.
Rabies Vaccinations
Pets must have a valid rabies vaccination that has been administered at least 21 days prior to arrival. Pets less than 12 weeks old (too young to be vaccinated) are not allowed to enter the UK.
Your microchip must be implanted at the same time or prior to the primary rabies vaccination (see the microchip information below). Immunizations given prior to microchipping are not valid and must be repeated.
The "primary vaccination" (the first one given after the animal has been microchipped) is only considered valid for one year, even if it was a 2- or 3-year vaccine. You can travel within 1 year or rabies vaccination with current rabies and chip proof.
If it has been more than a year since your pet received their primary vaccination, you must prove that the pet has been continuously vaccination back to a 1-year primary rabies, done after the microchip. If you fail to do this, your pet could face a 21-day quarantine upon arrival in the UK.
If your pet has a longer history of rabies vaccinations, boosters are considered valid no matter which duration vaccine was used.
Tapeworm Treatment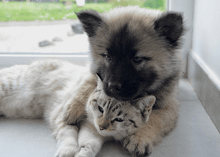 Dogs
Dogs must be treated for tapeworm by an accredited veterinarian within 1 to 5 days (24 to 120 hours) of entering the UK. The medication must be labeled as an effective treatment for Echinococcus multilocularis, preferably with praziquantal as the active ingredient. The active ingredient and manufacturer's name must appear on your pet's health certificate, along with the date and time the treatment was given. (Treatment may be administered after the health certificate has been officially endorsed.)
We only recommend a treatment containing praziquantel because that is the only treatment that is guaranteed to be accepted in the UK. If the treatment is being done prior to USDA endorsement, the USDA will only endorse if the product contains Praziquantel.
Cats
Not applicable.
Foot and Mouth Disease
Pets being imported from countries affected with foot and mouth disease are encouraged to take additional precautions to prevent bringing foot and mouth disease into the United Kingdom. These precautions are:
Feet, fur, and bedding should be free of any dirt or mud
The pet's bedding should not have any straw or hay in its bedding
The pet should be bathed as soon as they arrive
The pet should be separated from any livestock for at least 5 days after arriving in the US
You can find a list of countries that may be affected by foot and mouth disease here.
Blood Tests
Dogs, cats, and ferrets are not required to have a Blood Titer Test for travel to the United Kingdom unless they are traveling from an unlisted country. (Refer to lists under Health Certificates.)
Photo of Pet
You are not required to produce a photo of your pet to transport them to the UK, but we're sure you have plenty of those on your phone anyway!
What Are the Pet Restrictions for the UK (England, Wales, Scotland, & Northern Ireland)?
Banned Breeds

United Kingdom countries does not allow the following dog breeds:
Pit Bull Terrier
Japanese Tosa
Dogo Argentino
Fila Brasileiro
Age Restrictions for United Kingdom
Dogs, cats, and ferrets that are younger than 12 weeks old may not enter the UK. If they are between 12 and 16 weeks old, they may enter only after a 21-day waiting period following rabies vaccination.
Do I Need a Microchip for My Pet to Travel to the UK (England, Wales, Scotland, & Northern Ireland)?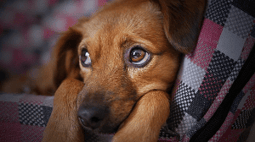 Yes. Microchips must be implanted at the same time as or before your pet is vaccinated for the primary rabies vaccination. This is because the unique microchip ID number must appear on every one of your pet's health documents. Microchips must be ISO 11784 or 11785 compliant. If your pet has a current microchip that doesn't meet this standard, your vet can safely implant another one.
We strongly recommend that you register your pet's microchip with Global Pet Register, as this is the only pet recovery database that functions worldwide.
What Are the Quarantine Requirements for a Pet Traveling to the UK (England, Wales, Scotland, & Northern Ireland)?
There is no quarantine period as long as you comply with all the import requirements. If you do not, your pet may face up to four months in quarantine. Pets coming from Jamaica are automatically quarantined unless their microchip and rabies vaccination were administered in another non-EU country.
Are There Any Area Specific Pet Requirements in the UK (England, Wales, Scotland, & Northern Ireland)?
Top Destinations in the UK (England, Wales, Scotland, & Northern Ireland)
Our Top Blogs About the UK (England, Wales, Scotland, & Northern Ireland)
Our United Kingdom pet shipping services include:
Door-to-door transport
Assistance with health certificates, import certificates, and other travel documents needed for animal transport to the United Kingdom (outlined above)
USDA endorsement and consular legalization (when needed) of all relevant documents where required
Airline-approved flight kennels provided with personalized labels, identification and emergency notification instructions
Customs clearance and delivery to your home
Local pet taxi service to and from the airport, your home, veterinarian, kennel, or groomer – available in major UK cities as well as their surrounding areas
Travel consultation and flight reservations
We will inform you of your pet's full itinerary before the trip and we will update you as your pet travels to the United Kingdom.