2018 Update on Vaccinations: New Zealand/Australia
Published on: March 26, 2018 | Author: Starwood Animal Transport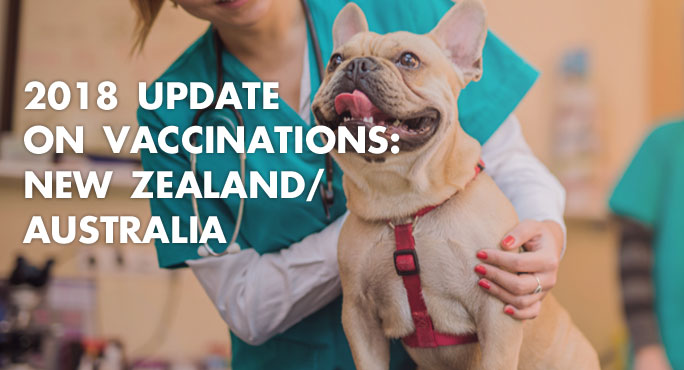 If you're planning an international move, you have to understand that things change. Countries such as New Zealand and Australia have stringent regulations governing pet importation. And if you don't follow the latest protocols and paperwork requirements, your dear dog or cat could be left behind. What could change?
Consider these two recent examples from New Zealand:
"From 22 October 2017, cats and dogs from all countries (including Australia) can no longer fly into Wellington Airport. Cats and dogs must be cleared for entry into New Zealand (Australian cats or dogs only) or transferred to a quarantine facility (all other countries) from either Auckland or Christchurch airports."

"14 MARCH 2018 - The IHS and model veterinary certificates for cats and dogs have been urgently amended to include the following measure for canine influenza …" Essentially, your dog must be vaccinated against canine influenza or your vet has to stipulate that the dog hasn't been near any potentially infected animals for at least three weeks before departure.
Currently countries around the world – including the United States – are seeing an increase in cases of canine influenza, or dog flu. This is a highly contagious disease, just like human flu, though people and pets cannot infect one another because the virus is somewhat different in each instance.
What's the big deal?
Say you intend to move to Australia or New Zealand soon. If you were relying on information just six months old to pull together your pet's travel arrangements and documents, you'd be out of date. And maybe out of luck. Accurate information is critical. New Zealand and Australia are quite good at providing comprehensive information and updating their websites. Many countries are not. Even so, wading through the lengthy explanations to find what you need can be daunting and frustrating.
Here at Starwood Animal Transport, we don't have to hunt around to find the latest information. We transport pets like yours all around the world, day in and day out, work closely with airlines and local officials. You can be confident we are up to date and among the first to know if anything changes. What a relief!
Because we are professionals when it comes to moving pets properly and safely. The New Zealand Ministry for Primary Industries strongly recommends you contact a professional to assist with importing your pet. Australia leaves nothing to chance. You must use a company such as Starwood if you want to move your pet to Australia.
But what vaccinations will your cat or dog need before they head to their new country?
New Zealand
If you're moving from Australia, your cat or dog need only be cleared at the biosecurity inspection station. Otherwise, your guy will need specific vaccinations and treatments depending on the country you're living in now. The United States and the UK are in Category 3 – countries where rabies is present but well-controlled. (Other categories are for countries that are rabies-free or where the disease is not controlled.)
Let's assume you're moving from the US. Cats and dogs must have a valid rabies vaccination and must also undergo a rabies titer test to prove that the vaccine is working effectively within his bloodstream. Note that it takes 180 days to get results from this test.
Cats must be vaccinated for:
Feline panleukopenia (enteritis)

Feline rhinotracheitis

Feline calicivirus
Dogs must be vaccinated for:
Canine distemper

Infectious canine hepatitis

Canine parvovirus

Canine parainfluenza

Bordetella (kennel cough)

Canine influenza (if available, as noted in the March 14th alert)
Dogs and cats not entering from Australia automatically go to quarantine for 10 days and are then released if their documentation is in order. New Zealand's quarantine facilities are privately operated. Some of them also require dogs to be vaccinated for leptospirosis.
Note that New Zealand also requires you to declare any medications your cat or dog takes regularly.
Australia
If you're moving to Australia from New Zealand, your dog or cat will not need an import permit. If you're coming from anywhere else, your pet will need certain vaccinations and treatments, depending on the export country. For example, the United States (except Hawaii and Guam) is a Category 3 country, the same as for New Zealand.
Again, let's assume you're moving from the US. Your pet will need a rabies certificate and titer test as noted above. The titer results cannot be older than 24 months. There are no exceptions to this rule. Cats and dogs must also be treated for internal and external parasites. And your dear furred one will have to spend 10 days in quarantine.
Dogs must be vaccinated or tested for leptospirosis and – since you're coming from the US – vaccinated against canine influenza. They must be tested for Ehrlichia, Leishmaniosis, and also for Brucella if they are not neutered. Recommended vaccines for dogs:
Distemper

Hepatitis

Parvovirus

Parainfluenza

Bordetella
It's complex. And it can change. But knowing that is half the battle, as they say. And if you want complete peace of mind, just give us a call.
Subscribe to the Blog
Enjoy our content? Get them sent to your inbox!
Subscribe Now!
Related Posts
What You Need to Know About Moving Your Pet to Singapore
Singapore is a country well-known for having very strict rules about many things and importing pets is one of them. If ...
Read More