American Airlines Pet Policy
Published on: October 20, 2015 | Author: Starwood Animal Transport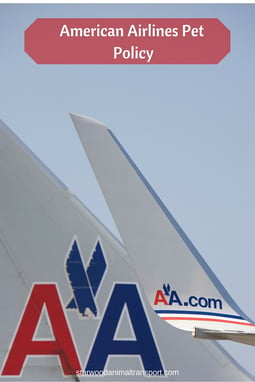 American Airlines has been transporting animals for more than 50 years, so even if your pet is flying for the first time, they will be in experienced hands. American has a help desk for pet owners, which is available around the clock, and they sum up pet travel succinctly on their website: please make sure you know the rules before you book.
That is sterling advice no matter where your pet is headed or what airline(s) you're considering. While some pet travel rules are the same among all air carriers, details can vary significantly from one to the next. Even within a given airline, policies can differ from one route or plane type to another.
American's merger with US Airways further complicates matters.
Understanding American's pet policies is particularly difficult right now, as their merger with US Air won't be finalized until the end of this year. Pet travel policies have to be merged and made consistent, along with everything else. For instance, US Air has never allowed pets to travel as cargo, whereas American does provide cargo as well as in-cabin service.
Although many changes have been decided already, the information posted on American's website does not reflect those changes, creating difficulties for individual pet owners as well as professional pet shippers.
Nonetheless, companies in the pet transport business deal with airlines every day, so they are in a better position than the pet-owning public to know about the latest rules. If you are considering air travel for your pet, your best plan is to consult a certified a professional rather than trying to uncover the most current information on your own.
As of this writing, here are the highlights of American's pet travel policies. You can expect to see additional changes as US Airways becomes completely absorbed and only the American Airlines name remains.
Where can your pet ride?
American currently allows cats and dogs to travel as:
Your carry-on (riding under the seat in front of you).
Checked baggage on your flight.
Cargo, whether you're booked on the same flight or not.
In-cabin travel
American allows carry-on pets on flights of less than 12 hours, to and from cities within the US (including Alaska) plus Canada, Mexico, Puerto Rico, St. Croix, St. Thomas and some destinations in Central America. There are special restrictions for Hawaii, the Caribbean, South America and transatlantic or transpacific destinations. Fees vary depending on destination.
You can bring one dog or cat on board as your carry-on and it must remain in its carrier the entire flight. The animal must be able to stand up, turn around and lie down without being cramped. Hard-sided carriers cannot be larger than 19"x13"x9". Soft-sided carriers can be larger, but must be water-repellant, padded and have mesh ventilation on at least two sides.
Checked pets (cargo)
Some aircraft cannot accommodate pets in the hold, so you will need to ask. When this option is available, you can check up to 2 pets at least 8 weeks old. Only a certain number are allowed on each flight (the exact number varies), and you must reserve space at least 48 hours in advance. Reservations are first-come-first-served.
Note that American will not accept checked pets traveling to or from Las Vegas, Phoenix, Tucson, or Palm Springs between May 1 and September 30, due to heat concerns.
Pets traveling as cargo must have:
Two copies of their health certificate, signed by a licensed vet within 10 days of departure.
One copy of their rabies certificate, proving the vaccination is current.
Certificate of Acclimation for cold-weather waiver, if appropriate.
Other policies apply to checked pets:
Breed restrictions. American does not accept any brachycephalic (snub-nose or pug-nose) dogs or cats or mixes of these breeds. You can find a list of specific breeds on their website.
Crates. Pets can only travel in kennels that meet the USDA and International Air Transport Association guidelines for security and safety.
Weather restrictions. American does not accept pets in the hold if the current or expected temperature is more than 85oF or less than 45oF anywhere on the itinerary. However, if your pet is acclimated to very cold weather, American will waive this restriction with a letter from your vet signed within 10 days of your pet's initial departure. The letter must contain certain information, so ask about this.
If the uncertainty of American's current policies worries you, your pet transport professional may be able to recommend an alternative airline. After all, peace of mind is paramount when your pet's comfort and safety are at stake.
Subscribe to the Blog
Enjoy our content? Get them sent to your inbox!
Subscribe Now!
Related Posts
Is Air Travel Safe For Pets?
At some point in all the excitement of learning you are moving a long way from home – perhaps to a far-away foreign country – ...
Read More