Cultural Differences in Grooming Your Dog Around the World
Published on: March 7, 2018 | Author: Starwood Animal Transport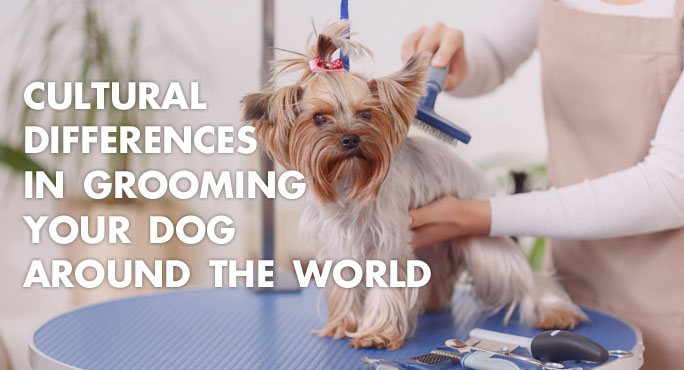 If your pooch has grown accustomed to regular pet grooming visits, what might happen if you move to another country? The change may not be as great as you think.
In virtually every corner of the world, dogs have transitioned from working animals to cherished family members. That's not to say dogs don't continue to work. Many of them still herd livestock, protect people and structures, sniff for drugs or bombs, and perform other services.
Our attitudes toward dogs have changed considerably over time. We appreciate their service and companionship. But in almost every culture, dogs now enjoy an elevated status. We have humanized our pets, especially dogs, in many ways.
In some Muslim cultures, dogs are considered dirty and unholy, so they are feared and avoided. Yet even in these countries, pet ownership is rapidly growing. In China and elsewhere in Asia, dogs are a source of meat even today. But dogs also hold a place of honor – you can even find one on the Chinese zodiac. And China's pet care industry is on its way to becoming third-largest in the world.
In his scholarly study entitled "Biology, Culture, and the Origins of Pet-Keeping," Harold A. Herzog concluded that "pet-keeping is largely a product of social learning and imitation-based cultural evolution." He also noted that "shifts in choices of pets follow the rapid changes in preferences that characterize fashion cycles."
Perhaps this explains why small, even tiny, dogs are all the rage in many cultures. They are the most "human," because they are the most baby-like.
There's big money in dog grooming
The pet care industry has exploded in recent years, all around the world. You can now find specialized veterinary services, fancy apparel, gourmet treats, and a stunning array of toys and even electronic gadgets for dogs. And topping the growth list is pet grooming. Internationally, the pet grooming market is projected to grow about 4.7% per year through 2025.
Americans lead the way in spending -- about $620 billion (yes, that's billion) in 2016, according to the American Pet Products Association. They say grooming represents a significant chunk of that total. In Australia, the pet care industry grew 42% between 2013 and 2016. During 2016 alone, Australians spent $600 million on dog grooming. On average, dog owners shell out $150 per month to keep dear Fluffy looking her best.
No wonder dog grooming has become such a hot commodity worldwide. It's a hot job market. too. The US Bureau of Labor Statistics says that pet grooming and related services will grow faster than the overall economy over the next five years, a whopping 11%.
Far more than a wash, a trim, and a bow
"Grooming" has taken on a much broader meaning. Dog grooming salons are now exactly that – upscale beauty boutiques that offer a multitude of services. And in some cases, lines of retail products, too. Doting pet parents want their canines to enjoy the advantages of services such as reiki and pet massage. And who wants a ho-hum nail trim when you can get a "paw-tincture" canine pedicure?
On the other hand, self-service dog washes – the most basic of dog grooming services – are also a growth industry. Owners of larger dogs often find these facilities more convenient and efficient than an at-home battle for cleanliness. And then there is mobile pet grooming, another fast-growing segment that appeals to those with nervous dogs as well as elderly, home-bound dog owners.
Pampered, portable pups have been popular for years. In South Korea, it's been common since the 90s to see little dogs with their tail tips dyed a bright color. Or the entire dog dyed an unusual color such as pink, orange, purple, or green. It's still a grooming "thing" there, though not nearly as popular as it once was.
The latest trends in doggie hairstyle fashion
In today's global world where everything is shared via social media, it's no surprise that there are international influences that determine the latest trends in pup-forward fashion. "Asian Freestyle" has been trending for a few years, especially for smaller breeds.
Asian grooming style is all about cuteness – making your little pup look like a teddy bear or other stuffed toy. But the specifics vary by region. For example, braids, ponytails, fuzzy "koala" ears, and moustaches are trendy in Japan, Taiwan, Thailand, and Malaysia. But you'll also see weird topknots. One well-known British stylist creates the "cone head." And for those who love to dress up their dogs, South Korean stylists clip torso fur short, to make dressing easier and more comfortable.
If your dog is going for a Japanese-inspired "do," perhaps you should teach her some Japanese commands, too. One thing's for sure. Languages may still differ, but there are few cultural differences any more when it comes to dog grooming.
Subscribe to the Blog
Enjoy our content? Get them sent to your inbox!
Subscribe Now!
Related Posts
What Happens on the Day Your Pet Flies
All those weeks or months of planning, and the Big Day is finally here – it's the day your pet flies to his new home. Is ...
Read More