How Can I Keep My Pet Out Of Quarantine During An International Move?
Published on: May 13, 2015 | Author: Starwood Animal Transport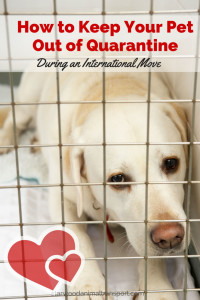 If you're concerned about the possibility of pet quarantine because you're moving internationally, learning what is required and following the rules exactly is all you can do. Some countries require quarantine no matter what, but they may waive or reduce quarantine time if your documentation is all in order. It's certainly worth the effort.
Although quarantine gives officials a chance to watch for a number of health problems, the big issue that drives quarantine requirement is rabies. Rabies can be transmitted to any mammal including humans. The level of concern varies depending on where you have been living and what country you are moving to. Countries around the globe are divided into three classifications:
Rabies-free.
Rabies-controlled.
High rabies.
There are internationally-recognized lists of countries that fall into each of these categories, but ultimately it's up to each country to set its own rules regarding entry and potential quarantine. There are a lot of countries on the rabies-free list, but many are small island nations such as those in the Caribbean. Notable exceptions on the list used by the Centers for Disease Control to set requirements for entering the US include including Australia, Hong Kong, Japan, Singapore, the UAE and European Union countries.
There is an underlying trust issue at play here, too. For instance, the EU is not entirely devoid of rabies, but control is tight and vaccines used to immunize pets are considered highly effective. This is true for the US as well, so you can import your dog or cat into the UK, for instance, without quarantine as long as vaccinations are up to date.
Nonetheless some countries still require a quarantine period even if you're coming from a controlled environment and can prove your pet is healthy. It's an extra level of protection for pets, people and wildlife.
In general:
If your pet has been living in a rabies-free country for at least 6 months, paperwork will be minimal and they won't need a blood titer (a test that verifies presence of rabies antibodies in the bloodstream) or quarantine.
If you've been living in a rabies-controlled country such as the US for at least 6 months, your pet's paperwork will have to include a current rabies certificate and you may be eligible to skip quarantine or the time may be reduced.
If you're moving from a rabies-controlled country to one considered rabies-free, your pet will proof of vaccination and also a blood titer, typically 4 to 6 months in advance of travel. If you don't meet the waiting period, your pet will be quarantined an equivalent amount of time.
If you're headed to a high-rabies country, the requirements to enter are low but your pet will probably need a blood test to return to a controlled or rabies-free country.
The rules are subject to change.
Countries can modify their requirements for documentation, quarantine, etc. at any time, and their embassy staff may not have the most recent information to give you. And you can't always tell if information you find online is up to date or accurate in any case. With the possibility of quarantine at stake, you don't want to make a mistake.
You don't have to figure this out for yourself.
You can be confident you're doing everything you can to avoid quarantine for your pets if you work with an international animal transport company. They know the latest rules country by country, because they work with this information every day. Some countries require you to use a professional shipper if your pet is traveling as cargo. And aside from all the other benefits, having a third party take responsibility for your pet's travel arrangements relieves you of confusing, time-consuming preparation.
If you are moving internationally you may not be able to keep your pet out of quarantine. But working with someone you can trust from the time you start planning your move will ensure your pet has proper documentation and that all protocols have been followed to the letter, giving your pet the best possible chance to avoid quarantine or to receive a "reduced sentence."
Learn more about shipping your pet.
Subscribe to the Blog
Enjoy our content? Get them sent to your inbox!
Subscribe Now!
Related Posts
Why Are There Such Strict Rules For Moving Pets To A Foreign Country?
If you take your dog to doggie day care – or to the neighborhood dog park – the last thing you want is for someone else's sick ...
Read More