International Pet Travel Documents And Requirements
Published on: October 14, 2015 | Author: Starwood Animal Transport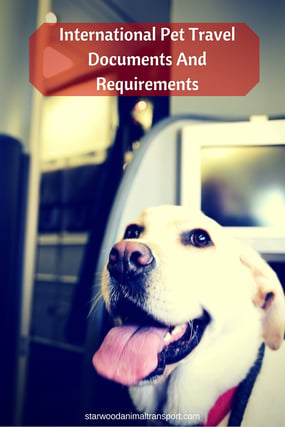 It wasn't difficult to get your own passport. How hard can it be to get travel documents for your pet? A lot more time-consuming and confusing then you might think. For one thing, there is no single answer to this question, because the rules change depending on where your pet is going. Travel from Chicago to Singapore will be quite different than going from Houston to the UAE. Or London.
So, although it isn't necessarily a requirement, it's smart to consult a pet transport professional. They can help you navigate the maze of international pet travel documents and other requirements so nothing falls through the cracks and you can retain your sanity. (And, by the way, there are some airlines and countries that do require you to use a professional shipper for your pet.)
Your pet's documentation is critical.
Without the proper paperwork in hand (or should we say, in paw), your beloved pooch or feline could be refused transport at her point of departure or quarantined or deported at her destination. Some countries threaten to euthanize pets who don't meet their import requirements. Needless to say, you want to get this right.
At the very least, your pet will need an international health certificate signed by a licensed and accredited veterinarian, a microchip and proof of rabies immunization. Your pet may also need additional vaccinations or health-related treatments and tests. Your destination country might also require special import permits and/or USDA endorsement of your pet's documents.
Every one of these things has a specific window of time for completion, and getting everything done in the right order can get tricky.
Documentation is just the beginning.
In order for Fluffy or Fido to become an international jet-setter, they will need more than a paw-full of paperwork.
Although it's possible to carry a small dog or cat on board with you when traveling to some international destinations, it's likely your precious pet will ride as cargo. Their environment will be pressurized and temperature-controlled, but they must have a specific type of kennel that meets air transport safety and security guidelines. It has to be the right size for comfort, not overly large but roomy enough for Fluffy or Fido to stand, turn around and lie down normally.
Do your pet a huge favor and get their kennel early, so she can make friends with it before she has to fly in it. This is the most important thing you can to do help ease her anxiety.
And speaking of anxiety, one of the most common questions we hear from pet parents is "should I sedate my pet?" Here at Starwood Animal Transport Services, we say no. We will not ship pets that have been tranquilized. The American Veterinary Medical Association also recommends strongly against sedating animals for air travel, because it can cause serious problems instead of helping.
What can go wrong?
Pet-friendly airlines take care to move animals to and from planes as quickly as possible, often in climate-controlled vehicles. Nonetheless, when the weather is very hot or cold – typically over 85oF or under 45oF – they won't allow pets to fly. You love that they're looking out for your pet's welfare, but this can play havoc with your own travel or other plans. Likewise, a canceled flight can become a last-minute problem. This is rare, but it's another "what if" to consider.
If Fluffy cannot fly as planned, what will you do? What if you get separated? This is one of several excellent reasons to get professional assistance. Your pet's travel is their one and only priority.
So, to recap, for Fluffy or Fido to travel internationally, you'll need to:
Learn the specific requirements of your destination country and airline.
Obtain all the appropriate documentation.
Make pet-friendly flight arrangements.
Obtain the proper travel crate.
Transport your pet and their kennel to the airport and retrieve them at the other end.
Clear your pet through customs as well as yourself when you reach your destination.
The process is relatively straight-forward in some ways, amazingly complicated in others.
Subscribe to the Blog
Enjoy our content? Get them sent to your inbox!
Subscribe Now!
Related Posts
Is Air Travel Safe For Pets?
At some point in all the excitement of learning you are moving a long way from home – perhaps to a far-away foreign country – ...
Read More