Is Air Travel Safe For Cats?
Published on: April 14, 2022 | Author: Starwood Animal Transport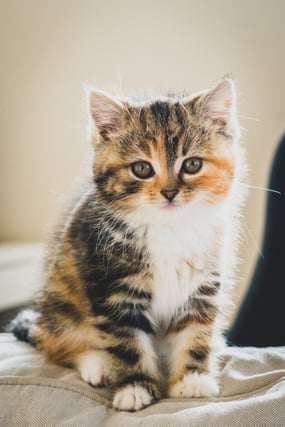 Animal shipping procedures have been created to ensure your cat's safe travel. However, as a concerned "pet parent," it is incumbent on you to learn what is involved, so you know the right questions to ask and what to expect. Airlines have differing rules and requirements, and they do not all treat animals in the same way. And every destination country has its own set of requirements, designed to keep animals already in that country safe from imported diseases.
Talk to your vet about health-related issues and your cat's overall ability to travel by air, as soon as you know you'll be moving. You will need to work with your vet anyway, to obtain your cat's required physical exam and health certificate(s) and any needed vaccinations or other documentation.
Talk to a Professional Pet Transport Company
It's their business to know every detail for your destination, and ensuring you have everything in order is your cat's first line of defense when it comes to safety. Plus, there is no substitute for peace of mind. Professionals know which airlines will treat your beautiful cat like more than a piece of luggage and which flight arrangements will enable them to travel efficiently. Shorter overall travel time can help lower their stress level.
Doing everything you can to reduce stress takes on greater importance when you know that airlines and pet shippers do not allow animals to be sedated or tranquilized for air travel, as this can pose even greater safety risks.
Get the Right Travel Kennel
Airline-approved kennels are constructed specifically to provide maximum safety. They're built of tough materials with no sharp edges, they have secure doors that even the wiliest cat cannot unlatch and there is plenty of ventilation. Nonetheless, you can take a few steps to make the kennel more comfortable as well. That will help reduce stress for your purrfect kitty, and a less-stressed cat is a safer cat.
Give them plenty of time to adjust to the carrier and make the space their own. You can start with the top off, so it's literally an open invitation to investigate. Let them eat, play and sleep in the kennel.
Add soft

bedding such as

a small blanket your cat is used to sleeping with to make the carrier smell and feel more like home. You can also include a crate pad for some extra bedding. Just be sure not to add anything more than 3 inches thick or the airline may remove it.
Snub-nosed Breeds
Snub-nosed or brachycephalic cats are less common than dogs with short snouts, but if your cat falls into this category, there are some special factors for you to consider. The main snub-nosed breeds of cats include: Persian, Exotic Shorthair, Himalayan, Chinchilla (yes, it's also a breed of cat), British Shorthair or Burmese. Some airlines embargo snub-nosed breeds or restrict them to the cabin, because these cats and dogs have respiratory challenges that can potentially be exacerbated by traveling in the hold of the plane. Cargo areas where animals travel are temperature-controlled and pressurized like the cabin, but it can still be stressful.
If your airline and destination allows it, your cat may be able to travel in-cabin with you. They would need a soft-sided carrier that fits under the seat in front of you. There's a fee, of course, and early reservations are a must because airlines limit the number of pets in the cabin.
Domestic Travel in the USA
If your vet recommends your cat not fly because they are elderly or chronically ill, or you are moving within the lower 48 states, you should ask your pet shipping company about a ground transportation option. This alternative can provide equally confidence-inspiring door-to-door accommodation for your beloved cat, with the same attention to detail backed by the same pet-loving philosophy. After all, regardless how they travel, you want them to be treated like the king or queen they are.
So, is Air Travel Safe For My Cat?
Considering the fact that hundreds of thousands of animals travel by air every year and the incidence of injury, death or becoming lost is exceedingly small, it is fundamentally safe for your feline to fly. They may not want to make it their regular routine, but as a means of moving long distance, it should be just fine.
Animals that are shipped around the country (or out of the country) for a variety of reason (shows, vacations, new homes, military moves) usually fly. And those cats have an even bigger attitude than yours. If they can handle the trip and still win awards, your cat can make their trip successfully, too.
Subscribe to the Blog
Enjoy our content? Get them sent to your inbox!
Subscribe Now!
Related Posts
How to Get Your Pet Acclimated to His Crate
Every cat and dog that travels by airplane must ride in an airline-approved carrier. Sometimes, small pets can ride with you ...
Read More