5 Tips for Picking a Crate to Ship Your Dog
Published on: August 24, 2016 | Author: Starwood Animal Transport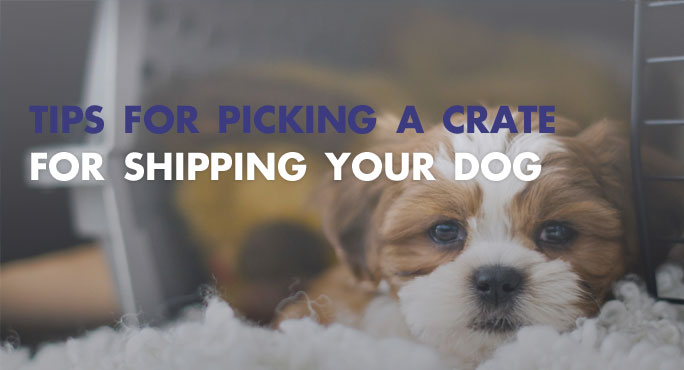 Picking a crate for shipping your dog? These five tips will help:
Decide where your dog will travel
The kind of dog shipping crate you will need depends on whether tiny Brutus will ride with you in the cabin or big Bertha will travel as cargo. Just because Brutus fits under the seat in front of you does not mean he is welcome to ride there. Each airline sets its own policies, including if and how many pets can travel in-cabin. Your destination country may have rules about this, too. Dogs not traveling in-cabin ride in a section of the cargo hold that is pressurized and temperature-controlled.
Learn the rules
Be aware that under-seat dimensions vary among airlines and also from one type of aircraft to another. You'll need to know the exact specs for your plane(s).
No matter where your four-legged companion rides, his dog shipping crate must meet specifications of the International Air Transport Association (IATA). These specs assure your pup's safety. In-cabin carriers can have hard or soft sides. Soft carriers can be more comfortable and easier to conform to under-seat shape. Some in-cabin carriers have shoulder straps, pockets and/or wheels for added convenience. For cargo travel, IATA has an 8-page PDF that explains every structural requirement.
The most important element of your dog shipping crate is proper sizing. He must be able to stand or sit without touching the inside walls or ceiling. He must also be able to turn around and lie down naturally. A too-small or too-large kennel will keep him from flying, so you must measure your dog:
Length from tip of nose to base of tail
Height from floor to elbow joint
Width of shoulders (or other widest point)
Height when standing, from floor to top of hear (or ear tip)
Where to get your dog shipping crate
You could actually use IATA's detailed specs to build your own dog shipping crate, but why waste time and effort on that when they are easy to find? Once you know the size you need, you can shop at your local pet store or online to find an appropriate carrier. Many pet-friendly airlines sell IATA-approved kennels at their cargo office.
Here at Starwood Animal Transport, we carry all sizes of approved kennels, so we can outfit your dog with exactly the right travel crate, at a competitive price. It's just one of the ways we try to simplify air travel planning for FurParents.
You can have confidence in any kennel that is airline-approved. However, if you want help deciding which carrier to buy, you can find ratings and advice from other pet owners online.
Get your dog's travel kennel as soon as possible
Your pooch will be less anxious about his flying experience if he's in a kennel that feels and smells like home. So get that carrier as soon as you know you'll be traveling so he has maximum time to get used to it. Set it out with the door open (or even the top half removed, initially), and encourage him to spend time in it. Bribe him with toys or treats, if necessary.
Airlines require that the carrier be lined on the bottom with something absorbent. You're allowed to use newspaper, but that's not very comfortable. And you don't want your light-colored pup to arrive with a dingy gray coating of newsprint ink. (We've seen that happen!) You can purchase a commercial crate pad, nice because it's comfy and washable. Or you can boost your pup's emotional as well as physical comfort by lining his kennel with something that already belongs to him (or you). A shirt or small blanket is a good choice.
There's more to "travel-ready" than proper size and structure
Getting an airline-approved, properly sized kennel is just the beginning. Some airlines require additional features and/or accessories such as:
Food and water dishes – these are required, but some airlines also require you to provide a small bag of food if your dog is traveling a long distance.
Metal crate hardware (some carriers are held together with plastic fasteners)
Tie-wraps to secure the door (all carriers must have latches that creative dogs cannot unlock)
Check with your airline (or with us here at Starwood) to learn if you need any of these. Your dog's crate will also need several forms of identification including his personal travel documents plus a series of transport-specific stickers. What's most important to note about these "extras" is that they are included with some crate brands, but sold separately with other brands. Know what you're buying before you decide. Also note that your professional pet transport company will automatically provide appropriate identification, document holders, etc. as part of their service.
Subscribe to the Blog
Enjoy our content? Get them sent to your inbox!
Subscribe Now!
Related Posts
What Types Of Crates Are Best To Ship My Dog Or Cat In?
If you're planning a long distance move, it's likely you'll have to ship your pets by air. As you start researching how that ...
Read More