What is Good Pet-iquette in Hong Kong?
Published on: January 25, 2017 | Author: Starwood Animal Transport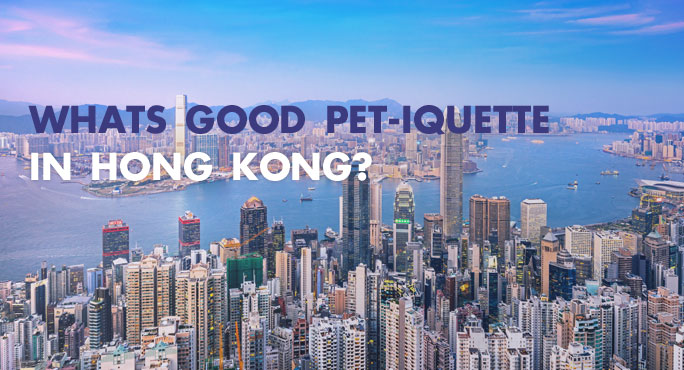 Are you moving to Hong Kong? You'll find it to be very cosmopolitan. In some ways, Hong Kong reflects its British ties, but in most ways it is truly Asian. In both cultures, good manners are always expected, and that goes for your pets as well as you and the rest of your two-legged family. So what constitutes good pet-iquette in Hong Kong?
Right pet, right place
If you're currently living in the United States or the United Kingdom, you have a great deal of latitude when it comes to keeping cats and dogs or other pets. Of course there are some restrictions, but you'll find additional limitations in Hong Kong.
Chances are you'll be living in an apartment – probably a small one compared to what you're used to. Even if you rent a house, be aware that many public and private housing areas do not allow cats, or dogs, or either. Since you want to take your kitty or pooch along, be certain you select appropriate accommodations. No matter where you live, it is never OK to let either cats or dogs wander around outside on their own.
If your pet is a dog, double-check to be sure he is welcome in Hong Kong:
"Fighting" dogs cannot be imported. This includes Pet Bulls, even cross-breeds. It's not wise to try to sidestep this rule, because you could be liable for a very stiff fine or even jail time. Your Pit Bull will have to remain behind.
Large dogs – those who weigh at least 20kg (44 lbs.) – are allowed, but you must follow special rules. These include a maximum 2-meter (6-foot) leash at all times when you're out in public. If your big dog responds reliably to voice commands, you can let him off-leash to play in Hong Kong's dog parks. In fact, your pooch can take an exemption exam administered by the Agriculture, Fisheries and Conservation Department. If he passes, he earns greater off-leash privileges.
Rabies-free!
There aren't a lot of countries around the world that are considered rabies-free, but Hong Kong is one of them. They are proud to have held that status since the 1980s, and they protect their environment with strict pet import rules. Your cat or dog will have to provide proof of current rabies vaccination – along with other health-related documents -- before he is allowed into Hong Kong.
Even with that, he'll probably have to spend some time in quarantine before he's free to join you at your new home. Quarantine requirements depend on where you're moving from. If you're coming from the UK or Hawaii, your pet will be exempt (providing all his paperwork is in order). If you're coming from another US state, expect your pet's move to include a short stay in quarantine.
Licensing is required for dogs
Every dog over 5 months of age must be licensed in Hong Kong. It's easy and fast. Just take your pup's import documents to one of the Dog Inoculation and Licensing Centers or to an Animal Management Center. Rabies vaccination is required and microchipping is recommended – neither will be a problem for you, since both are require to bring your pet to Hong Kong in the first place. The license is good for three years.
Should you adopt a new pet after moving to Hong Kong, the government will inoculate your pet against rabies at one of the above-mentioned centers, or you can have your vet handle the vaccination.
Responsible pet-iquette in Hong Kong
Common sense prevails here. Good manners for pets and pet parents are the same the world over:
Even if your pup is petite, a leash is a must in public.
Remember that not every person or every other dog wants to meet your pooch.
Always carry poop bags with you. That way, if your dog does his thing you'll be prepared to clean it up.
Hong Kong may have stricter pet regulations than where you live now, but they aren't onerous. And don't let the rules fool you. Dogs, cats and other animals are adored as pets in Hong Kong just as they are elsewhere. Just make sure you know those rules and that your furred companions mind their manners as you explore the sights, smells and sounds of your new home.
Feel free to request a quote for your Hong Kong animal shipping needs.
Subscribe to the Blog
Enjoy our content? Get them sent to your inbox!
Subscribe Now!
Related Posts
What You Must Know About Moving Your Pet To Hong Kong
Moving your household and pets to a faraway land can be a daunting task that involves intricate choreography of people and ...
Read More