What Types Of Crates Are Best To Ship My Dog Or Cat In?
Published on: July 15, 2015 | Author: Starwood Animal Transport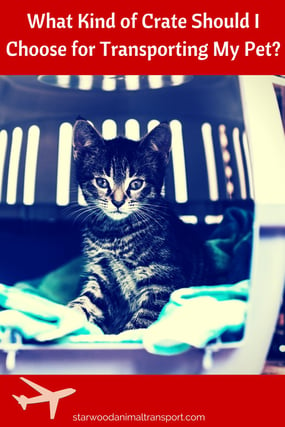 If you're planning a long distance move, it's likely you'll have to ship your pets by air. As you start researching how that works, one of your first questions will undoubtedly be is there any chance I can just ship my dog or cat in the crate they use every day at home? Unfortunately, the answer is probably no.
Pet kennels designed to keep cats and dogs corralled at home or while they're riding in the back of your car are constructed for convenience. They are made of lightweight materials, and many are even collapsible. These crates are not sturdy enough for air travel, and in some cases they aren't roomy enough, either.
When pets take to the air, the best crates are those that provide maximum protection while keeping animals as comfortable as possible. With that in mind, here is what you need to know for the different ways your pet can travel by plane:
Can I ship my dog in-cabin?
If your dog is petite enough or you're traveling with a cat, they may be able to ride underneath the seat in front of you. Most airlines allow this, but not on all flights because a number of foreign countries require pets to enter the country as manifested cargo. You'll have to ask about your specific situation.
Assuming it's allowed, the defining factor for in-cabin travel is the dimensions of the under-seat space. You can carry your pet in a hard-sided carrier or a soft Sherpa bag, but before you make a purchase, double-check the measurements – they differ from one airline to another and with the specific plane model.
Your pet will need to wear a collar and leash, too. Attach the leash to the carrier, to prevent an accidental getaway should it come open. Don't forget to carry a bottle of water and a snack for your pet if your trip will be lengthy.
What if I plan to ship my dog or cat as cargo?
If your pet will fly as excess baggage or manifested cargo, they must travel in a crate that meets specifications set forth by the International Air Transport Association (IATA). While an approved airline kennel can be constructed of fiberglass, solid wood or plywood, the majority are made of heavy-duty rigid plastic and welded metal mesh. They come in two sections, top and bottom, that attach with metal bolts and wingnuts.
IATA requirements for these carriers are as follows:
The kennel must be large enough for your pet to stand and sit upright, turn around and lay down normally. You will need to measure your dog to ensure you're getting the proper size carrier. Note that a number of airlines require there be an additional 2" headroom when your dog is standing.
Also, certain breeds such as pit bulls require special travel kennels. These larger breeds often require travel kennels that are larger than any standard size. We can supply custom made wood kennels if required.
The kennel cannot have missing or defective hardware.
Sidewalls have to be solid except for ventilation, generally provided by heavy welded metal mesh "windows."
All mesh or ventilation holes must be small enough to ensure no part of your pet's nose or paws can protrude. This keeps them safely inside, and it also prevents them from trying to chew or gnaw their way out.
The roof must be solid, though there can be ventilation holes as long as they don't reduce the roof's physical integrity.
The floor must be solid and leak-proof.
The door has to form an entire end of the crate. Typically, it's made of welded metal mesh. It must have a latching mechanism that cannot come open accidentally or at the paws of your crafty dog or cat.
Total ventilation must be at least 16% of the carrier. If your pup or kitty has a snub nose, more ventilation is recommended.
The entire interior surface of the crate must be smooth, again for your pet's protection. (However, because smooth can also be slippery, you may put a small blanket or layers of paper on the floor to provide some bedding.)
Very small carriers have a handle on top; larger sizes must have handles on both sides. Crates that will weigh in at 132 pounds or greater with your dog inside must have forklift spacers on the underside. If the kennel has wheels, you'll have to remove them or tape them so they cannot move or get in the way.
The kennel must also have attachable containers for water and food, in case of a delay.
Where can I find a crate to ship my dog or cat?
You can purchase airline-approved kennels at pet supply stores, online, from your professional pet shipper or at your airline's cargo terminal. Get the crate as soon as you know your pet will be traveling, so they have plenty of time to become accustomed to their carrier.
Subscribe to the Blog
Enjoy our content? Get them sent to your inbox!
Subscribe Now!
Related Posts
Dirty Dog Aside, Ingesting Paper Or Ink Can't Be Good
Sometimes even when you think you're doing everything right, things can go oh, so wrong. If you're planning a long-distance ...
Read More