Will My Pet Be Quarantined During A Move From USA
Published on: July 24, 2015 | Author: Starwood Animal Transport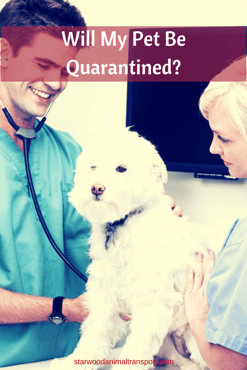 Every country around the world has its own set of policies and requirements for people who want to import pets. Naturally, the first question most pet parents ask is will my pet be quarantined? Let's look at six Asian/Pacific countries that do require quarantine, if you're moving from the USA with your cat or dog.

Remember that quarantine is just the final step in the pet import process. Before you get to that point, you'll need additional documentation that certifies your pet's health and, in some cases, they'll need additional vaccinations and/or tests in order to receive their health certificate. Just as with the question of quarantine, exactly what paperwork your pet will need depends on your destination country.

Australia

Australia requires all cats and dogs coming from the United States to complete a 10-day quarantine upon arrival. Pets must travel as manifested cargo (they cannot ride with you in the airplane's cabin, even if they fit the airline's criteria for that), and they must be in an IATA-approved kennel (something all airlines require anyway).

If you're moving from Hawaii or Guam, your pet will need a health certificate signed by a USDA or USDA-accredited veterinarian and an import permit which outlines that verifies your pet's rabies vaccination. If you're moving from anywhere else within the "USA" – a state other than Hawaii or the US Virgin Islands, Puerto Rico or the Northern Mariana Islands – the list of needed vaccinations and tests is longer and obtaining them more time-consuming.

Australia means business when it comes to pet importation. If your pup or kitty shows up without all the right paperwork, he can be held in quarantine longer, summarily sent home or euthanized. This is not a time to make mistakes.

New Zealand

Dogs and cats arriving from the USA must spend a minimum of 10 days in quarantine. You will need to book space at a facility approved by the Ministry for Primary Industries at least 6 weeks in advance, and you'll need your booking confirmation to apply for an import permit. You must also notify an official New Zealand veterinarian at least 72 hours before your cat or dog is scheduled to arrive.

New Zealand recommends you use a professional pet shipper.

Singapore

There is a 30-day minimum quarantine here for cats and dogs arriving from the United States. You have to make a reservation at the Sembawang Animal Quarantine Station at least 3 months before your pet will arrive. You can do this online -- the Quarantine Management System enables you to select your pet's space based on availability, submit your supporting documents, receive updates about your application and payment via email and chat with officials via email if you have questions.

Malaysia

Your cat or dog will have to spend 7 days in quarantine if you're moving from the USA to Malaysia. You have to reserve the space in advance to assure availability, though the government doesn't specify how far in advance you should do this. As with other countries, your pet will also need paperwork including an import permit and USDA health certificate verifying their vaccination record.

Indonesia

Pets traveling to Indonesia must arrive at Soekarno Hatta International Airport in Jakarta, from which they are taken to the quarantine facility for their 14-day stay. You must notify the Animal Quarantine Office at the airport at least 2 days before your dog or cat leaves the US. And of course you'll also need an import permit and USDA health certificate certifying your pet has an up-to-date rabies vaccination.

China

As long as your airline allows it, your kitty or pooch may travel to China with you in the cabin. They can also be shipped as excess baggage or cargo. If you have an employment visa, you may bring one dog or cat per person holding a valid passport. So if you're a couple and have more than two pets, you'll have to comply with commercial important regulations.

Cities with international airports that handle pet importation include Shanghai, Shenzhen, Beijing and Guangzhou. The pet import process for China is particularly convoluted, because every city has different rules. Quarantine could be required for a week, a month or not at all. Shanghai, for instance, requires a 7-day period.

Using an international pet shipper eliminates guesswork.

This is a good idea if you're moving from the USA with pets, no matter what your destination country. Acquiring necessary documentation is not only time-consuming and complicated, the rules are subject to change at any time, and you may have no way of knowing about that.

With quarantine and your pet's overall safe travel at stake, why risk making a potentially dangerous mistake?
Subscribe to the Blog
Enjoy our content? Get them sent to your inbox!
Subscribe Now!
Related Posts
British Airways Pet Policy
British Airways takes great pride in their excellent treatment of animals of all kinds. They note they've been transporting ...
Read More