2 Tips to Beat the Summer Travel Rush
Published on: March 23, 2018 | Author: Starwood Animal Transport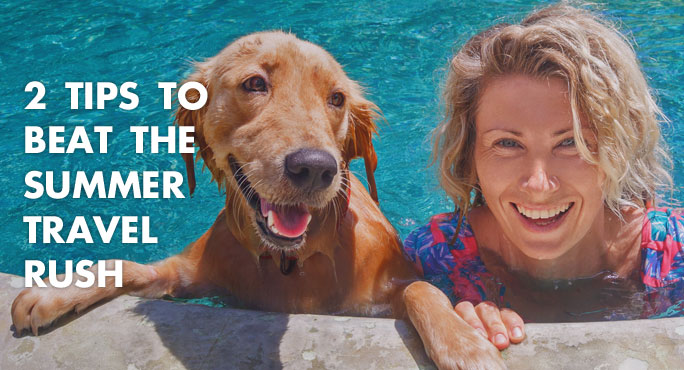 Depending on where you live, you might be hard-pressed to believe that spring is officially here, as of March 20th. Can summer possibly be far behind? Yes, it, too, will be here before you can believe it. If you're planning a fun vacation out of the country with your pet, or your family will be moving to a foreign country in the next few months, know this: the summer rush is coming.
Summer is by far the busiest time of year for pet travel. Flights book up early. The sooner you reserve your pet's flights, the better chance you will have of getting exactly what you want – the most pet-friendly itinerary. These two tips are just what you need to beat the rush this summer.
Tip #1: Start Right Now
It doesn't really matter where you're headed. Even if you and your pet will be traveling in-country – across the United States or from one corner of the UK to another, for example – flights fill up quickly for people as well as pets. It's the same with international flights, particularly if you're going to a popular destination.
Just as they do with human passengers, airlines make only a certain number of spaces available on each flight for pets. That's true for small pets traveling with you in the cabin, and it's also true for pets traveling in the special area within the cargo section. Even if your dog or cat won't be riding in the cabin, you're probably hoping you'll both be on the same flights. That means you have to book early enough to ensure there is a seat for you as well as space for her.
Most airlines require 48-hour notice to book a space for pets. However, during peak periods especially, that will not be nearly enough. The longer you wait to book your pet's flight, the greater the risk that there will be no room left. If you're traveling or moving with more than one pet, early reservations become even more critical.
Tip #2: Call Us Right Now
Maybe you've had plans for some time, but summer seemed so far away . . . oops. Now you really don't have time to get both yourself and your pet organized and ready to depart. Or perhaps you didn't realize you would have to travel with your pet this summer.
Sometimes opportunities come up at the last minute, and they're just too good to pass up. Maybe you have a friend living in France and she and her dog have invited you and your pooch to come play on the beaches of Europe. Who wouldn't change their plans for that?! Or perhaps your company has just informed you that you'll be heading up their office in Sydney. Starting soon. A little more notice would have been nice, but, again, who would turn down an opportunity like that?!
No need to scramble and drive yourself crazy. And miss out on the best flights in the process. We know things come up, and we're here to deal with them on your pet's behalf. Frankly, it can be a major stress reliever to let our Starwood pros handle your pet's travel arrangements. Wouldn't you rather concentrate on what you should pack or the fun things you want to do with your family and pet(s) after you arrive?
You may have to be flexible about travel dates. As we've noted, summer can be a tough season for pets and pet parents. Not only are the airlines crowded and booking up fast. Hot weather can throw the proverbial monkey wrench into your pet's schedule, because if it's too hot she won't be allowed to fly. This isn't always predictable, but for some destinations it can be. We will adjust your pet's itinerary and travel dates so it is the least likely to be affected by weather delays.
And if it turns out you and your furry companion cannot travel together, our Starwood team will have your back. Not only making sure your four-legged friend gets the best possible flights on the best possible airline, but that she has someone on the ground to monitor her journey and be there for her if an unexpected delay happens.
The more notice you can give us, the better for everyone. So call now. With your FurGirl's travel plans in the hands of the pros, you can relax and look forward to your trip.
Subscribe to the Blog
Enjoy our content? Get them sent to your inbox!
Subscribe Now!
Related Posts
Tips for a Fun (and Safe) Time at the Beach with Your Dog
Whether you're taking the holiday of a lifetime to tour European beaches with your dog, or you're enjoying the sand and surf ...
Read More