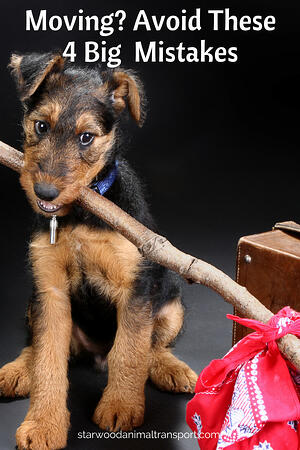 Hundreds of thousands of pets are shipped each year. Yet pet owners often make mistakes that cause travel plans to go awry. Here are the 4 biggest ones:
1. Not researching import regulations wherever your pet is going.
If you're shipping your pet from one US city to another, paperwork will be minimal, but you'll still need some documentation. International travel, on the other hand, is an entirely different ball game. Every country has different rules about importing dogs and cats, all require multiple documents and for many countries the paperwork can be extensive. Add to that the fact that the tests, vaccinations and exam your pet may require have to be administered within very specific time frames (often different from one another), and complications grow exponentially.
2. Not researching airline-specific rules.
Every airline has pet shipment policies, but each airline is different. You cannot assume what works for one will be OK with another. Rules may address:
Breed restrictions. Some airlines will not take certain dangerous breeds, but the biggest issue here is brachycephalic dogs and cats. If you own a snub-nose pet, you know that they have inherent respiratory challenges due to the physical structure of their faces. Although pets shipped as cargo ride in space that is pressurized and temperature-controlled, the air can be a bit stuffy, and that can present problems for snub-nosed pets.
For that reason, a number of airlines won't accept them as cargo. If Fido is a petite pooch or Fluffy is a kitty, they may be able to ride with you in the cabin (under the seat in front of you), but that is not universally allowed, either.
Airplane physical size. Certain flights cannot accommodate pets because the plane is too small.
Shipping kennel. Every pet that travels as cargo must be in a specifically-sized, IATA-approved carrier.
Pet-friendliness. Not every airline offers the same caring attitude or specific policies and procedures designed to ensure maximum comfort and safety for your kitty or pup. Do you really want to entrust Fluffy or Fido to people who won't distinguish between them and a bag of mail?
Documentation. Paperwork required by airlines differs, too. Without the right documentation, your pet will not fly.
Weather. If it's above 85o or below 45o at your pet's point of departure, destination or any stops along the way, it's unlikely your pet will be allowed to travel. This is a safety regulation imposed by all US and many other airlines. It can play havoc with your plans, because the decision to accept animals is made on a day-by-day basis based on the forecast.
3. Sedation.
You think you're doing Fluffy or Fido a favor by giving them a tranquilizer before they step into their kennel to begin their air travel journey. But in reality you're creating a problem for everyone involved your pet's shipping process.
Instead of relieving stress, the drugs make pets more confused and therefore more anxious than ever. In their drug-induced state, they lack the ability to control their balance to sit, stand or turn around comfortably. That can be frightening for an animal and it increases the risk of injury if their crate is jarred suddenly.
If your shipper or the airline detect that your pet is sedated, Fluffy or Fido will be immediately grounded. And that tell-tale glassy-eyed stare will announce "sedated" in a heartbeat. This could throw a big wrench in your own travel plans as well as your pet's. No reputable shipper will accept tranquilized animals for transport, and airlines explicitly forbid it now, for the safety reasons noted. You don't want to arrive at the airport and find out your pet cannot fly after all. What would you do?
4. Failure to start the planning process early.
Depending on your pet's destination, it can take several months to assemble the necessary documentation, especially if certain blood tests are required. Pet parents often report their biggest frustration is inability to find the information they need to discern which information is actually up-to-date. Even trying to obtain consistent information from an airline can be tough. The website says one thing, the person you talk to on the phone says something else, the next person tells you yet something different. How are you supposed to tell which "facts" are accurate?
You can easily avoid all these mistakes with one phone call.
Give yourself a break. Consult with a professional pet shipping company as soon as you know your pet will need to travel. You won't have to research airline or destination country details, because an experienced international shipper already has that information at their fingertips. And you won't have to worry about whether Fluffy and Fido will be in good hands because the right shipper knows pets are precious, living family members. Woof. Purrrrrr. It's all good.