What Paperwork Do I Need For My Pet's Relocation To Another City Or Country
Published on: April 1, 2015 | Author: Starwood Animal Transport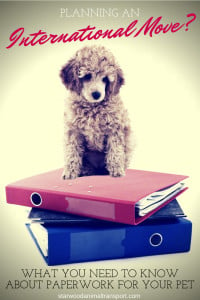 A major move is a major undertaking, and pet relocation involves plenty of paperwork. It's easiest if you're traveling from one US city to another, but it can become quite complicated if you're traveling internationally, depending on your destination. Everything has to be in perfect order, because the last thing you want to worry about is whether your furred family members will run into problems along the way.
Even if you're taking a small pet with you on board, you still need paperwork, usually including a paid reservation for them.
No matter where you're headed, you'll need:
Original health certificate issued by a licensed and accredited veterinarian. Animals must undergo a physical exam, even if it's your own vet who is signing the paperwork. The health certificate must be dated within 10 days of your pet's travel.
Signed rabies vaccination certificate – if you're traveling internationally, your pet's rabies vaccination has to be more than a month but not more than a year old.
If you're moving outside the US there will be more paperwork for pet relocation.
However, exactly what you'll need depends on the country. Each one has its own set of requirements about import permits, vaccinations, quarantines and so on that enable your pet to clear customs. Learn about common international pet import requirements. Airlines also have their own documentation requirements for pet transport. You may need:
Health certificates.
Import certificates.
Other travel documents.
USDA endorsement of relevant documents, if required.
USDA endorsement consular legalization, if needed, of all relevant documents. (For some countries, the APHIS Veterinary Services office in your state must endorse the health certificate completed by your vet.)
Flight reservations for your pets.
Personalized identification and emergency contact information for each pet's kennel.
LIVE ANIMALS stickers for the kennels.
Here are a couple of examples.
Example #1: United Kingdom or Europe
Coming from an "approved country," your pets will need:
Microchip.
Current rabies vaccination more than 21 days old.
EU health certificate.
International health certificate.
Tapeworm treatment.
Example #2: United Arab Emirates
Headed to Dubai or Abu Dhabi? Your pets will need:
Import permit.
Microchip.
Vaccinations at least 21 days old but less than 1 year old at the time you apply for the

UAE

import permit.
Dogs need vaccinations for Rabies, Canine Distemper Virus (

CDV

), Canine

Parvo

Virus, Infections Canine Hepatitis and

Leptospirosis

.
Cats need vaccinations for Rabies, Feline Pan

Leukopenia

(

FPV

), Feline

Rhinotrachitis

(

FHV-1

) and Feline

Calicivirus

.
Make it easy on yourself. Get some help.
APHIS, the US Department of Agriculture's Animal and Plant Health Inspection Service, suggests you start researching pet relocation paperwork requirements as soon as you know where you're headed and when. That ensures you'll have time to learn what you need to do and also get it done. Your pets may need new or different vaccinations, and the timing requirements on them can be very specific.
If you're a ticketed passenger and your pet will travel with you on board, you may be able to handle everything yourself with just some expert consulting and coaching. On the other hand, if you're traveling internationally or your pets will travel in the plane's cargo hold, getting assistance with all the documentation you need, including flight bookings, can be a monumental relief.
Experts know the rules (which can change). They have the contacts and established working relationships to ensure the process goes smoothly. An experienced reputable pet transport company is a "known shipper" to the airlines, whereas you are not.
You can try to navigate the paperwork maze on your own, but it can be very time-consuming as well as intimidating, worrisome, confusing and frustrating, especially if there's a language barrier. Handing this job over to experienced professionals will save you a tremendous amount of time and bring you peace of mind you didn't think was possible, knowing nothing is slipping between the cracks with your pet relocation.
It's an investment in your pet's safety and your peace of mind – one less thing to worry about at a time when you have plenty to think about. You'll have no surprises, just big smiles and wagging tails as your family is reunited in your new city and/or country.
Subscribe to the Blog
Enjoy our content? Get them sent to your inbox!
Subscribe Now!
Related Posts
Can I Move My Pet On My Own?
What does it take to move a pet? As an example, let's look at the Gold Package we offer here at Starwood Animal Transport ...
Read More