Qantas Airways Pet Policy
Published on: November 5, 2015 | Author: Starwood Animal Transport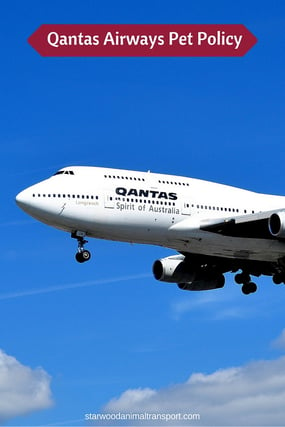 The rules for pet travel on Qantas Airways are simple, compared to most other airlines. That's because you have few options. Service dogs are the only animals allowed to ride in the cabin. All other animals travel as cargo, through Qantas Freight. This is true whether you pet is traveling domestically within Australia or internationally to or from the country.
If you and your pet will travel on the same flight, you must book their reservation first (to make sure space is available), then make your own. For international flights, you are allowed to personally reserve space for your pet only if you meet all three of these criteria:
Your pet will fly on a Qantas Airways aircraft.
It's a direct flight (no transfers, only one flight number involved).
Your pet is not an embargoed breed (full or mixed American Pit Bull, Pit Bull Terrier, Brazilian Fila, Japanese Tosa, Dogo Argentino, Brazilian Mastiff, Presa Canario). Qantas does accept American Staffordshire Terriers.
Unless you meet these criteria, Qantas requires you to use a professional pet shipper. Think of this as a benefit, because working with an expert will save you a tremendous amount of time and help you acquire all the necessary paperwork for your pet's travel. Every country has different requirements for this, and it can be surprisingly complex and nerve-wracking trying to find out what is needed and when.
The documentation your pet will need could include one or more health certificates, special blood tests, vaccinations or treatments, an import permit and quarantine reservations if required by your destination country. That includes requirements of the European Union's Pet Travel Scheme, if you're headed to London. If your kitty or pooch is more than 12 years old, Qantas requires you to present a Vet Certificate verifying they are fit to fly.
Fewer options doesn't mean lesser care.
Qantas is dedicated to helping your pet travel as directly and smoothly as possible to his or her destination, whether you are accompanying them or they are flying on their own. Pets are lodged in a special part of the plane's hold, with the same climate controls, pressurization and sound levels as human passengers experience. The hold is kept dark during flight, because Qantas believes this helps calm animals and encourage them to snooze.
Qantas observes all the requirements of the International Air Transport Association. That means your pet will need an IATA-approved kennel, sized to assure they can comfortably stand, sit, turn around and lie down. American Staffordshire Terriers must be in an IATA-approved guard dog kennel or a CR-82 reinforced cage.
If your cat or dog is a snub-nosed breed, Qantas requires that they ride in a kennel that is one size larger than recommended for non-brachy breeds. That way, they will literally have more breathing room. Snub-nosed pets are not accepted on itineraries that would involve more than two flights.
If you have multiple pets traveling together, you can request that their kennels be placed next to one another. Qantas doesn't make any guarantees, but they will try.
Weather and timing considerations.
Qantas recommends avoiding mid-day flights for your pet when weather is hot in summer and avoiding early or late flights in winter. If the temperature forecast for any location on the itinerary is above 84 degrees or below 45 degrees, Qantas recommends pets not fly at all. However, they may accept certain dog breeds in cold weather, if your vet signs an Acclimation Certificate verifying your dog is used to these temperatures. They also note that the duration of some flights can be quite long, especially those from Australia to Dubai and Dallas/Fort Worth.
Flying to Australia from somewhere else?
There aren't many countries in the world that are considered rabies-free, but Australia is one of them. To remain protected, the country has strict health certification requirements for any pets entering the country. It is imperative that you understand and follow these rules, because failure to do so can have dire consequences. There are no exceptions, as the actor Johnny Depp recently learned the hard way.
Since it's highly likely you'll be working with a professional pet transport company, you can rest assured that they know the rules and will help ensure you and your pet are properly prepared and documented to arrive in Australia.
Subscribe to the Blog
Enjoy our content? Get them sent to your inbox!
Subscribe Now!
Related Posts
Why Are There Such Strict Rules For Moving Pets To A Foreign Country?
If you take your dog to doggie day care – or to the neighborhood dog park – the last thing you want is for someone else's sick ...
Read More