United Airlines Pet Policy
Published on: October 1, 2015 | Author: Starwood Animal Transport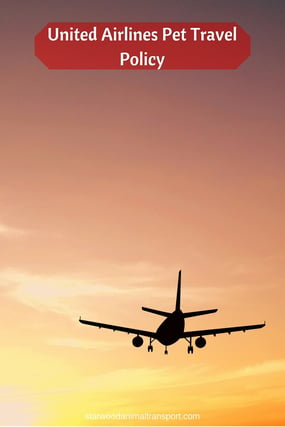 In many ways, pet air travel works the same no matter what airline you choose. However, each carrier does have their own specific policies and procedures, so you cannot assume what's OK with one will be OK with another. Some of the points of difference can be significant and might affect your entire travel plans. It's especially important to understand which pets are allowed to ride in the cabin with you and which pets are not allowed at all.
Here are the highlights of the United Airlines pet travel policy:

Where can your pet travel?
United's PetSafe® program is the "animal department" of their cargo service. They have all the information you need to book your pet (cat or dog only) on United Airlines as cargo. Your pet can fly this way whether or not you are on the same flight.
As of this writing, United will not accept pets traveling to India or Australia. For all other international destinations, United requires that you use a commercial shipper who is a member of the International Pet & Animal Transportation Association.
Breed restrictions for cargo
Pet-friendly airlines make a concerted effort to make travel as safe and comfortable as possible. Animal areas of the cargo hold have the same temperature and ventilation controls as the passenger cabin. Nonetheless, snub-nosed dogs and cats can present special problems because they are naturally prone to respiratory difficulties. This is an area where it is essential to carefully research any airline's policies.

Due to increasing concerns about potential health risks to brachycephalic (snub-nosed) dogs and cats as well as "strong-jawed" breeds that might be considered dangerous, United now has a lengthy list of dogs and cats that they will not accept in their PetSafe program.
In-cabin option
Cats, birds (except cockatoos), rabbits and dogs that are small enough may ride in-cabin under the seat in front of you on most United flights within the United States. Your pet will need a paid reservation to do that, you must be booked on the same flight. In-cabin animals cannot be accompanied by a minor. Each pet must have its own carrier, except you can carry two birds together. You'll have to choose a window seat that is not in an emergency exit row or behind the bulkhead, and your pet will have to stay in their carrier the entire flight.

Some foreign countries to which UAL flies do not allow pets to ride in the cabin, regardless of United's rules, due to the country's pet import health regulations. Examples are Australia, Micronesia and Hawaii. (If you're an American, Hawaii isn't a foreign country but it's treated like one when it comes to pet travel, because the Islands are rabies-free and require more stringent protection.)

Service dogs are a special case -- allowed in-cabin but under somewhat different rules.
Plane restrictions
United Air Lines operates multiple of types of aircraft, not all of which can accommodate the same number of animals in-cabin or the same number of pets (or kennel sizes) in the cargo hold.
Weather restrictions
All airlines restrict pet travel when it is very hot or very cold. For domestic flights, United will not accept pets traveling to or from the following cities between May 1 and September 30:
Las Vegas

Palm Springs

Phoenix

Tucson
What kind of kennel does your pet need?
Every airline requires you to use a pet carrier that meets Department of Agriculture and International Air Transport Association (IATA) specs. For in-cabin travel, you can use a hard-sided or soft-sided carrier, but it has to fit the under-seat dimensions. This is where things can get tricky, because different planes have different measurements. In United's case, you'll definitely want to ask for specifics. United will not accept any pet so large that a 70 series crate is required.
What kind of health documentation will you need?
If you're traveling internationally from the US, your pet will need several types of documentation, depending on your destination. If you're entering the US on United with your dog, unless you're coming from a rabies-free country you'll have to show proof that your dog was vaccinated against rabies within 30 days of travel.

That effectively means you cannot bring a puppy younger than four months, except from a rabies-free country, because four months is the minimum age for this vaccination. Puppies younger than eight weeks are not allowed to fly at all, by any airline.

Your pet's travel via United comes with a bonus: you can earn 500 Mileage Plus miles for domestic flights or 1000 miles for international flights. Well, why not? Your pet is a family member.
Subscribe to the Blog
Enjoy our content? Get them sent to your inbox!
Subscribe Now!
Related Posts
Can My Pets Travel Together On A Plane?
**Content updated on October 19, 2021. We know that you consider your pets to be part of the family. When you have multiple ...
Read More