What Pet Owners Need To Know About Pet Travel
Published on: November 25, 2015 | Author: Starwood Animal Transport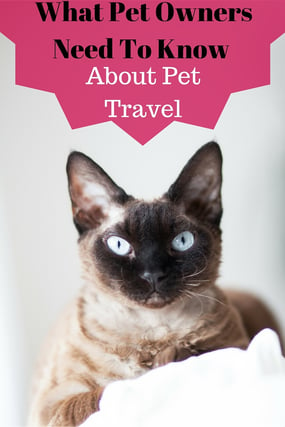 Trying to figure out what you need to know to arrange pet travel can be a daunting task. If you're moving and it's not too far, you can simply load up your pets in the car (properly secured, of course) and head out. However, if your move is a longer distance, especially if you're headed to another country, you'll probably want to use the services of an international pet transport company.
This will give you peace of mind you'll need to weather a stressful move, confident your furry companion's pet travel is in the best of hands.
Identification is critical for every type of pet travel.
Whether you're moving around the world or just traveling around town with your pet, he should have a microchip with your current contact information and the same data on a tag securely attached to his collar. You hope it never happens, but if your pet gets loose the only way you can be reunited is if someone can figure out who you are and how to contact you.
Planning ahead is essential.
Depending on where you're headed, it can take several weeks to arrange pet travel. That's especially true if you are going to a country that requires advanced testing to make sure your pet's rabies vaccination is working properly.
The range of documentation needed can vary quite a bit from one country to another and might include import and/or export permits as well as health-specific certificates. You may also have to make advance reservations for your pet's quarantine stay. You'll need to know exactly what your country requires and meet with your vet as soon as you know you're moving.
Aside from the fact that the list of necessary paperwork may be long, each item usually has to be completed within a specific timeframe – not too far in advance, but not too close to your pet's departure date. You'll need a calendar to keep track of these essential dates.
Flight arrangements can get tricky.
In an ideal world, pet travel will involve just one relatively short flight. In the real world, you pet's itinerary will probably be more complicated. It's not as simple as making your own flight reservations, because pet travel can be affected by factors such as weather embargoes that kick in when it's very hot or very cold.
No matter what, you'll need an airline-approved kennel. Under-seat carriers can be either soft-sided or rigid, but maximum dimensions vary by aircraft. For travel as excess baggage or cargo, your cat or dog must be in an extra-study kennel specifically designed for air travel. Regardless where your pet rides, he must be able to stand up without touching the top of the carrier, turn around and lie down normally. You may think the kennel is overly large, but ventilation is crucial. Without the proper carrier, your pet will not be accepted onto his flight.
Airlines can differ dramatically in terms of their pet-friendly policies and procedures, including which breeds they accept. And some airlines and foreign countries do not even allow you to make your own pet travel arrangements, so you must use a professional pet transport company.
Professional help smooths the way.
If you are not traveling with your pet, a professional shipper can arrange boarding and get your pup or kitty to their flight on your behalf. Otherwise, you'll have to rely on a friend or neighbor. If there are weather problems or other delays, this can be a considerable imposition. Having someone you can count on to handle the unforeseen can do wonders for your peace of mind.
There are distinct benefits to working with a professional, even if you are traveling with your pet.
You can get complete assistance with planning and execution, allowing the experts to handle every detail, literally door to door. Or you can let them handle the trickier aspects of pet travel – flight arrangements and documentation – while taking care of the simpler tasks such as kennel purchase and transportation to and from the airport on your own.
The more you know, the easier it will be to navigate the pet travel maze efficiently. You can save time, avoid frustration and mistakes that could throw a wrench in your own moving plans. Both you and your pet will arrive at your destination as stress-free as possible and ready for your next chapter together.
Subscribe to the Blog
Enjoy our content? Get them sent to your inbox!
Subscribe Now!
Related Posts
Is Air Travel Safe For Pets?
At some point in all the excitement of learning you are moving a long way from home – perhaps to a far-away foreign country – ...
Read More