What You Must Know About Moving Your Pet To Singapore
Published on: June 3, 2015 | Author: Starwood Animal Transport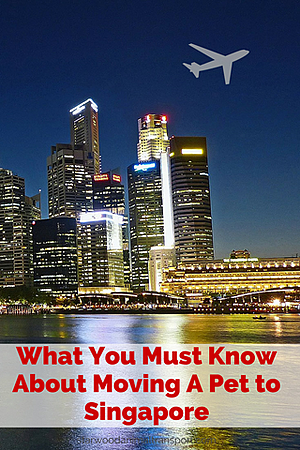 Singapore is a country well-known for having very strict rules about many things. Pet importation is one of them. If you're planning a move to Singapore and wish to take your four-legged family with you (and what pet owner doesn't want that?), your first call should be to an international animal transport company that is experienced in moving pets to Singapore.
This is no time to even attempt do-it-yourself pet travel arrangements. The stakes are high, and the rules are not only strict but complicated and time-sensitive. Seeking professional assistance right up front will save you untold frustration and stress and ensure your pet's move goes smoothly. Make this call as soon as you know you'll be relocating because this is a lengthy process.
In a nutshell, here is what you'll need to move your dog or cat to Singapore.
Import permit
Quarantine reservations – the required minimum is 10 days
ISO-compliant microchip
Rabies vaccinations
Rabies antibody test
Valid annual vaccinations at least 14 days old but not more than 1 year old
Deworming and anti-flea and tick treatments shortly before travel
International health certificate – this requires a physical exam by an accredited or USDA vet
Singapore-specific health certificate
USDA endorsement
You can get a better idea of exactly what is needed and the timing issues using this pet import calculator on the Singapore Agri-Food & Veterinary Authority's website.
Airline-approved kennel. All animals traveling as cargo must be in an IATA-approved carrier. These are designed for maximum safety while providing plenty of ventilation. Your shipper can provide a new kennel that meets spec for your type and size of pet.
Flight arrangements: Your pet travel experts will use the most pet-friendly airline and arrange your pet's flight schedule to be as efficient as possible. But moving to Singapore may be a very long-distance travel experience, in which case they will also arrange for a "rest stop" along the way so your babies can get a little exercise as well as food and water.
Can your pets even go to Singapore?
Just because you want your furry family members with you doesn't mean Singapore wants them. Pit bulls, akitas, tosas and a few other breeds are not allowed. Other "dangerous" breeds may be imported, but there are special requirements for them. This list includes bull terrier, Doberman pinscher, Rottweiler, German shepherd and related breeds, mastiffs (except Neopolitan mastiff, which is embargoed) and crosses of any of these dogs.
If you have a kitty, he cannot have "wild" ancestry such as a serval. However, if he is a Bengal or Savannah cross and you can prove he's at least fifth generation, you can bring him with you.
It comes down to where you will be living.
More than 80% of Singapore's residents live in apartments provided by the Housing and Development Board (HDB); most of them own their flats. This is not "public housing" as it is known in the US.
If you will be renting or buying an HDB flat, here's what you need to know: Cats are not allowed. Small pets such as hamsters, birds or fish are OK. You may have one dog, if it is an "allowed breed." While there are quite a few dogs on this list, they all one thing in common – they are small. On the other hand, not all small breeds are approved. Your pet travel expert can help you figure this out.
If you will be living in a non-HDB residence, pet acceptance varies so you'll want to be clear up front. Generally, cats are allowed and you may have up to three dogs. Only one of your dogs may be on the "dangerous" list noted above.
All dogs must be licensed (you have to apply for that before you move) and confined to your home. Leashes are required in public, and "dangerous" dogs must be muzzled. If your dog is one of those breeds you will also need to carry personal injury/damage insurance and obtain a banker's note as additional security.
No matter where you'll be living, remember that Singapore's climate is tropical – hot. This may make it tougher for your heavy-coated dog to adjust, and it will likely affect when they can comfortably exercise outdoors.
It sounds daunting, doesn't it? And yet, people do relocate to Singapore with their pets in tow, and you probably can too. Working with a professional shipper right from the start assures your pet's documentation will be in order and ensures your pet has a personal travel agent to oversee their progress. Whether your transport company provides door-to-door service or you take your pets to the airport and pick them up from quarantine yourself, you'll know your pets are in good hands.
Subscribe to the Blog
Enjoy our content? Get them sent to your inbox!
Subscribe Now!
Related Posts
What You Must Know About Moving Your Pet to Perth
If you're going to be relocating to Perth or another city in Australia and your family includes four-legged members, it's ...
Read More