Airlines That Let Your Pet Travel With You
Published on: August 2, 2016 | Author: Starwood Animal Transport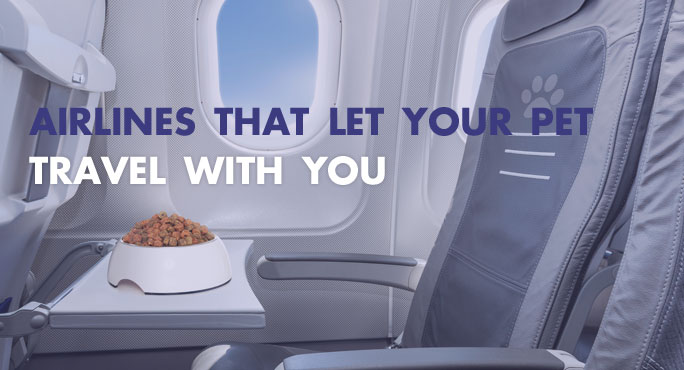 Many airlines let your pet travel with you. That can be a tremendous comfort to pet parents traveling with their dog or cat for the first time, and it can be a great convenience for frequent fliers with small pets. But the rules vary from one airline to another and even from one flight to another. So which airlines let your pet travel with you in the cabin will vary according to your pet and your itinerary.
In-cabin rules can be different for domestic and international flights on the same airline. For a few airlines, "travel with you" might also mean your pet can ride as excess baggage (as opposed to cargo), as long as they are on your same flight(s). This can be a useful alternative if your dog is too big to fly in the cabin. As an example, United allows pets of certain military and government personnel to travel this way, if you are moving due to official orders.
Flight-to-flight variations get more complicated when your itinerary involves more than one carrier. You'll have to check with all of them to find the rules that apply across the board. You don't want to get stuck halfway from here to there because your pet cannot board the next leg of your trip with you. Here are some examples of carrier policies:
British Airways OpenSkies flights to Paris and New York allow cats and dogs that weigh less than 6kg (13.2 pounds) to ride in-cabin in economy and premium economy class. Their Comair partner that handles flights to southern Africa allows only assistance dogs in the cabin.
Lufthansa has few limitations, simply stating pets can ride in the cabin or the hold, depending on their size and weight.
Air Canada lets your pet travel with you in cabin or as excess baggage, as long as you're booked on Air Canada, Air Canada rouge or an Air Canada Express flight operated by one of their partners. However, if that operator is Air Georgian or Exploits Valley Air and you pet will travel in the baggage compartment, size and weight limits change. American allows small dogs and cats in the cabin, but other types of small pets.
Only service dogs are allowed in the cabin on Qantas flights, domestic or international. If you flew Qantas a few years ago and were able to take your pet on board, note that the rules changed in 2014.
KLM lets pet travel in cabin or as excess baggage. But that can vary if you're in Business Class or venturing beyond Europe.
Southwest Airlines does not allow pets to travel in any part of the plane except the cabin. So if your dog doesn't fit, you'll have to find another airline.
Special considerations
Under-seat space varies by type of aircraft and the specific seat. So your pet may be allowed on a particular flight, but they may not be able to ride on the cabin.
Snub-nosed dogs and cats are often treated differently by the airlines due to their restricted breathing. But again, policies differ from one airline to the other.
Pets are booked on a space-available basis, but space is usually restricted to just a few pets per flight as well as which cabins and seats you can occupy with your pet.
Taking your dog or cat on board means giving up one of your carry-ons (perhaps your only one). Their carrier becomes your carry-on and it has to fit under the seat in front of you. They have to stay inside during the flight, but you can take them out on a leash while you're in the airport. Your cat might not think much of this, but your little pooch will thank you. Either of them will thank you for a trip to the airport's "pet relief area." (Yes, they do have such things – pet travel has become quite common.
What does your destination country say?
Knowing which airlines let your pet travel with you is just the beginning. There is one more thing you'll need to consider before booking your pet's flight, and it is critical. Just because your preferred airline allows pets to travel onboard with you doesn't mean your destination country allows it. Some countries require incoming pets to arrive as cargo, typically because pets will be immediately transported to a quarantine facility.
The airlines try to account for these rules. For instance, United allows in-cabin pets for most flights, but not if you're headed to Australia, Hawaii or Micronesia. Don't make any assumptions, though, find out for yourself what your destination requires.
You'll need to know all your destination's pet import requirements anyway. Research that first, so you'll know whether it's worth your time to learn which airlines let your pet travel with you.
Subscribe to the Blog
Enjoy our content? Get them sent to your inbox!
Subscribe Now!
Related Posts
How to Get Your Pet Acclimated to His Crate
Every cat and dog that travels by airplane must ride in an airline-approved carrier. Sometimes, small pets can ride with you ...
Read More