Pre-Trip Prep Tips For Moving Your Pets
Published on: September 14, 2015 | Author: Starwood Animal Transport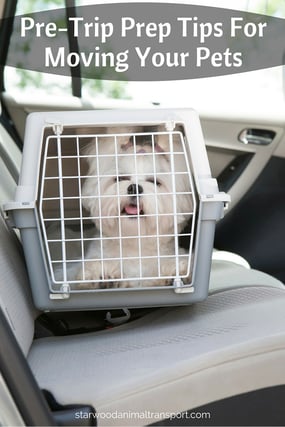 Planning a move is always a complicated project. There's a lot to think about, and everything has to come together in the right way if your move is to go smoothly. However, moving with pets adds another dimension to any move, whether you're relocating a short distance, across the country or to a far-away foreign land.
You love Muffin and Maggie. They aren't merely a cat and a dog, they're an integral part of your family. Advanced pre-trip preparation is critical at this time, to help keep them calm and confident. Moving your pets may not be stress-free, but with the right prep, they won't be freaking out.
Remember, it's not just the travel itself that can be problematic for pets, it's their anxiety about what's happening in general. They don't understand "moving," so the most important thing you can do right now is make sure they are reassured their #1 – that's you – will still be there for them, despite the current chaos.
Advanced preparation will help you stay calm
Here are some things to think about, whether you're moving your pets by car or they will travel by plane.
Vet check-up. Ensure all vaccinations are up-to-date, get their nailed trimmed and talk to the vet if your pets have health issues that could affect their travel. Carry your pets' records rather than packing them. There's an off chance you'll need to show their rabies certificates when you cross state lines, and you'll have their records with you if they get sick.
You'll need much more paperwork if Muffin and Maggie are flying. That could include multiple health certificates, import permits, proof of immunizations or even additional vaccines or tests. Do not wait to find out exactly what you need (it varies by country) and get started on it. Mark key deadlines on your calendar to ensure you meet the timing requirements. Along with making flight arrangements, this is the most critical aspect of moving your pets via air.

Make sure they're outfitted with a microchip and collar with rabies tag and all your contact information. You'll need a leash, too, if you're traveling by car or one of your pets will ride with you in the airplane's cabin.
You'll need appropriate carriers. For travel by car, something lightweight works fine. Maggie and Muffin can ride in it safely in the car, sleep in it in the hotel and have a familiar hangout at their new home. They can even share, if that works for them. For air travel, each of them will need a sturdy IATA-approved kennel. You'll need to measure Maggie the dog to determine what size kennel she requires.
Give your pup a bath, so she's fresh and clean for travel. But let the cat wash herself -- she's good at it and giving her a dunking will merely exacerbate her poor attitude toward moving in general.
And speaking of that attitude, you can give Muffin the kitty a real confidence boost by taking her for short car trips before you move. That will help her get used to car travel if you'll be driving to your destination, and it will help her get used to moving around in her official airplane kennel before the Big Day arrives. In fact, all pets travel best when they have plenty of time to become familiar with their kennel.
Bonus tip: Call a pet moving expert
Enlisting the help of a professional pet transport company can do wonders for your sanity, especially if your move is more complex. If your new home is a multi-day drive away, arranging for professional ground transportation for Muffin and Maggie means you won't have to pack them and their stuff into your car along with the rest of your family and their stuff. You'll all be more comfortable, and your drive can focus on human needs for meals, lodging, stopping times or sightseeing along the way, rather than pet stops, etc.

If moving your pets involves air travel, making flight arrangements can be a trial – time-consuming, confusing and fraught with potential last-minute snags such as weather problems. The pros know which airlines are the most pet-friendly, which documentation you'll need to meet airline and destination country requirements and myriad other insider details. Allowing them to handle moving your pets is simply smarter.

Yes, you'll pay a fee for these services, but you can't put a price on peace of mind and, besides, pet moving expenses are usually tax-deductible along with your other moving costs, if relocation is due to your job. Check with your tax advisor about this.

The better your pre-trip prep, the smoother your move will be – for you and your pets.
Subscribe to the Blog
Enjoy our content? Get them sent to your inbox!
Subscribe Now!
Related Posts
6 Ways To Get Your Dog Prepared For A Move
When you think of all the things you need to do to prepare for a long distance move, it can make your head swim. You have to ...
Read More