What It Takes to Move a Pet Overseas
Published on: September 24, 2018 | Author: Starwood Animal Transport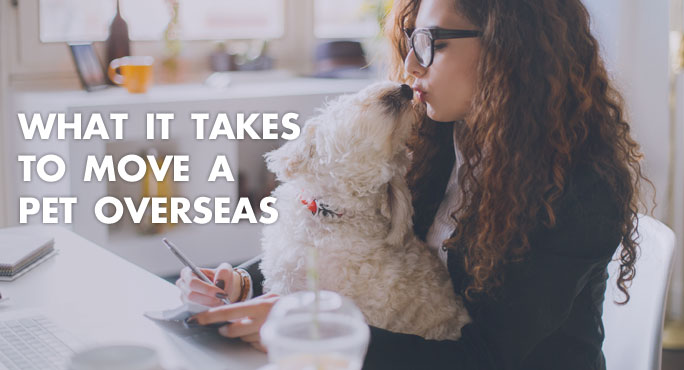 Pet ownership around the world has soared in the last decade or two. We adore our pets – sometimes beyond all reason. They are part of our family. When it comes time to move, there's no question that our pets will go with us. But if your family's next move will take you overseas, including a pet makes your to-do list longer. And, probably, more complicated.
But you're no wall flower. And you've traveled plenty yourself. You know how to make plane reservations and negotiate unfamiliar airports. Surely you can add your cat or dog to the mix, just as you would include your kids.
Not likely, sorry. Pets traveling internationally need a passport, just as you do, but it's a lot harder to obtain than yours was. That's because your beloved kitty or pooch needs a whole handful of documents. Obtaining them requires vet visits, immunizations and other treatments, and maybe more. It will be time-consuming, plus some tasks have specific timeframes attached to them. Your four-legged family member will need a special airline-approved travel kennel.
This May Not Be the Time for DIY
The smart move is to hire an overseas pet relocation specialist. Besides, it's not like you have nothing else to do to get your family's relocation underway. A professional pet transport specialist can relieve you of untold frustration, hassle, and outright worry. After all, they are in the business of relocation animals to and from locations all around the world. Just as you have become an expert in your line of work over the years, they know things you don't know.
These details can make the difference between your pet having a safe, comfortable, and efficient journey and one fraught with problems. Here at Starwood, we're pet parents ourselves, so we know you would never knowingly put your dog or cat in compromising circumstances.
Along with considering whether you really want to tackle this process on your own or not, there are other things to think about.
Is It Safe for Your Pet to Fly?
Of course, safety comes first. It should reassure you to know that hundreds of thousands of animals fly safely every year. However, much as you love your own pet, he may not be a great candidate to fly internationally if he has a serious chronic illness or he's elderly. Discuss this with your vet.
Also, brachycephalic pets can find it harder to breathe on a plane, despite the fact that their travel space is temperature controlled and pressurized. Some airlines have stricter rules for these dogs and cats. You might want to consider ground transportation as an alternative, at least as far as possible.
For dogs, consider your pet's ability to acclimate to his new surroundings. Heavy-coated northern breeds can swelter dangerously in hot climates, and frail, thin-coated breeds aren't well-suited for extremely cold places. And if your dog is a breed considered dangerous by your soon-to-be-new country, your beloved dog may not be allowed to move with you.
With a pet relocation specialist lined up to handle your pet's travel necessities, you can focus on other aspects of getting your furry friend ready for his move.
Make a List, so You Can Check It Twice
The only way to keep everything straight as you're organizing your family for a major move is to create a checklist and use a calendar to keep track of key dates. Make a last-minute checklist, too, to help ensure no detail gets overlooked before your pet's departure.
If you aren't familiar with the country you're moving to, now is the time to "bone up" on pet-related details. You can research veterinarians, pet supply stores, places to play with your dog, restaurants that welcome dogs or cats, etc.
Look into the local rules of pet-iquette. From proper pet and pet owner behavior in public to local laws about licensing, this information will help you fit in comfortably and become an instant hit with your new neighbors, whether you're moving to Dubai, Hong Kong, or the United Kingdom.
The sooner you get your guy's official travel crate, the better. If he thinks of this carrier as his personal fort, he will be more relaxed during his journey. He'll have a safe space, even if things around him are strange. So give him time to check it out, play in it, sleep in it, etc.
Above all, spend time with your pet as you prepare to move. You have the practical side of moving overseas covered. But, for him, you are the #1 priority. He wants to know you and he will still be together, no matter what. Besides, taking breaks for play time will give both of you some badly-needed calming moments. You might even want to teach him a few commands in the language of your new country?
Subscribe to the Blog
Enjoy our content? Get them sent to your inbox!
Subscribe Now!
Related Posts
Is Air Travel Safe For My Snub-Nosed Dog?
There are several dog breeds that have short, or snub noses - also known as brachycephalic breeds. These include: ...
Read More